Literally EVERYONE you know will be at your hometown bar the night before Thanksgiving!
Oh wait, except for these people. Damn, I really should have thought about it a little more before I typed that first sentence. This is embarrassing. Oh well.
The Guy Who Is Working Late
Brad's serious now, and career driven. He'll still text his bros saying, "Take a Jägerbomb in my honor, bros!" before heading to the unisex bathroom to cry between filing audit reports.
 
The Couple With a New Baby at Home
Alex S. and Karen tied the knot last year, and quickly put a bun in the oven. They're staying in to bask in the glow of parenthood, or you know, clean up green baby excrement all night.
 
The Super-Early Black Friday Shopper
He wanted to get the jump on those big sales, and clearly cares more about a $200 flat-screen than his friends/family. Oh, he'll still be drinking, though. Just illegally in line at Best Buy. 
 
The Recent, Anxious Transplant
Stewart's new in town and hasn't met any new friends, but his mom keeps telling him tonight's a big night for meeting people, as the bars will be packed. He'll look inside the bar, than walk away quietly, and drive his Corolla home in silence.
 
The Trapped-Under-Industrial-Crane Guy
Bruce had been looking forward to seeing his old high school friends all week, but accidentally got trapped under an industrial crane at work just before clocking out. Because tomorrow is a holiday, no one will notice for a while.
Grandma
Oh, she's at the bar any other night, but tonight she has to make the damn pie crust.
 
U2 Bassist Adam Clayton
Founding member and bassist of U2, he is currently touring Europe, promoting the band's latest album, Songs of Innocence. He definitely won't be there. 
 
The Exiled High School Assistant Coach
Look Coach Ted, if you didn't want to be exiled from town, you shouldn't have sold those kids' jock straps on the Dark Web. 
 
The Girl Who's Inexplicably Afraid of Mason Jars
Wait, the bar is serving its warm seasonal cocktails in artisanal Mason jars now? Nope, she is not going to go there. No way José, not this girl.
 
That Amish Guy
He actually would probably go, but since he has no phone (obviously), he doesn't even know about it. Poor Ezekiel. He'll spend tonight raising a barn.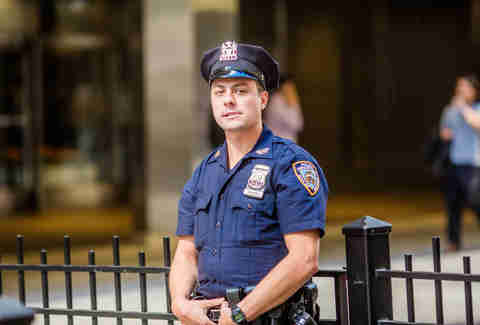 Your Friend From High School Who Became a Cop
Alex R. used to be the most intoxicated person at any given party, but now he's waiting for you to leave the bar so he can pull you over. You two will talk for 30 minutes about how crazy high school was, he'll still give you a ticket, and then he'll tell you to "Say hi to your sister for me."
 
The Time Traveler Sent Back to the Late 1800s by the United Nations to Kill Baby Hitler
Brock has his hands full changing mankind's fate, but not physically in the year 2015.
 
That Guy Who Went to Prison
"Oh shit, you didn't hear? Mike's in jail dude, he killed a guy. Alex R. caught him, actually."
 
Brendan Fraser's son
Because he's only 13. You wouldn't let a 13-year-old into a bar, would you?   
 
Rick
Rick's just not feeling that well, and at this age, he knows his body and its limitations. I've always liked that Rick guy. He's sensible. 
Sign up here for our daily Thrillist email, and get your fix of the best in food/drink/fun.
Wil Fulton is a Staff Writer for Thrillist. He'll be at the bar on Wednesday night. Follow him @wilfulton.