We made 5 bizarre sodas using Pepsi's futuristic soda machine
All photos by Lee Breslouer
The Coca-Cola Freestyle has been giving the soda-drinking public a way to mix 100+ combos of Coke products since 2009, and five years later Pepsi is finally fighting back with a new-school soda machine of their own: the Pepsi Spire. Right now it's only available in nine states in a handful of locations, but I ventured to one of the five machines in Colorado, where I live, work, and lead a double life as a cupcake.
And in addition to showing off what the machine's working with, we created a few sodas that would normally be difficult to create from what you find in the supermarket.
Where to find the Pepsi Spire machines
The only places to use this fancy soda machine in Colorado are inside Garbanzo locations (see if there's a Spire near you). Garbanzo is like if Chipotle went on a Birthright trip to Israel and came back really into falafel and shwarma. Here's a bowl after I'd already eaten a bunch of it. I used it to pad my stomach for the oncoming sugar rush.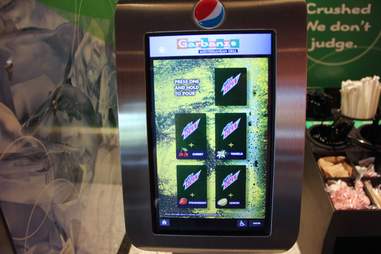 Exploring the Spire
The touchscreen was intuitive and easy to use. Whenever I've used a Coca-Cola Freestyle machine, there's always a line behind me, and I feel rushed to fill up my Vanilla Coke. Since these are much smaller than the gigantic Freestyles, they had two countertop machines in this location.
There wasn't anyone behind me, so I leisurely paged through the screens. Each of the sodas (this location had Pepsi, Diet Pepsi, Sierra Mist, Mountain Dew, SoBe, SoBe Elixir, Dr. Pepper, and Diet Dr. Pepper, though it varies based on location) has a range of "flavor shots" to choose from. Pictured here are vanilla, cherry, lemon, and strawberry.
1st soda creation -- The Good Doctor
For our first soda creation, we took the advice of the guy behind the counter, who told us that he liked mixing Pepsi Vanilla and regular Dr. Pepper. This sounded like a good start. As expected, this drink was delicious. If I'm going to get diabetes from drinking too much soda, I want it to be from something that tastes this good.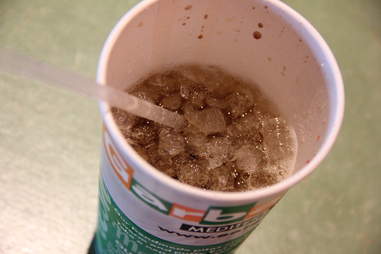 2nd soda creation -- The 30 Rock
Like any 30 Rock episode, we went heavy on the lemon and poured half Diet Dr. Pepper Lemon and half Sierra Mist Lemon. It was strangely addictive. Every time I'd say to myself that I had to dump this out and create a new soda, I'd take another sip. That's the best endorsement I can give a drink.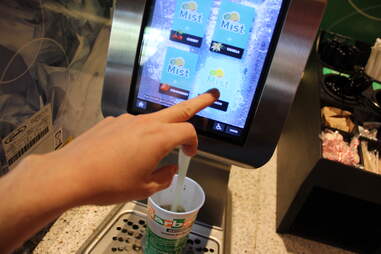 3rd soda creation -- The Overkill
With a name like The Overkill, you might expect I chose every flavor in the machine and mixed them together. But no! I'm a man who loves him some moderation. For me, "overkill" is three soda flavors together, like this mix of Mountain Dew Cherry, Mountain Dew Vanilla, and Sierra Mist.
I would've loved this when I was 11 and had a sweet tooth. My tastes are more refined now, but it was still tasty for the few sips I could handle.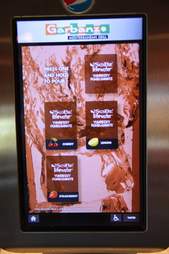 4th soda creation -- The Stop Hitting Yourself
I don't think I'm the target audience for SoBe, even though I do enjoy being myself. But since it was prominently featured in the machine, I had to include it. I don't mind the taste of SoBe on its own, but when I mixed half SoBe Yumberry Pomegranate Lemon and half Mountain Dew, the drink took on some unpleasant characteristics.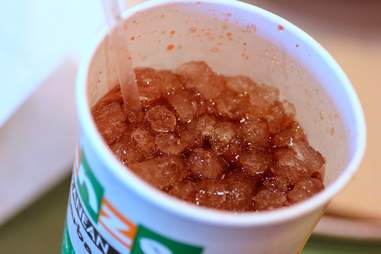 5th soda creation -- Cherry Gone Wild
At this point, I was vibrating from sampling so much soda. I thought my taste buds would've been fried, and I would be unable to appreciate one more carbonated beverage -- but I was wrong. This cherry orgy made everything better: Cherry Dr. Pepper, Cherry Sierra Mist, and Cherry Pepsi blended so well together they should bottle it up and sell it.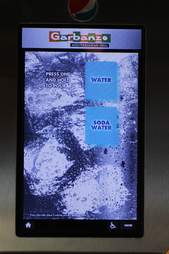 It also dispenses water, which you can get if you're a loser.
Lee Breslouer writes about food and drink for Thrillist, and while he's a lifelong Coke fan, thinks Pepsi is onto something good with this one. Follow him at @LeeBreslouer, because you can't make up a name that good.