Ahh, March. Spring is about to be sprung, Dick Vitale is taken out of the hyperbaric chamber he lives in, and March Madness is upon us. The question is: which beer will you be holding in your hand and spilling all over yourself as you watch 18-year-old athletes sink half-court buzzer beaters?
Luckily, we've paired every single team from the Round of 64 with a beer from their city (or one close by, as some of these college towns are small and aren't lucky enough to have a craft brewery). Keep in mind the beer is not necessarily the best beer in that city. It is, however, a beer that reflects the team's tourney prospects, fanbase, or players. So let's all raise one of these 64 beers to the Cinderellas and the contenders playing their gosh-darn hearts out.
[Editor's Note: The NCAA and the universities mentioned here are in no way affiliated with any of the beer brands mentioned, and were not involved in the creation of this article. We did not receive express written consent for any of this. At all.]
Arizona Wildcats
Tucson, AZ
The beer: Barrio Brewing Co. NCAAle
The fact that Barrio has been brewing a beer in honor of the Wildcats basketball team for five-plus years, and has somehow been avoiding lawsuits from the NCAA by saying the name stands for "National Champions Double Ale" is nothing short of a slam dunk. (Side note: Killin' it with the Dick Vitale-level basketball references in this story!) But re: the Wildcats squad this year -- if Gabe York can make nine 3's a game like he did in the senior day game, they're gonna be fine. If not, they're probably going to get beat in the second round.
 
Austin Peay Governors
Clarksville, TN
The beer: Tennessee Brew Works Southern Wit
This team clearly has Southern Wit (and probably could use a sip of the 5.15% ABV witbier, considering what they've gone through to get into the tourney). They had to endure their senior standout center/forward spraining his ankle in the Ohio Valley Conference championship game, which was their fourth game in four days. And the not-so-small thing of their coach's granddaughter undergoing serious surgery earlier in the week. How can you not hope they pull off a highly, highly, highly unlikely Kansas upset?
 
Baylor Bears
Waco, TX
The beer: Deep Ellum Dreamcrusher double IPA
There's a chance they get to be the crushers of dreams (particularly against the Bulldogs in their first game), but more likely it'll be Oregon stomping all over them if the Bears even get that far. Either way, at least they'll have this potent can of hop magic from just up the road in Dallas.
 
Buffalo Bulls
Buffalo, NY
The beer: Resurgence IPA
After the Bulls knocked off conference favorite Akron in the MAC tournament championship to lock down an unprecedented second-straight NCAA berth, the only thing left to do is celebrate that resurgence (!!!) from a middling regular season with a sixer of this quaffable 7.1% ABV local IPA.
 
Butler Bulldogs
Indianapolis, IN
Their beer: Black Acre Brewing Co. Saucy Intruder rye IPA
The Bulldogs have made such a tradition of crashing in on the fun of other larger-conference powerhouses (saucily!) that it's begun to feel almost routine, though they definitely have their work cut out for them with their highest seed in years: getting past Texas Tech in the 8-9 game would set up a likely showdown with top-seeded Virginia.
 
California Golden Bears
Berkeley, CA
The beer: Fieldwork Good Conduct
A reminder to everyone involved with the Golden Bears to keep everything up and up in light of one of their assistants being dismissed recently amid sexual harassment allegations -- in the form of an easy-drinking brown ale! Good luck, guys.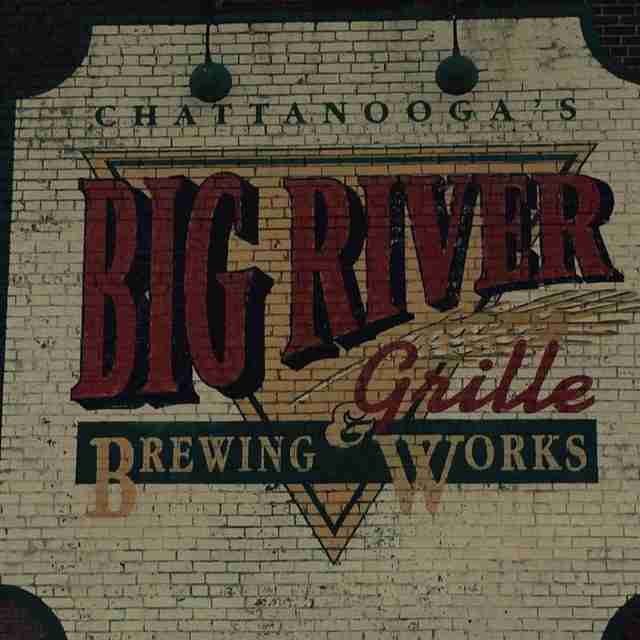 Chattanooga Mocs
Chattanooga, TN
The beer: Big River Grille & Brewing Works Gadzooks pilsner
Twenty-nine wins this season. Gadzooks! One of those was a huge win at Dayton. Gadzooks! You can get this same beer at a Big River Grille location in Walt Disney World, even though it's not like Big River Grille is some huge brewpub chain... Gadzooks? But back to basketball, the Mocs look like the kind of team that would bust a bracket or two. You know, if they didn't have to face Kentucky in the first round. Gadzooks, indeed.
 
Cincinnati Bearcats
Cincinnati, OH
The beer: MadTree Brewing Co. PsycHOPathy IPA
Because one could forgive Bearcats fans for still being mad, or dare we say, psychotic after a heartbreaking loss to UConn that involved a banked-in, three-quarters-court buzzer beater in the Big East tournament. They'll need all the hoppy goodness they can get to stave off PTSD during their 8-9 tilt with St. Joe's.
 
Colorado Buffaloes
Boulder, CO
The beer: Mountain Sun Pub & Brewery Swan Song
The Buffs did just enough to make the Big Dance (they only made it as far as the quarterfinals in the conference tournament), and in honor of the four seniors on this year's #squad, we're going to pair them with a 6.7% ABV Swan Song. And win or lose, Buffs fans have some of the best craft beer available to them post-game, so we're going to say they win either way.
 
Connecticut Huskies
Storrs, CT
The beer: Willimantic Brewing Co. Certified Gold
Regardless of what happens to the Huskies in the tourney, Jalen Adams' crazy last-second shot to force a fourth OT in the AAC tournament is undeniably great. In fact, it's Certified Gold (gold, Jerry, gold!), which is not coincidentally the name of the golden ale from nearby Willimantic. But let's be real, the Huskies basketball team to watch has Breanna Stewart on it.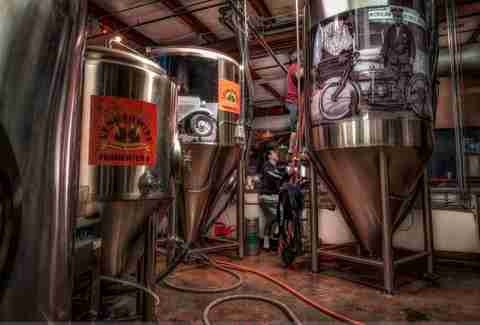 CSU Bakersfield Roadrunners
Bakersfield, CA
The beer: Lengthwise Brewing Co. Ale Ya
After watching the Roadrunners hit a last-second 3 to win the WAC tourney and send them to their first Dance, the only reasonable reaction was... unprintable. But Ale Ya, a 9.5% ABV imperial IPA, is a fine PG substitute for those unprintable words. Roadrunner fans likely said more unprintable words when they saw that the team drew Oklahoma in the first round.
 
Dayton Flyers
Dayton, OH
The beer: Toxic Brewing Co. Practice Yoga
Flyers fans will need to stay even-keeled in what figures to be a tough 7-10 bout with Syracuse, so they might as well hit this zen-themed session IPA hard while thinking to themselves, "I am CRUSHING these citrus notes, just as we will crush these Orangemen."
 
Duke Blue Devils
Durham, NC
The beer: Big Boss High Roller
Yeah, the Blue Devils aren't ranked as high as usual this time around, but that doesn't mean you should ever count them out, what with the Big Boss that is Coach K at the reins of the program, probably for eternity. He's got a deal with the Devils, and his high-roller status in the pantheon of coaching is undisputed, much like the triple-hopped bite of this beer.
 
FGCU Eagles
Fort Myers, FL
The beer: Old Soul Brewing Defector
Remember when the Eagles made a nice run in the tourney in 2013? Of course you do, they were incredibly fun to watch. They were also probably the sole reason you didn't have a perfect bracket in 2013. Yep, that was your single mistake. But even though this team is not the team of 2013 (as in, they're going to lose early on, most likely), the man to watch here is Marc-Eddy Norelia, a Defector from Tulane.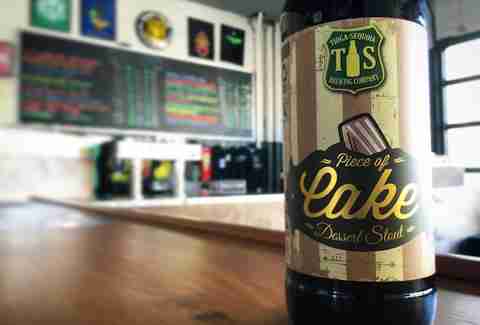 Fresno State Bulldogs
Fresno, CA
The beer: Tioga-Sequoia Brewing Co. Piece of Cake
The Bulldogs drew #3 Utah as their first-round game. It'll be a Piece of Cake, most likely, and as sweet and smooth as the 7.2% ABV sweet stout Piece of Cake from Tioga-Sequoia. Yep, definitely a piece of cake and not a Utes blowout. You know why? They just got done playing in Vegas the weekend before, and they probably still need a few more days to recover. Oh wait, Fresno State played there too. That game's gonna be a mess.
 
Gonzaga Bulldogs
Spokane, WA
The beer: No-Li Wrecking Ball imperial stout
Remember when Gonzaga used to seem like plucky little underdogs? Well, they've made 18 straight tournaments now. They're tournament heavyweights. Maybe the 11th seed will help them get a little bit of that magic back, but if not they have this Spokane-brewed heavyweight stout to fall back on.
 
Green Bay Phoenix
Green Bay, WI
The beer: Badger State Brewing Co. Green Chop
This easy-drinking session IPA may seem innocent enough, but it can sneak up on you, just as the emerald-clad Phoenix might sneak up and deliver a devastating blow (or Chop, if you will) to Texas A&M.
 
Hampton Pirates
Hampton, VA
The beer: Smartmouth Brewing Co. Alter Ego
OK, we're not conspiracy theorists, but listen up. The Pirates have a damn good guard in Reginald Johnson, Jr. Now, the very similarly named 63-year-old Reginald VelJohnson played Carl Winslow on Family Matters. Is it possible that the other Reginald Johnson is simply his Alter Ego, or is it just a coincidence that both have similar names? If you drink enough saisons at 6.2%, this theory starts to make sense in ways you never imagined.
 
Hawai'i Rainbow Warriors
Honolulu, HI
The beer: Kona Brewing Co. Fire Rock pale ale
Because they're gonna need to be careful with the Rock and hopefully catch Fire to knock off fourth-seeded Cal. Did you hear that, junior forward Stefan Jankovic? Or were you too busy appreciating the Cascade hops in this lovely local brew?
 
Holy Cross Crusaders
Worcester, MA
The beer: Wormtown Brewery Be Hoppy IPA
It took a miracle run through their conference tournament for the 14-19 'Saders to sneak their way into the tourney, so it was easy to pick their Worcester hometown Be Hoppy IPA, since they should just be happy (Hoppy?) they are playing in the tournament at all. I also wanted to say that their best player, Malachi Alexander, has copious amounts of hops just like the beer, but I'm not actually even sure if that's true.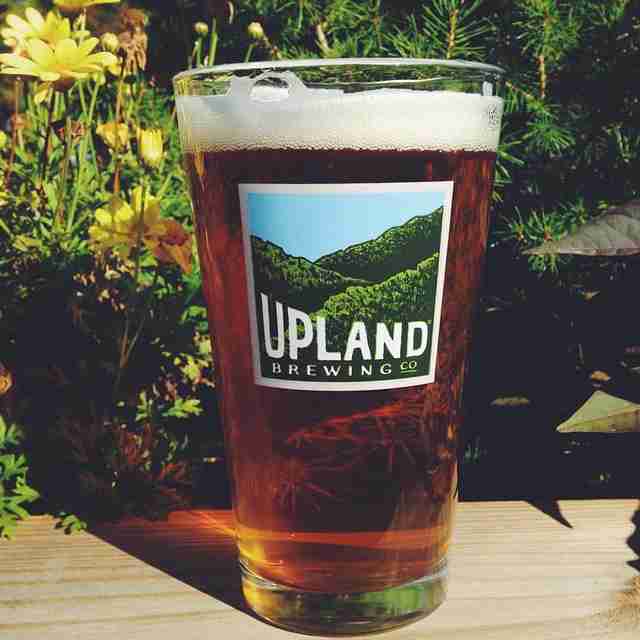 Indiana Hoosiers
Bloomington, IN
The beer: Upland Brewing Co. Champagne Velvet
Hoosier fans still pining for the glory days of the Bobby Knight era may have dreams of dousing themselves in celebratory Champagne (though they'd probably rather drape themselves in red sweaters than Velvet), but for now this crisp local lager will have to do, especially with Kentucky looming in the second round.
 
Iona College Gaels
New Rochelle, NY
The beer: Gun Hill Brewing Co. Void of Light
The perfect beer for the Gaels isn't the Great American Beer Fest gold medal-winning Void of Light because there's no hope for Iona to win (some say they do have hope!) It's Void of Light because this team shoots lights out. They've scored 100 points a few times this year. They feel like the Warriors of the NCAA, launching 3's at a noteworthy clip. Either way, it's worth the 20-minute drive from Iona's campus into the Bronx to drink this beer. Also because New Rochelle doesn't have any breweries of its own.
 
Iowa Hawkeyes
Iowa City, IA
The beer: Toppling Goliath Brewing Co. Golden Nugget
Man, the Hawkeyes were really cruising their way through the Big 10 this year for a while. They'd risen to number three in the country, Jarrod Uthoff was on the cover of Sports Illustrated (and is again right now!), and then they lost six of 10 to finish the season. So while a 7 seed is not exactly the biggest underdog, it makes sense to choose a local Topping Goliath brew for these guys, because they're certainly more on the David spectrum.
 
Iowa State Cyclones
Ames, IA
The beer: Olde Main Clone Ale
Hey, it's locally brewed and it's got a damn cyclone on the bottle. Sometimes things aren't complicated. Everyone in Ames should prepare to nervously drink a truckload of these if Iona comes out of the gate looking like a cross between UAB and Hampton.
 
Kansas Jayhawks
Lawrence, KS
The beer: Free State Brewing Co. Copperhead pale ale
Because even though the Jayhawks look to have their toughest squad in several years, fans will always bear those scars of being snake-bit (get it?!) by lesser teams in the tournament, 2008 notwithstanding. But hey, if it happens again at least they'll have this smooth, crisp amber nearby. And if it doesn't and they win the whole thing? Celebration beer! It's a win-win.
 
Kentucky Wildcats
Lexington, KY
The beer: Blue Stallion Roundball
Fun fact: the most famous non-baller Wildcat of all time is Sandra Bullock's bus driver in Speed. That has nothing to do with basketball, but our minds wander after we've been consuming this collaboration beer from Blue Stallion, Country Boy, and Ethereal -- a Belgian white. The Wildcats have a great shot this year, but with teams like the Tarheels and the Hoosiers, they've got their work cut out. Which means, well, collaboration is key, just like it was when that plucky Annie and hard-boiled cop Jack boarded that ill-fated bus.
Little Rock Trojans
Little Rock, AR
The beer: Lost Forty Brewing Bare Bones Pilsner
When coach Chris Beard was hired to lead Little Rock, he was handed a roster of... basically no one. CBS Sports said "he had to go out and sign 10 players to suit up for his team," and they've played so well, they now have a legitimate chance to knock off Purdue in the first round. Raise a can of Lost Forty's 5% Pilsner to the Trojans.
 
Maryland Terrapins
College Park, MD
The beer: Franklins Brewery Twisted Turtle pale ale
College Park isn't a hotbed of breweries (it has exactly zero), but Franklins is 10 minutes away in Hyattsville, and it brews the vaguely Terps-themed Twisted Turtle pale ale. This is the best choice out there, as sadly there is no recorded beer in the universe named Melo TrimbAle or MelOatmeal StouTrimble. He's 21 now and will probably be drafted in the offseason, it's cool. This is a plea for some Maryland brewery to make one of these beers happen. Also, if said brewery gets sued, it's not our fault.
 
Miami Hurricanes
Miami, FL
The beer: M.I.A. Beer Co. El Cuco
As a top-25 team in the nation and a force to be reckoned with in the ACC, the Hurricanes have a right to be feared. That's why we'll pair the 'Canes with M.I.A. Beer Co.'s El Cuco, named after the bogeyman of Latin America. If El Cuco is ever found, he'd be a sick recruit. The dude clearly has speed and size.
 
Middle Tennessee Blue Raiders
Murfreesboro, TN
The beer: Mayday Brewery Velvet Hustle
This 15 seed's gotta hustle if they want to knock off a big dog like Michigan State. That's why we're pairing the Blue Raiders with Mayday's Velvet Hustle, a pale ale so smooth it'll "easily work its way into your home and then steal your heart. And your watch." To beat the Spartans, they'll need fewer stolen watches and more 3's, which their sophomore Giddy Potts is shooting at just over 50%. The man's got a velvety-smooth shot.
 
Michigan State Spartans
East Lansing, MI
The beer: Harper's Spartan Wheat
In East Lansing, every tournament game has the potential to erupt into the kind of party that has made getting tear-gassed a rite of passage. With Izzo looking for a third title and Valentine poised to make it happen, that's a lot of burned couches. Luckily, another Spartan tradition is getting a keg of Harper's Spartan Wheat for a party, then not being able to finish it. That extra liquid could come in pretty handy as a fire retardant as the team progresses.
 
Michigan Wolverines
Ann Arbor, MI
The beer: Wolverine State Brewing Co. Gulo Gulo
It's tough to select anything other than a beer from Wolverine State Brewing (the Gulo Gulo is its IPL, and gulo gulo is the binomial name for the animal!) for this Michigan squad that squeaked their way into the tourney like a real gulo gulo. The animal looks more like a growler, actually, but it didn't fit neatly into our metaphor as well.
 
North Carolina Tar Heels
Chapel Hill, NC
The beer: Top of the Hill Ram's Head
Roy Williams' Heels are a constant threat to everybody who faces them, and currently the top-seeded team in the East. Expect them to once again Ram through the tournament, as if Ramses the Ram was loaded up on Ram's Head, a beer that shares a species name with the team's mascot. Point is, the Heels are good. So is Ram's Head. And, frankly, after years and years of seeing the Heels run roughshod through the ranks, well, we've kind of run out of creativity where they're concerned, so we're pretty stoked that a local brewery has a beer named after a Ram so we can go back to freaking out about the prospect of our teams playing them.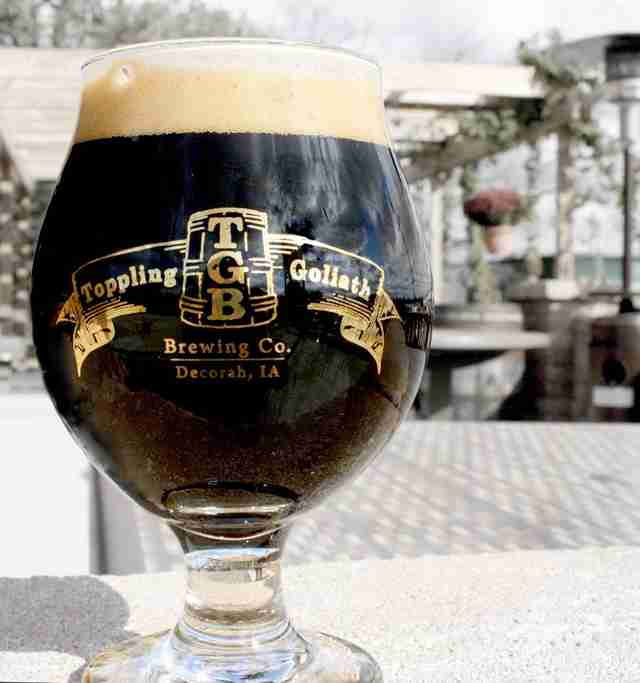 Northern Iowa Panthers
Cedar Falls, IA
The beer: Toppling Goliath Brewing Co. Assassin
When a school with a reputation for taking out higher-profile major conference teams in the tourney (Toppling Goliaths, if you will) books its tourney berth on a buzzer-beating 3 in overtime (a dagger, like an Assassin might use), there's really no logical choice but this stout that also happens to be one of the most celebrated brews in the nation.
 
Notre Dame Fighting Irish
South Bend, IN
The beer: 3 Floyds Robert the Bruce
Sure, they're the Fighting Irish and Robert the Bruce is a reliably delightful Scotch ale from Northwest Indiana's finest brewery, but it's close enough, right? Certainly closer than the Irish will get to a title if that whupping UNC gave them is any indication. At least they can drink this beer and ponder what historical dicks the British have been.
 
Oklahoma Sooners
Norman, OK
The beer: 405 Brewing Co. Trae P.A.
Buddy Hield is a serious NBA prospect. One of the (many) things he does well on the court is shoot the 3 ball (he's a ridiculous 47%), which is why we selected the Trae P.A. from Norman's own (405) Brewing Co. Yes, craft beer has advanced to a point in this country that even the only brewery in Norman, OK is brewing a Brett beer. It's a good time to be alive and drinking beer in America.
 
Oregon Ducks
Eugene, OR
The beer: Ninkasi Spring Reign
It would be a little presumptuous to select Ninkasi's Total Domination as the beer for the Ducks, right? Probably. This isn't football, after all. But damned if the Ducks don't have a solid shot at longevity here, so we're going with the same brewery's seasonal Spring Reign, which is also a thing that the team is hoping to hold until the domination thing happens, much to the chagrin of the Beavers. Speaking of...
 
Oregon State Beavers
Corvallis, OR
The beer: Sky High Dream-On pale ale
Thanks in part to an all-star showing showing by Gary "Son of a Legend" Payton II, the Beavers have finally overcome a 26-year March Madness drought, taking the 7th seed and finally emerging from the shadow of the Ducks. Wait, the Ducks are the first seed? And the Beavs probably won't make it past round one's matchup with VCU? Look, we didn't want to be dicks about it, but this beer just kind of chose itself.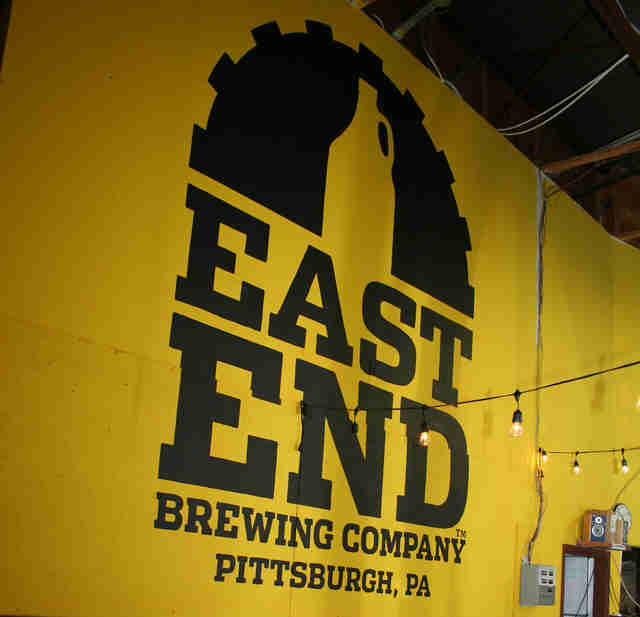 Pittsburgh Panthers
Pittsburgh, PA
The beer: East End Brewing Co. Gratitude
ESPN says Pitt is "so thoroughly mediocre, and so obviously destined to lose on the first weekend." Couldn't agree with that more, which is why their perfect pairing is East End's Gratitude, a 11.5% ABV barleywine with a name that truly reflects the feeling the Panthers should have for the honor of getting their asses beat in the first round by the Badgers.
 
Providence Friars
Providence, RI
The beer: Long Live Beerworks 'Nuff Said
Bentil, Dunn. 'Nuff Said. Long Live Beerworks' "malty, sweet, piney" 7% ABV IPA is perfect for the Friars because those damn good players have propelled this team into the tourney. Don't need to say much else about that squad. I mean, if we did, it'd be a little bit of an insult to the beer we chose for them. We promise to stop writing now.
 
Purdue Boilermakers
West Lafayette, IN
The beer: People's Brewing Co. Ol' Tavern lager
When you're a Boilermaker fan, you need to chase your beer with a shot of whiskey (for more reasons than one), and that demands a light, crisp brew like this locally brewed pre-Prohibition-style lager. Now just drink your shot and please don't mention Robbie Hummel's ACLs.
 
Saint Joseph's Hawks
Philadelphia, PA
The beer: Dock Street Brewery Man Full of Trouble
If there is a better phrase for a college coach than "Man Full of Trouble," we haven't heard it. Look at Martelli's eyes for crying out loud, if you need proof. And the man just won his 400th game. Imagine if you were that good at your job, and it still tore you apart inside. May he soon go to Dock Street and let his troubles melt away with the "creamy espresso notes" of this 6% ABV porter.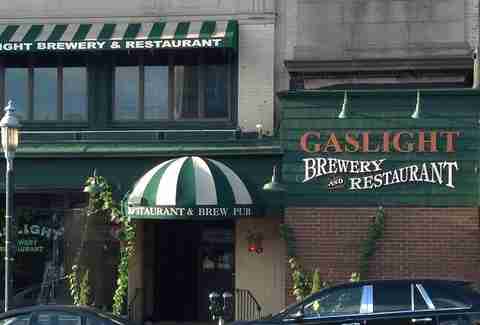 Seton Hall Pirates
South Orange, NJ
The beer: Gaslight Brewery Pirate Pale Ale
Hey look, this beer has the same name as the Seton Hall team! Hard to choose anything else. The brewery describes the beer as a "light copper" British pale ale. And while British people tend to be polite, what Isaiah Whitehead's been doing on the court is straight-up nasty lately. He's a major reason they're in the tourney for the first time since 2006, and SB Nation even makes a solid case for why he should be a BIG EAST Player of the Year.
 
South Dakota State Jackrabbits
Brookings, SD
The beer: Crow Peak 11th Hour IPA
We all know the tale of the tortoise and the hare. Here, it's the Jackrabbit and the Terrapin. And this time, the Terrapin's the cocky one. If South Dakota's gonna win this race, it's going to be at the 11th Hour. But we're really glad SoDak came to the party! And didn't invite any bikers this time!
 
Stephen F. Austin Lumberjacks
Nacogdoches, TX
The beer: Big Thicket Brewery Lonestar Electric imperial IPA
Would you believe there aren't any breweries in Nacogdoches, TX? Oh, you would? Yeah, us too. But there is one a half-hour outside of town in Lufkin, and Big Thicket comes through with a Lonestar Electric, which is a good way to describe the streaky Lumberjacks who reeled off 18 straight wins in regular-season conference play. Not too shabby.
 
Stony Brook Seawolves
Stony Brook, NY
The beer: Port Jeff Brewing Co. Party Boat IPA
There has never been a better time to untie the Party Boat from the dock -- we won't apologize for saddling you with technical nautical terms -- and set sail in Smithtown Bay whilst drinking Port Jeff's 101-IBU Party Boat IPA. Jameel Warney helped score Stony Brook their first NCAA berth, after all. Sure, the Seawolves will probably lose to Kentucky, but who gives a crap? Look how stinking happy they are just to be there!
Syracuse Orange
Syracuse, NY
The beer: Middle Ages Brewing Co. Syracuse Pale Ale
The name and color scheme of this 5% "sparking golden ale" made this beer a no-brainer. But considering the inconsistency of this team over the year (even coach Jim Boeheim took off nine games... for a suspension), 'Cuse fans might want to drink something stronger from Middle Ages, like the 9.5% ABV Dragonslayer stout.
 
Temple Owls
Philadelphia, PA
The beer: Yards Brewing Co. Brawler
The Owls are not afraid to get physical. Jaylen Bond, the senior with 10 double-doubles this year, is a testament to that. And with Bond racking up In-N-Outs all over the place, Iowa is going to have their hands full. You should have your hands full of Yards' popular Brawler, a 4.2% ABV English mild.
 
Texas A&M Aggies
College Station, TX
The beer: New Republic Brewing Co. Astrolabe
The folks at College Station's New Republic Brewing Co. start the description of its recently bottled wine barrel-aged sour Astrolabe by writing, "occasionally life takes you to unfamiliar places..." before explaining how the astrolabe was used as an ancient navigation tool. Once you see a picture of an astrolabe, you'll be grateful for the easy-to-use GPS on your phone. The Aggies are in unfamiliar territory this year, having not even made the round of 64 since 2011.
 
Texas Longhorns
Austin, TX
Their beer: Jester King Le Petit Prince
A complex blend of hops and farmhouse yeast clocking in at a mere 2.9%, Jester King's smooth, refreshing La Peti -- just kidding. You're drinking Lone Star, son! For at least two games. Because ain't no Panther gonna put a Longhorn down. But an Aggie probably will. Texans love putting cattle down. Even when they're kin.
 
Texas Tech Red Raiders
Lubbock, TX
The beer: Wicked Beaver Brewing Cream Weaver
Lubbock doesn't have a ton in the way of breweries (the county just undried itself in 2009!), so we had to go a tiny bit out of town to Wolfforth to pair the Red Raiders with a Cream Weaver ale, as it must feel like something of a dream for the Big 12 team to finally reach the tourney after years of rejection. Since 2007, in fact. Their fans deserve a few beers.
UNC Asheville Bulldogs
Asheville, NC
The beer: Wicked Weed Brewing Serenity
Asheville, unlike other schools in the UNC family, only has about 3,000 students. It's a liberal-arts school. The Bulldogs are used to being the 16th seed or relegated to having to play their way into the tourney. But guess what? Every game is a gosh-darn gift when you're this much of an underdog. And that's why Serenity, a sour from the funky beer experts at Asheville's own Wicked Weed, is the perfect pour for this team. Like actual Bulldogs, they're just happy to be there.
 
UNC Wilmington Seahawks
Wilmington, NC
The beer: Front Street Brewery Absurdity
To be an alumnus of a school that starts with the letters UNC and only have one appearance in the NCAA tournament in the last 10 years must be super depressing. You could even say it's downright Absurd. That explains why we selected Front Street's Belgian tripel/American IPA mash-up that clocks in at 8.4% ABV as the perfect beer for UNCW. But fear not, Seahawks fans, SB Nation says they could ruin the tournament for a much higher-ranked team. Beware, Duke.
 
USC Trojans
Los Angeles, CA
The beer: Eagle Rock Brewery Solidarity
The Trojans backed into the tourney a bit dropping seven of their last 10, and don't necessarily have any one superstar player. But they're balanced (five players score 11 or more per game) and as long as they stick together (Solidarity!) they have a shot, just as fans will have a shot to enjoy this easy-drinking, locally brewed mild ale.
 
Utah Utes
Salt Lake City, UT
The beer: Uinta Cutthroat Pale
The Utes have it basically on lock in the first two rounds, thanks to their aggressive-but-clean play and an Austrian powerhouse on their roster. But odds are, they're facing off against the Spartans in the Sweet 16. Getting past Izzo's squad is going to take some amplified aggression and Cutthroat ball. And if they get shut down, well, the dudes at Uinta also make extremely strong consolation beers.
VCU Rams
Richmond, VA
The beer: Strangeways Brewing GWAR Blood
Yes, the Rams have a stifling defense and a decent shot of pulling off the upset and advancing out of the first round. But a VCU cheerleader angrily stomping out a balloon with a GWAR-like intensity is the reason the Rams are paired with GWAR Blood. Did you know GWAR's from Richmond? Who would've thunk you'd be learning heavy-metal facts in a NCAA story. Now you truly have seen it all!
 
Villanova Wildcats
Philadelphia, PA
The beer: Philadelphia Brewing Co. Holy Wooder
For a Catholic university, there cannot be a more perfect union of beer and basketball than Holy Wooder, a Belgian tripel initially released for the Pope's visit to Philly. Even though Pope Francis zoomed off in a FIAT months ago, the beer can still can be found on taps in the area. And Nova fans will need every bit of the nearly 10% ABV beer if they flame out of the tourney in their second game as they did last year.
 
Virginia Cavaliers
Charlottesville, VA
The beer: Champion Shower Beer
Is it a little on the nose that we chose a brewery called Champion to represent a team that could legitimately take the title? Yes. But considering we're trying really, really hard not to make a comment about the coach being named Tony Bennett, we'll forgive ourselves for only going for the obvious 50% of the time. Hoo!
 
Weber State Wildcats
Ogden, UT
The beer: Talisman Dagda IPA
Will Joel Bolomboy end up anything like fellow Weber alum Damian Lillard? Well, he's already got a good start in that he's a great player leading a mediocre team (ooooh... and that was written by a Blazers fan). Weber's appearance here is just a fantastic treat for them, but if they're going to get past Xavier, they're gonna have to pray to any god they can, even if it's an obscure Celtic one named Dagda.
 
West Virginia Mountaineers
Morgantown, WV
The beer: Chestnut Brew Works Your Best Hoption
The Mountaineers look ready to go deep in the tourney, having beaten solid teams like Baylor and Iowa State. And Jaysean Paige is one of the reasons why. You could even say he's the team's best offensive option. And wouldn't you know, Chestnut Brew Works' 8.2% ABV Your Best Hoption is our pick for the beer of the Mountaineers! Oh man, we're clever. The beer, like Paige, has plenty of hops. It's an imperial IPA, after all.
 
Wichita State Shockers
Wichita, KS
Their beer: Tallgrass Brewing Co. Buffalo Sweat
One of Kansas' most famous craft brews goes to one of the most popular random college hat choices for teenagers who just found out what a certain hand signal meant. Side note: this tasty porter will become all the more relevant if the Shockers, already having won a play-in game, keep the fun going against Arizona, and then 14th-seeded Buffalo also upends Miami. Because then they'll make Buffalo Sweat. Get it?
 
Wisconsin Badgers
Madison, WI
Their beer: Ale Asylum Bedlam!
How else would one describe the scene in Madison if the Badgers make yet another deep tourney run, this time sans Bo Ryan? Those kids know how to party. See Halloween. Or Mifflin. Or basically any weekend. Or weeknight. Also, you'll want to savor every second of drinking this Madison-brewed, citra-hopped Belgian IPA, much the way the Badgers savor every second of the shot clock.
 
Xavier Musketeers
Cincinnati, OH
The beer: Rhinegeist Truth IPA
Because this represents the moment of Truth for an Xavier squad that reached the Sweet 16 last season. Because the citrusy notes on this Cincy-brewed IPA taste like victory. Because jazz trumpeter Miles Davis was the Truth. He's not on the team. But sophomore guard Myles Davis is, and he's pretty good, too.
 
Yale Bulldogs
New Haven, CT
The beer: New England Brewing Co. Imperial Stout Trooper
Because a Star Wars-themed beer is all-too appropriate for a bunch of Ivy League NERDS! Also, this is the Bulldogs' first postseason berth since a long time ago (1962). Also there's a big controversy brewing over their captain being expelled. We're not going to joke about that.
Sign up here for our daily Thrillist email, and get your fix of the best in food/drink/fun.
Die-hard Spartan Andy Kryza, Rooster Kevin Alexander, and Sad Illinoisan Matt Lynch contributed to this report.
Lee Breslouer is a senior writer for Thrillist, and his pick to win it all is Stony Brook. Follow him to more great predictions: @LeeBreslouer.