The perfect beer for every NBA team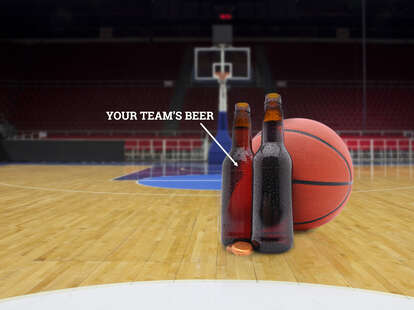 Shutterstock/Derek Springsteen
Shutterstock/Derek Springsteen
The new NBA season is underway! And with the NBA's mandatory policy of a foul being called every 15 seconds, you'll have plenty of time during the game to get up and grab another beer. But which beer?
To give you something to do before tip-off other than YouTube LeBron dunking in pre-game warm-ups, we're providing the perfect beer for every NBA team, most of which are brewed in the city the team plays in. This is what to drink while you watch your squad play.
(Editor's note: The National Basketball Association and the teams mentioned here are in no way affiliated with any of the beer brands mentioned, and were not involved in the creation of this article. This article is simply the result of drinking a lot of beer and subscribing to NBA League Pass.)
Atlanta Hawks
Their beer: SweetWater Brewing Company's Road Trip
The Hawks were awful on road trips last year, finishing with the worst road record of teams that made the playoffs. That's why Road Trip fits them so well, an easy-drinking companion for anyone watching a Hawks road game, where Korver will inevitably make a million threes, Millsap will grab 12 boards, and the Hawks will still lose by 10.
Boston Celtics
Their beer: Night Shift Brewing's Trifecta
Remember when the Celtics had the Big Three, with Pierce, Garnett, and Ray Ray, and they won an NBA title and almost won other ones? Well, that's not really what they've got going now with the likes of Vitor Faverani, Erik Murphy, and Colton Iverson. And so we chose Night Shift's Trifecta, because, looking at the current roster, it seems like the current team has less of a chance of winning another title than having three players who will eventually end up working that shift.

Brooklyn Nets
Their beer: Brooklyn Brewery's Brooklyn Lager
Blah blah, Joe Johnson, blah blah, Deron Williams. Yeah, they're talented. And they had a valiant showing against the Heat in the playoffs. But we picked Brooklyn Brewery's oldest beer because in the starting five for the Nets is 38-year-old Kevin Garnett, who has been playing in the league since 1995. Pretty sure that's when Mason Plumlee was born.

Charlotte Hornets
Their beer: NoDa Brewing's Jam Session
While the picture of someone wearing cans on NoDa's beer cans might lead you to believe the brew's name is referring to musical jams, they're clearly referring to the jams of Al Jefferson on fools like Kevin Durant. This year, the Hornets are back in Charlotte even though they never really left. Because they were the Bobcats. Even though they were initially the Hornets and then moved to New Orleans before moving back. Man, this is confusing. Either way, they've got a ton of young talent on the floor. The future looks bright.
Chicago Bulls
Their beer: Revolution Brewing's Mother of Exiles
Because a certain former MVP is finally back for good. Maybe? Hopefully? OH GOOD LORD PLEASE BE CAREFUL DERRICK!!!
Cleveland Cavaliers
Their beer: Great Lakes Brewing Company's Rye of the Tiger
The Survivor tune that rhymes with this beer is one of the all-time great sports montage soundtracks, and there will be many a montage dedicated to this likely unstoppable offense.

Dallas Mavericks
Their beer: Franconia Brewing Company's Koelsch
In honor of that German who has dominated Mavs basketball for a decade, we had to go with Franconia since it was created by a brewmaster who moved from Nürnberg, Germany (where his brewery lineage goes on for two generations) to McKinney, Texas (as one does). And we had to go for the Koelsch because it is "perfect for springtime", and I'm afraid the Mavs aren't getting much farther into the summer.

Denver Nuggets
Their beer: LowDown Brewery + Kitchen's LowDown Dirty Shame
It's a lowdown dirty shame that the Nuggets are in the West. Because this is a solid team that could easily slide in the 2nd-3rd seed in a weak as hell East. Hell, even the worst of the West could get a playoff spot in the East. Anyways, the Nuggets are where they are, and barring season-ending injuries to their entire roster (a fate as rare as finding a Black IPA like the Dirty Shame anywhere else on tap), they should do better than last year. McGee, Gallinari, and Lawson are all healthy once again. For reference, their starters for the last game of last season included Quincy Miller and Aaron Brooks.

Detroit Pistons
Their beer: Founders Brewing Co's Double Trouble
For the dual big-man threat of Greg Monroe and Andre Drummond. Or should it be Drummond and Josh Smith? Look, there was no Triple Trouble, okay?!

Golden State Warriors
Their beer: 21st Amendment Brewery's Back in Black
While the Warriors definitely don't wear black, they are flashy and entertaining, like the impressive art on this SF brewery's cans, and also technically back. Plus it was inspired by Paul Revere's midnight ride, which -- in common folklore -- features several inaccuracies, just like the spelling of the Warriors' first-year center Ognjen Kuzmic's name on most media press guides.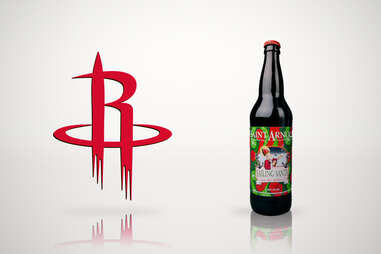 Houston Rockets
Their beer: Saint Arnold Brewing Company's Sailing Santa
This stellar Xmas beer (a Christmas Ale + Elissa IPA mashup "with some spices") from Houston's most lauded brewery was chosen for the sole reason that James Harden has a Santa-like beard year-round. Drinking this beer whilst watching a Rockets game honors both Harden and St. Nick. And while Lin's off to join the crumbling Lakers, Ariza, Harden, and Howard remain a formidable lineup.

Indiana Pacers
Their beer: Sun King Brewing Company's Cream Dream IPA
Because they had dreams of being among the cream of the crop this season, but they shattered in terrifying fashion along with Paul George's lower leg. Also watching this offense try to score will necessitate a hoppy diversion.

LA Clippers
Their beer: Golden Road Brewing's Point the Way IPA
This past summer I was visiting LA and caught Blake Griffin doing improv at the UCB Theater. He was funnier and more talented than anyone who had only barely done improv should be. It made me angry how talented he was. Clips fans are likely angry at the players too, but for different reasons -- a team this talented shouldn't be underperforming like this. CP3 needs to listen to the name of this tasty West Coast IPA and point his teammates in the direction of a deep playoff run. Maybe this will be the year he finally leads them into the Conference Finals... where they'll inevitably be beat by the Spurs.

LA Lakers
Their beer: Eagle Rock Brewery's Populist IPA
The Lakers are America's basketball team, a favorite of the casual fan, of the public at large. A team that pairs perfectly with the Populist beer, a balanced West Coast IPA. The Lakers! Jack Nicholson courtside! The glitz! The glamour! Kobe Bryant's fragile knees! Speaking of things that are crumbling with age, those knees will likely give up on him again this season, and Steve Nash's back forced him to opt out of this season. The most interesting thing about them is that Nick Young is dating Iggy Azalea.

Memphis Grizzlies
Their beer: Wiseacre Brewing's Quaddle Duck
Let's talk about this beer, first of all. It's an ISA, which is like an IPA in that it's hoppy, but not like an IPA in that it generally has a lower ABV. So you can drink more of them. It's a beer style that's great, but hasn't quite caught on. And that's how I think of the Grizzlies: a squad with no superstars in a small market that's always entertaining to watch. And when they're in the playoffs? Who's not going to watch a Grizzlies playoff game? Look for them to make another run with Gasol back to full health.

Miami Heat
Their beer: Wynwood Brewing Company's Father Francisco
Miami's beer is a Belgian Strong named after a priest, which we believe foreshadows all the praying Heat fans will have to do now that Luol Deng can bring them a championship. It was tough to type that sentence without laughing. Ok, the Heat probably won't be winning a championship again anytime soon. But they can take solace in Norris Cole having the best hair in the game.
Milwaukee Bucks
Their beer: Old Milwaukee N/A
Jabari Parker is a Mormon. Mormon's can't drink alcohol! Mr. Mormon doesn't let them. Also, Jabari Parker is probably already the Bucks' best player. So, the Bucks and their fans have to do whatever they can to make him feel comfortable, and in this case, that whatever is called "drinking lots of Old Milwaukee N/A". If he turns out to be what they hope, one day he'll be running around a locker room in June with goggles on, popping countless bottles of Martinelli's Sparkling Apple Cider.

Minnesota Timberwolves
Their beer: Bent Paddle Brewing's Venture Pils
We picked this delicious lager because -- with Kevin Love gone -- it seems like the whole idea of the Timberwolves' season is going to be like trying to navigate a river with a broken paddle held by Gorgui Dieng. Relatedly, Brady Heslip made the T-Wolves, and he's a Canadian sharpshooter who collects sneakers and has great country-club hair.

New Orleans Pelicans
Their beer: NOLA Brewing's Hopitoulas
Hopitoulas almost sounds like "hops" as in "Anthony Davis has crazy hops" or "Jimmer Fredette has no hops, and none of the beer kind either, because he is a Mormon". Also, NOLA was founded right around when the Pelicans moved to New Orleans from Charlotte. Also also, doesn't it still feel weird to call an NBA team the Pelicans?

New York Knicks
Their beer: Sixpoint Brewery's Resin
It's very possible that the Knicks might score six points all season. J.R. Smith's locker is full of things that have resin in them. Because they previously had weed in them, and resin gets created when you smoke the weed. Doesn't get much simpler than this.

Oklahoma City Thunder
Their beer: Bricktown Brewery's Blues Berry Ale
Any Thunder fan has to be feeling the blues right now, so a Blues Berry Ale seems like a perfect pre-game drink, especially since you can walk the half a mile to Loud City after you have a few. What is there to say about the Thunder? Durant is focused on keeping his scooter game tight instead of his shot, and Westbrook is the man of the house while he's gone. It will probably be that way for a while. And who knows how he'll look when he comes back? Might wanna get a growler of that blueberry beer, Thunder fans.
Orlando Magic
Their beer: Cigar City Brewing's Jai Alai IPA
Because the Magic will not be very good this season, so its fans may as well get super into Jai Alai. Or move West to Tampa, where Cigar City's making other delicious beers and there's no NBA basketball happening.

Philadelphia 76ers
Their beer: Yards Brewing Company's Washington's Reserve
Sam Hinkie looks at this porter that's been aged in bourbon barrels for three months and laughs. Three months until it's aged perfectly? Sam would've left the beer in there for a bunch of years to mature, and then refused to drink it for season after season, surrounding that initial beer with other delicious young beers, until one year he'll have assembled a team that'll be dominant in the East for years to come. Until that time, Sixers fans (like myself) are gonna need a lot of Washington's Reserve to get through the season.

Phoenix Suns
Their beer: North Mountain Brewing's Serendipitous
Quick, name someone on the Suns other than Channing Frye. Trick question, he's not on the team anymore! He's with the Magic now. While this team lacks any big names, there's something serendipitous about this team -- one that finished only a game away from the postseason last year. And who knows, maybe Goran Dragic will be a household name by the end of this season.

Portland Trailblazers
Their beer: Widmer Brothers Brewing Company's Kill Devil Brown Ale
Killing the devil isn't easy. Especially when the devil's name is Bonzi Rasheedamon Stoudawallace. But the Blazers have done it. LaMarcus's rap sheet is as clean as his post-game. Robin Lopez went to Stanford, and people from Ivy League schools only commit white-collar crimes! And he hasn't done that because he's too busy playing basketball! Meyers Leonard's name is Meyers Leonard. Sure, Chris Kaman may own buttloads of guns, but he only discharges them off the top of his RV. They deserve this one.

Sacramento Kings
Their beer: Rubicon Brewing Co's Monkey Knife Fight Pale Ale
The reason to pick this local Sactown legend is obvious: because, most nights, it would be much more entertaining to watch two monkeys fight with knives than watch the Kings play basketball. Especially if they were dressed as characters from Michael Jackson's "Beat It" video.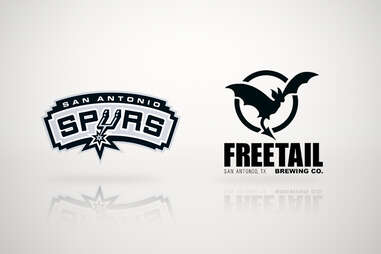 San Antonio Spurs
Their beer: Freetail Brewing Co's Born to Be Mild
Has there ever been a beer that fit an NBA team so perfectly? Only if there was also a beer called We Are Never Not Competing For A Championship. The beer is an English Mild currently on tap at Freetail. And this team is filled with nothing but mild personalities that also happen to be exceptionally talented. Kawhi Leonard, Duncan, and Parker could all play basketball in a library and no one would tell them to shush. They'll probably win it all again.

Toronto Raptors
Their beer:Amsterdam Brewhouse's (416) Local Lager
Let's not kid ourselves -- the most important player on the Raptors isn't Lowry or DeRozan, it's Drake. Sure, he doesn't play on the team, but he's basically the face of the franchise. And he's got a 416 tattoo, just like that beer.

Utah Jazz
Their beer: Epic Brewing Company's Big Bad Baptist Imperial Stout
The Jazz's leading scorer is Butler's own Gordon Hayward. Not surprisingly, the Jazz will not be any good again this year. That's why you need the biggest, baddest, highest ABV beer Epic sells, which also happens to be an excellent beer. In order to endure another 25-win season, you'll need every drop of a whiskey barrel-aged 12% stout with cocoa nibs and coffee.

Washington Wizards
Their beer: DC Brau's The Tradition
It's pretty sad when an MLS franchise has its own beer at DC Brau, but the Wizards don't. Because this is funny to us, we recommend you drink the United's beer. The East is so weak that the Wizards could actually make a run again this year. And while some outlets recommend you never mention the D-word for a few years, it's probably the only way you're ever going to beat the Cavs in the playoffs.
Lee Breslouer writes about food and drink for Thrillist, and is excited for the Sixers to tank again this year. Follow him to more Blake Griffin anecdotes at @LeeBreslouer.