The Perfect Beer for Your Next Burger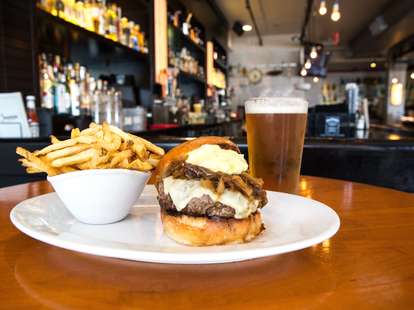 Cole Saladino/Thrillist
Cole Saladino/Thrillist
Ordering a burger and then not getting a beer is like putting on a bathing suit and slapping a sweet zinc stripe across your nose and then staying inside all day -- you're missing a critical step. In order to help you select the best possible brew for your next burger, we spoke to a number of Certified Cicerones (and one Certified Beer Judge!) from across the country... these guys are well versed in the art of pairing beer and food, and know their stuff. Here are the beers to pair with your next burger.
Schwarzbier, 4%
Salt Lake City, UT
"Definitely [pair a burger with] a schwarzbier, or black lager. They're roasty and complex enough to stand up to the carbonized edges of the burger and rich sauces like BBQ, but still light-bodied enough to refresh, and dry enough to cut through the grease. Some great options are Uinta Baba or Kostritzer Schwarzbier." -- Anne Becerra, beer slinger/writer (New York, NY)
Double IPA, 8%
Boulder, CO
"I get a lot of calories through beer in my line of work, so when I eat, I've got to be somewhat mindful. For me, a burger is all about decadence and comfort. So, for a beer, I'd pick something based less on traditional pairing methods, and more on my desire to be decadent. I'd probably go with one of my favorite double/imperial IPAs that's nice and juicy, like Stone Ruination 2.0 or Avery Raja." -- Nick Bondi, bar manager, Jerry's Lincoln Square/Andersonville/Wicker Park (Chicago, IL)
Double IPA, 8%
Chicago, IL
"If I'm not in the mood for a porter or stout, my go-to beer for burgers is an imperial IPA. There's something awesome about how a fatty, juicy burger stands right up alongside intense hop flavors, which add all the bitterness you need to balance out all of that umami. These days, it's not a hard style to find out on the market by any means. Consider grabbing Pipeworks Ninja Vs. Unicorn if it's available in your neck of the woods." -- Zach Mack, owner, ABC Beer Co. (New York, NY)
Pale ale, 6.5%
Fort Collins, CO
"I suggest the spring/summer seasonal from Odell Brewing, St. Lupulin. This extra-pale ale has the bitterness to cut through the richest, cheesiest burger you plan on serving, and the balance to round out the meal. The floral notes and crisp finish leave you refreshed, and with a reasonable 6.5% ABV, you can drink a few over the course of the party without needing a nap." -- Angela McMaster, beer & wine specialist, Whole Foods Market Albuquerque (Albuquerque, NM)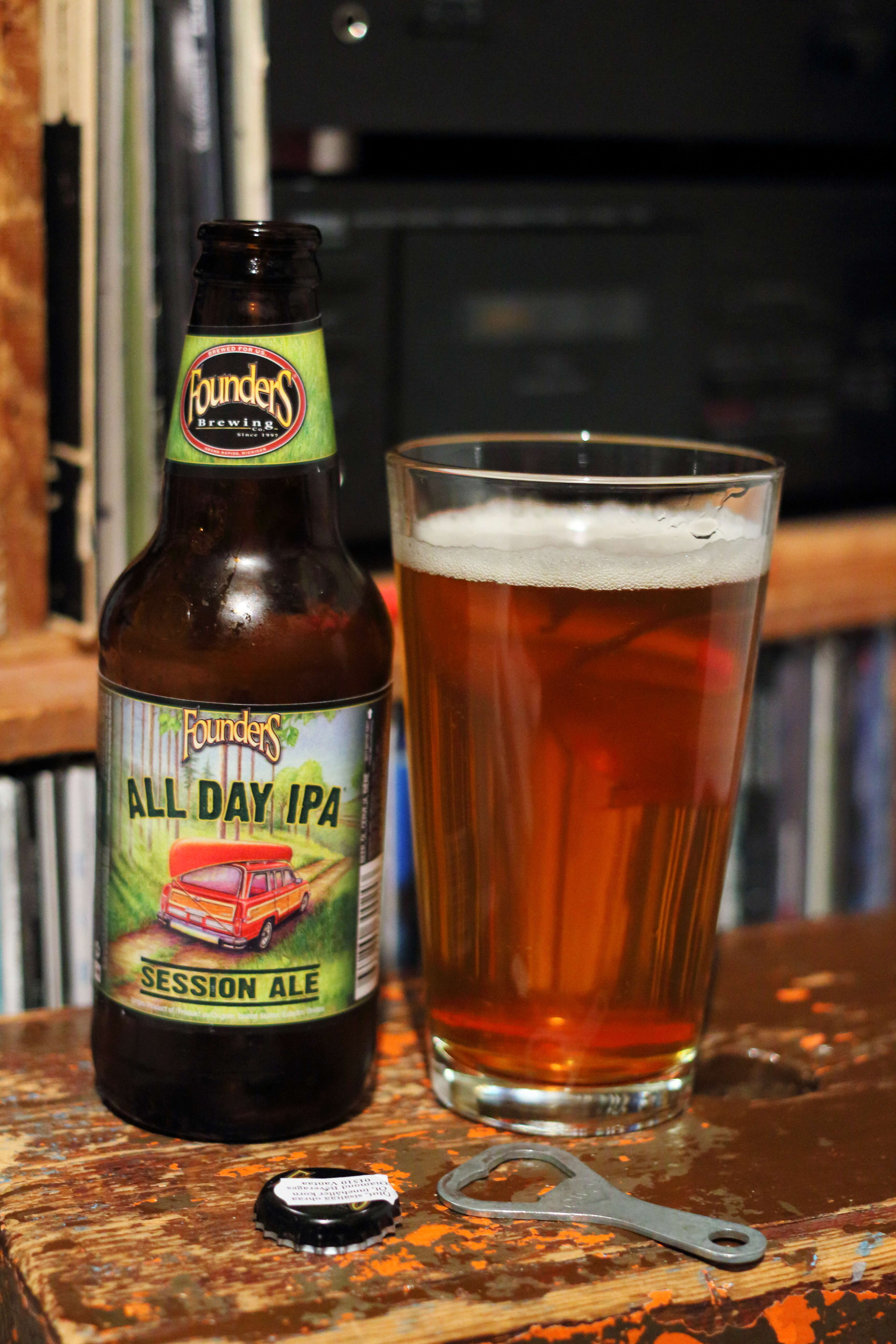 IPA, 4.7%
Grand Rapids, MI
"When I think cheeseburger, I think 'Merica, and when I think 'Merica, I don't think one beer, I think many beers. That's why I reach for a session IPA, specifically Founders All Day IPA, when I am in the backyard grilling and chilling. This well-balanced, crushable beer can stand up to the complexity of the weekend warrior's favorite fare thanks to the piney and citrus hop notes which cut through the fat, while the carbonation cleanses and primes your taste buds for the next beautiful bite. Plus, All Day's low ABV keeps your senses sharp while you are manning the grill and kicking ass in KanJam." -- Michael Arp, writer, The Blue Collar Foodie (Fair Lawn, NJ)
Pale ale, 5.2%
St. Paul, MN
"With cheeseburgers I would recommend Summit Extra Pale Ale from Summit Brewing Co. in St. Paul. It has a gentle caramel sweetness balanced by floral English hops. The bitterness offers a counterpoint to the grease and toppings, while the caramel malt provides a complement." -- Michael Agnew, owner, A Perfect Pint (Minneapolis, MN)
Brown ale, 5.5%
Birmingham, AL
"I don't eat vegetables, so when I'm pairing a burger and beer, I think about a plain cheeseburger. I love smoked Gouda, and with a smoked Gouda burger I love a brown ale like Pillar to Post brown rye from Trim Tab Brewing. This beer has a complex malt bill that provides beautiful nutty and biscuit notes that enhance the nuttiness of the cheese and highlight a well-toasted bun. Also, the subtle rye finish provides a nice earthy spice note that accentuates a properly seasoned burger." -- David Acra, Northern Florida area manager, New Belgium Brewing Co. (Jacksonville, FL)
Belgian ale, 6.6%
Dinant, Belgium
"A cheeseburger pairs perfectly with Leffe Blond, a Belgian blond ale that's been brewed with the same recipe since 1240 CE. The refreshing citrus and spice on the nose evoke thoughts of grilling in warm summer months; the bready and malty notes on taste will cut the breadiness of the bun, enhancing the flavor of the meat and cheese while the creamy body and strength (6.6% ABV) will stand up to the fat of the burger, creating a pleasurable mouthfeel. The perceived malty sweetness will balance out the saltiness of the cheeseburger, bringing about a perfect balance between beer and food." -- Dave Hunter, BJCP judge, Pacific Northwest Homebrewers Conference (Yakima, WA)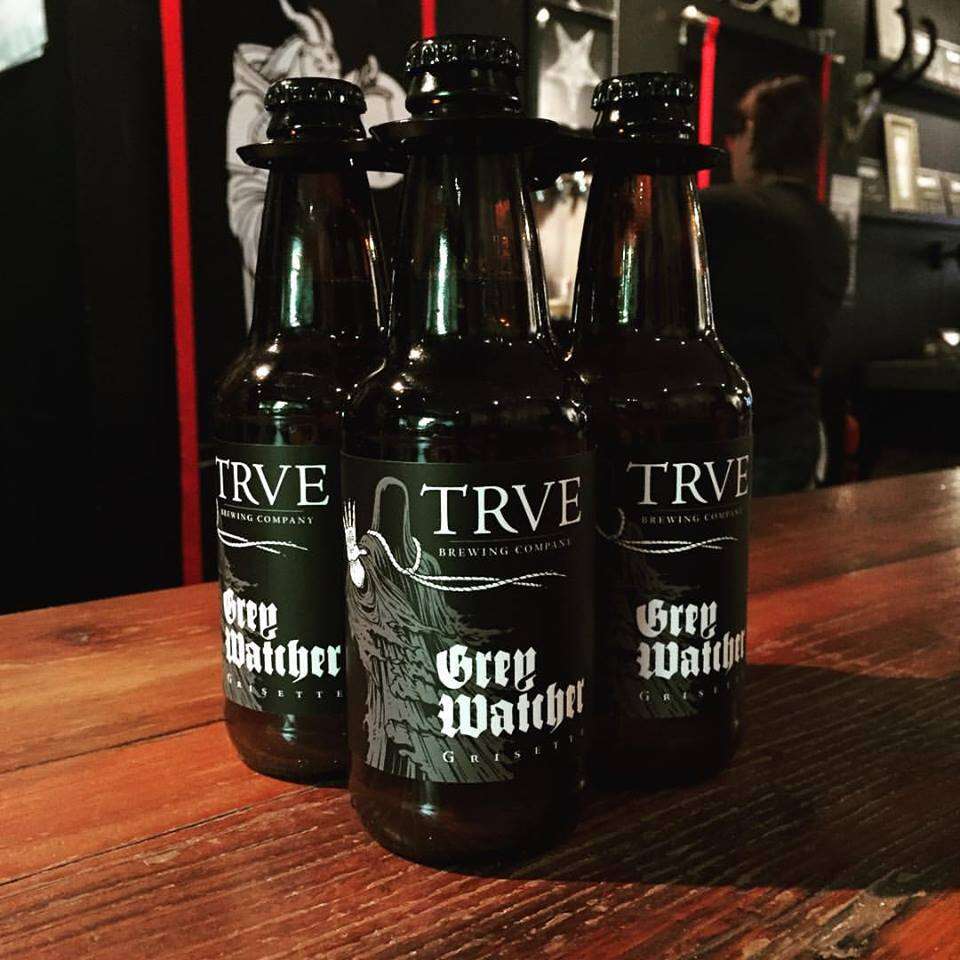 Saison, 4.8%
Denver, CO
"There is a magical moment, ever illusive, that I am always in search of. That moment after you take an awkwardly ambitious bite of a cheeseburger, reservoir of juices still in your cheeks, cheese smeared to the roof of your mouth. A wash of tightly carbonated beer fizzes and pops across your palate, rekindling and elevating flavor layers of salty umami! When it hits you, it is undeniable! If there is a heaven...
"There are four key elements that must come together in a delicious and twisted way to accomplish burger-and-beer nirvana. First, a responsibly ranched beef, coarse grind of 40% chuck, 25% sirloin, 25% brisket, and 10% heart. You don't have to go bloody, but if you 'hockey puck' it, I will find you!
"Second, a proper stone-milled, non-GMO flour bun with whole butter and eggs (none of that powdered shit!). The ratio of bun to meat should hold steady at half the weight of raw dough to raw burger meat.
"Third, slice your own cheese! So many factors go into a high-quality cheese -- milk quality, time, temperature, a bizarre/brilliant maker, and surface area-oxygen contact. So that pre-sliced cardboard won't cut it. Something big and nutty cut 4mm thick will do the trick.
"Finally, tight, tongue-tingling bubbles with perceivable acidity are the necessary catalyst to a vibrant, cleansing, and damn satisfying beef pairing. Trust!
"This is the exact burger and beer pairing holding court in my taste memory today, and for the better part of a year now. Pair TRVE Brewing's Grey Watcher with 8oz of Scottish Highland cattle cooked bloody (because that's fucking metal!) atop a lightly toasted brioche bun (from my homie John Hinman's Bakery) oozing with Comte (a French Gruyere-like cheese), and that ever-illusive magical moment will be achieved!" -- Jensen Cummings, Brewed Food (Denver, CO)
Sign up here for our daily Thrillist email, and get your fix of the best in food/drink/fun.
Lee Breslouer is a senior writer for Thrillist, and will get a burger and a beer for lunch today. Follow him to boozy lunches: @LeeBreslouer.