There are steaks, and then there are $150, 40oz, 28-day dry-aged steaks that get a maple syrup marinade before being drenched in a bath of butter, which is then combined with steak juices to create a (somehow) light, foamy Hollandaise. That timeless work of beef art is the cote de boeuf from Piora in NYC. It's meant for two, but you really shouldn't let that happen. Now watch the video to see how the monster is made.
Recommended Video
The 'Game of Thrones' Pop-Up Bar Is Now Open in Washington, DC
Previous Venue
Next Venue
Venue Description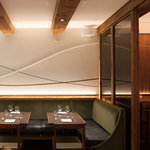 1. Piora
430 Hudson St, New York, NY 10014
Taking its name from the word "to blossom" in Korean, Piora's menu is a lively mash-up of Italian and Korean cuisines and fittingly features plenty of veggie-centric, farm-fresh fare. Housed in a West Village townhouse, the ground-floor dining room is intimate with 32 seats and great cocktails, and overlooks a beautiful private garden. You're gonna want to get the signature bucatini with black garlic, Dungeness crab, maitake mushrooms, and chilies.