Paid Content For
Amazon Studios
10 of the Most Authentic Prohibition-Style Bars Across the US
Paid Content For
Amazon Studios
The 18th Amendment was passed in 1919, providing the entire nation with what should have been a 13-year killjoy, but nothing could have stopped the Roaring Twenties from being defined by glamour and booze. In fact, despite not being legally able to produce, import, transport or sell alcohol, the era was known for literally the opposite, with partygoers sipping on gin in secret speakeasies and others housing an ungodly amount of alcohol in their homes. While Millennials clearly missed out on the historical event, modern-day nightlife pros have managed to bring back the Prohibition-era with hidden bars you can only get into with a password, and elaborate cocktail menus that even Al Capone would find satisfying.
The 10 bars below certainly have this era covered in spades, serving up some of the best Prohibition-style drinks and drama in the US. Both with authentic (and in some cases award-winning) cocktails, bartenders that embrace the grace and spirit of the times, and decor that will make you think you've taken a ride in a time machine. Oh, and if you are into the secrecy thing, many of these spots take the speakeasy tradition to the next level, complete with passwords, trap doors, and hidden signals for patrons to decode. So, step back in time by visiting any of these bars.
Bourbon & Branch
San Francisco, CA
Vibe: Walking through the doors of Bourbon & Branch will make you feel like you're hanging out with Jay Gatsby himself. Complete with five separate rooms each with their own passwords, entrances and various cocktails, this San Francisco speakeasy is one of the few that forbids patrons from taking photos or using their cell phones inside. So, sorry, your Instagram brag will have to wait until you're back outside the bar.
Best kept secret: Head back to 1925 and take a seat at The Ipswitch, the bar's incredibly exclusive and super-secret basement room that can only be accessed through a trap door in the floor. Named after the actual speakeasy that took over the space during Prohibition, the only way to gain entry is through sheer luck. Your best shot at getting in is to book a large event at Bourbon & Branch and hope you made a good impression with the hostess.
What to order: The tasting menu, which comes with an apéritif, a main, and a digestif, available at The Wilson (one of the five rooms the bar has to offer).
The Franklin Bar
Philadelphia, PA
Vibe: Found in the basement of the former Philadelphia Franklin Mortgage & Investment Company, the Franklin Bar exhibits a Prohibition lore that's enticing even to those who don't care about speakeasies. Initially home to one of the country's largest rum-running rings, the space now exudes a dark and alluring ambiance that gives off a swanky edge similar to that of the Roaring Twenties.
Why you should go: Not only are the cocktails complex -- most of the drinks are either frothing with egg whites or boasting a flamed peel -- but they're also made with hard-to-find spirits in order to provide drinkers with a truly one-of-a-kind taste. If you're looking for something less bougie, head to the upstairs bar, where the atmosphere is more lax, divey and full of fruity cocktails.
What to order: Queen's Gambit -- Decker and Brian Letizia grapefruit bitters, bonal, blanc vermouth, Maurin Quina, dry vermouth and Old Tom gin.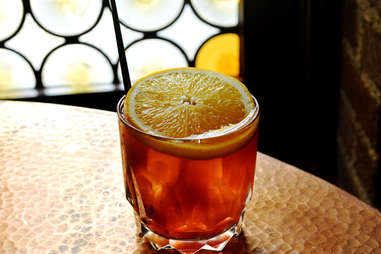 The Owl Bar
Baltimore, MD
Vibe: Hotel bars tend to have questionable reputations, but Baltimore's Owl Bar is doing a solid job of demolishing the stereotype. Located inside the historic Belvedere Hotel, the Owl Bar sets the tone with stained glass panels, antique chandeliers, and intricate murals. The décor is enough reason to stop by for a drink, but for those really looking for 1920's authenticity, take solace in knowing that F. Scott Fitzgerald and President Hoover were once guests at the Belvedere and presumably visited the bar you're sipping your gin in.
Best kept secret: Originally opening in 1903 and formally known as just "the bar room," the Owl Bar (which reportedly got its official name after World War II), used ornamental owls to tell patrons when liquor was available. If the owls' eyes were blinking, it meant that the shipment arrived and the coast was clear. When the feds were around, the eyes stared straight ahead.
What to order: Prohibition Punch -- E&J VS Brandy, Jamaican Rum, Peach Brandy, black tea, lemon juice, all-spice dram, Angostura bitters and blood orange bitters.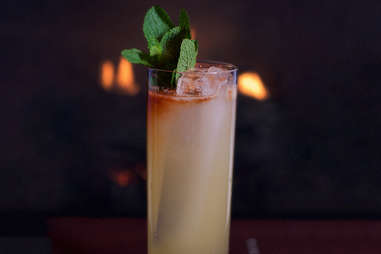 The Violet Hour
Chicago, IL
Vibe: Modeled after the bootlegging hubs of the 1920's, Chicago's Violet Hour is an alluring retreat chock full of dimly lit chandeliers, plush velvet drapes and jazz tunes that will instantly transport you back nine decades. The city's first go-to for craft cocktails, the Violet Hour -- which is hidden behind a mural-covered door -- keeps up their ace reputation by requesting that visitors only bring guests they'd also bring to their mother's house for Sunday brunch. In other words, leave the Hemingway of your friend group at the bro bar down the street.
Why you should go: Getting its name from a stanza in T.S. Eliot's poem "The Waste Land" and Bernard Devoto's The Hour, the Violet Hour won a James Beard Award in 2015 for its outstanding bar program, meaning it demonstrated excellence in cocktails, spirits and beer service. Clearly this is the place to be if you're looking for a really, really good drink that puts a sophisticated spin on old classics.
What to order: Rangoon Fizz -- Beefeater gin, lime, house ginger, mint, and Angostura Bitters.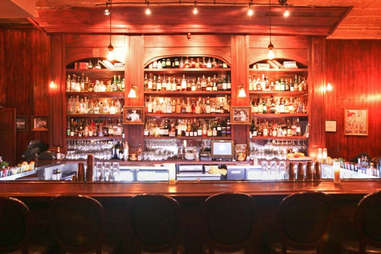 Williams & Graham
Denver, CO
Vibe: While Williams & Graham initially used its bookstore façade to keep its real identity under wraps, national accolades have brought in partygoers from around the country who are looking to experience a true-to-form Prohibition-style speakeasy. The main entranceway is a secret passageway in the form of a swinging bookshelf, which then leads you to a dimly lit, wood-paneled bar encased by stamped tin ceilings, red walls, and high-backed booths.
Why you should go: Aside from getting to go through a real-life trapdoor, Williams & Graham's cocktails are award-winning and served up by suspender-wearing bartenders who take pride in their craft. The menu is also constantly changing, though every concoction (regardless of the season) is guaranteed to please. Did we mention you get to go through a trap door?
What to order: Mahogany Botany -- St. George Botanivore gin, Leopold Bros. Apertivo, cinnamon syrup, blood orange juice, lemon juice and soda water.
The Gibson
Washington, DC
Vibe: With a strict cap of less than 50 visitors inside at a time and a no-standing policy, the Gibson offers a space all Prohibition-enthusiasts can admire: an embossed leather bar, cozy seating, and flickering candles at every table. Located in Washington's U Street corridor, the Gibson is easy to miss with its nondescript plain black door, but the nearby call box suggests there's something more exciting behind it. Once inside you'll find dim lighting, hidden booths, and a seductive feel that's practically begging for a real-life flapper to take a stool at the bar.
Why you should go: The Gibson's ever-changing cocktail list will have you coming back for a different taste every season. But don't feel obligated to stick to the menu -- bartenders are more than willing to concoct something original based on your tastes. Their modern take on vintage drinks also means that there will never be liquid nitrogen clouding your whiskey glass. (Translation: more room for booze.)
What to order: The Cat's Meow -- Red Wine, Cruzan Black Strap Rum, vanilla, lime and champagne.
Midnight Cowboy
Austin, TX
Vibe: This downtown Austin bar is easy to overlook with its drab brown exterior, but the single red light bulb marking its presence sticks out. After buzzing "Harry Craddock" on the call box, you'll be escorted into a long, narrow, dark bar that boasts lavish black leather booths and floral wallpaper that gives way to sections of exposed brick. Despite being in the middle of Austin's rowdy 6th Street, Midnight Cowboy strives to create a more relaxed atmosphere with its house rules, including no phone calls, laptops, or loud conversation. While guests are encouraged to flirt with staff, they're also asked to refrain from excessive displays of affection. Some rules are meant to be broken, but not these -- unless you're into spending your night on the street.
Best kept secret: While the cocktail lounge is now quite upscale and fancy, with its low lighting, vintage bar, and three private rooms -- it was formerly home to a brothel in Austin's red light district. Similar to its current state, the original space was concealed as a massage parlor and operated for more than 30 years. That's a lot of happy endings.
What to order: Rattlesnake -- rye whiskey, lemon juice, Turbinado syrup, egg white, absinthe rinse, and Angostura bitters.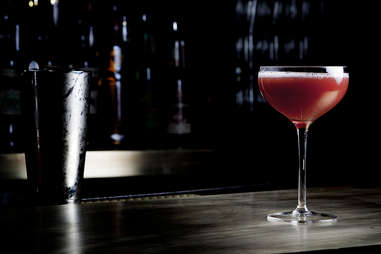 Employees Only
New York, NY
Vibe: This 12-year-old cocktail bar nestled in NYC's West Village is masked behind a neon psychic sign, but unlike other speakeasies, the bar's cover is actually legitimate; when walking through the door, you'll notice an actual psychic sitting in the small vestibule. Once you're told your future and how you'll never have to worry about money again, you can proceed to the bar area, where you'll feel less antsy about burning a hole in your pocket from trying every cocktail on the menu. Bartenders in slick white chef coats cater to a diverse crowd looking to feel like they're decades away from modern-day New York. The feeling is easily achieved thanks to the bar's dark lighting and occasional bar-top burlesque show.
Why you should go: New York may be coined "the city that never sleeps," but sadly bar kitchens tend to close early, even on weekends. Employees Only is an exception, especially for anyone who feels like sticking around until it closes at 4 am. Cooks offer those hardcore stragglers chicken soup as a parting gift for staying late.
What to order: Billionaire Cocktail -- Baker's bourbon shaken with fresh lemon juice, EO grenadine, and absinthe bitters.
The Bible Club
Portland, OR
Vibe: From the outside, the Bible Club looks like any ordinary suburban house, but a single green light in the upstairs window hints otherwise. As soon as visitors turn the doorknob (which dates back to the 1800's), they're transported back to the Jazz Age. The intimate space was originally built in 1922 and is filled to the brim with vintage chairs, wooden bar stools, and American flags with only 48 stars, before Alaska and Hawaii were recognized as states.
Best kept secret: Since the era predated the glass and tin Boston Shaker, bartenders use only hand-pounded metal three-piece shakers when making cocktails. On top of that, the majority of bar equipment and room décor is American-made before 1930 and sourced by the bar's owner from auctions and estate sales.
What to order: The Zombie -- Wray and Nephew Overproof Rum, El Dorado 5 Year Rum, cherry heering, BC grenadine, lime and orange.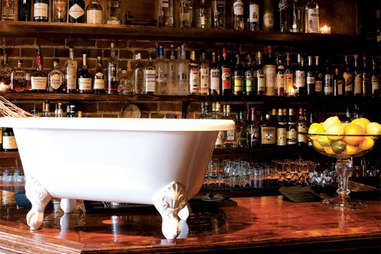 Bathtub Gin & Co.
Seattle, WA
Vibe: This old-school speakeasy is conspicuously tucked in an alleyway that patrons could easily walk past without a second glance. But take a closer look and they'd find a worn-down plaque that reads "Bathtub Gin & Co.", a posh, Prohibition-style drinking lounge that embodies the era's candid swankiness. Its cozy downstairs area boasts an actual antique bathtub in the middle of the floor (hence the name), while intimate nooks, lamps made out of Hendrick's bottles, and old-school books give it the old-school charm of the Hemingway era.
Why you should go: If you're looking to sip on a skillfully-made cocktail while having quiet conversation, make sure to drop by the bar early. If you'd rather party like Gatsby, head to the cozy space on the weekends, where workers say unexpected friendships are commonly formed due to the tight space. Aside from its drool-worthy twists on the era's classic cocktails, Bathtub Gin & Co. also offers an extensive list of international gins that would make F. Scott Fitzgerald jealous.
What to order: Singapore Sling -- London Dry Gin, Cherry Heering Liqueur, cointreau, benedictine, Angostura bitters, grenadine and lime juice.