The Post-Dive Bar Is Here to Take Over Your Favorite Dive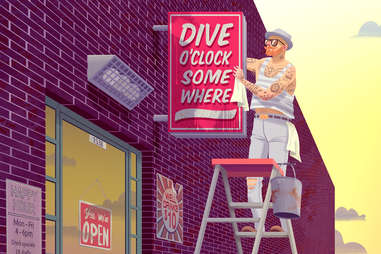 The Sandy Hut used to be the kind of bar everyone knew and no one visited.
For decades, it was situated in a half-industrial tangle of inner Portland, Oregon infamous for heroin, homelessness, prostitution, and a string of murders in the 1980s. Its neon sign -- depicting a tiki hut emblazoned with "Bar & Lounge Since 1923" -- presided ominously above a windowless bunker you'd only find yourself if things had gone awry.
For decades, it was home to a gnarled mix of steel-hearted taxi drivers, people in the midst of crashing from benders, and folks who didn't care if they lived or died. You'd only eat if you needed to put something in your body that wasn't dope. At the turn of the century, it took on a new life as the "Handy Slut" -- the unofficial moniker emblazoned on t-shirts and women's underwear sold behind the bar -- adding a slightly more vibrant crowd but keeping the fistfights and notoriety.
But by the mid-2000s, the neighborhood, and the city of Portland, was in the middle of a massive transformation. New restaurants, new apartment blocks, and a new wave of young people were flocking to the city. The former hardscrabble backwater became the artsy, techy city it is today. And it was time for the Hut to evolve.
In 2015, Warren Boothby and Marcus Archambeault -- owners of around half a dozen other Portland bars -- bought the Sandy Hut. They replaced a stage that hosted punk shows with a shuffleboard table and a Big Buck Hunter console. A new menu of Instagram-friendly bar food was introduced alongside a weekend brunch -- brunch! Craft beer joined PBR. Inexpensive booze-plus-mixers cocktails joined the drinks menu. For the first time, daylight graced the interior: A chunk of the exterior was carved out and rewalled with glass tiling.
On a dreary Sunday afternoon in 2018, I stopped in for a beer. I expected it to be empty. Instead, I walked into a cheerful bar teeming with art kids laughing over mimosas and young, attractive bartenders waltzing eggs Benedict to tables of stylish punks.
It looked and acted and felt like a dive, but the experience was as pleasant and professional as a fine cocktail bar. PBR was on tap, but my beer was from Pfriem, one of Oregon's most celebrated breweries. The people around me didn't look or act rich, but they looked and acted cool. I felt as though I was having a beer in the uncanny valley's premier dive.
"The old Sandy Hut… was gnarly. There were hidden cameras; all kinds of weird ass shit," says Ashley Frutiger, a bartender who has been working the Hut since 2015. "We still have regulars that have been coming in here for the last 20 years, and they like the change. We cleaned up all the smoke and gave it a little bit of a facelift. The owners wanted to keep the essence of what Sandy Hut was, but not make it so it's just a bunch of drunk people fighting all the time."
Now, it is as though a poltergeist that had haunted the place for decades has finally been exorcised. The Sandy Hut has become a post-dive bar.
And it is not alone.
From Portland to New York, Cleveland to New Orleans, San Francisco to Minneapolis, the American dive bar has been changing into a new kind of urban drinking institution. These new-old bars are rooted in the past but exist in a cultural omnipresent where high and low are one.
The post-dive is here to stay, and it is coming to a city near you -- whether you like it or not.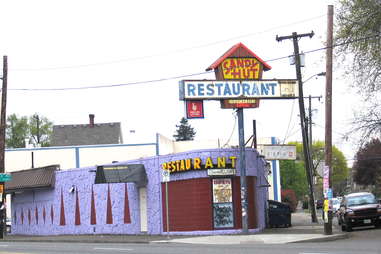 Dive vs. post-dive
In the United States, there is a shared cultural conception of the dive bar. The dive bar is wreathed in cigarette smoke and shrouded in darkness. Domestic beer is pulled from worn handles and there is one shelf of spirits: bottom. A lush is slumped on his barstool, staring dead-eyed at anyone who dares let daylight grace his hovel.
We all know what "dive" means. More importantly, we know how "dive" feels. Wood paneling, vintage beer memorabilia, and ancient cigarette machines are tied to a time when urban centers needed bars that would serve people with next to no money. Decades later, if you walk into a dive bar, you know you're in a dive bar right away.
"There's a lot of soul here," says Frutiger about the Sandy Hut. "New bars that try to capture being a dive can't unless you have years behind you. There's something about the air and building that carries a story, and you just can't replicate that in a new bar. It's just not possible."
A dive bar can be a lightless dungeon. But when you let the sunlight in, it can transform into a place like the Sandy Hut. This is the post-dive bar: A drinking establishment rooted in the tradition of the deindustrialized American city of the late 20th century, one that caters to the aesthetic preferences of economically precarious but cosmopolitan twenty and thirty-somethings, and is operated as a modern hospitality business.
Where did this mongrel come from?
The creative class and the lowlife lifestyle
In the mid-2000s, my generation -- the dreaded millennials -- began contributing to the workforce. We introduced a new subclass of professional that fused bohemian sensibilities with ladder-climbing careerism: The "creative." Unlike the beats, hippies, and other alternative subcultures of past generations, creatives were cultured in the brutally competitive neoliberal education systems of the 1990s, graduating into a stratified job market defined by freelance work and unpaid internships, one where the last who could afford to work for free tended to be the first to get the offer for the elusive "real" job.
We don't want to drink at some chintzy downtown club for "bros." We want a bar that speaks to our tortured artist souls.
As creatives grew up in the monolithic neoliberalism of post-Cold War hyperpower America, we internalized mainstream, professional success as the sole markers of personal validation and aesthetic value. Thus, creatives flocked to industries like entertainment, journalism, fashion, marketing and social media, which exist at the intersection of commerce and art. These industries, supposedly, let us have our cake (creative fulfillment) and eat it, too (financial success). They also happen to have been established in the coastal cities of New York, San Francisco, Los Angeles, and Portland, places where the specter of gentrification looms large, often overlooked by the excitement that comes with transforming an old-guard city into the "hip, new town."
By 2010, the first wave of creatives -- the younger Gen Xers and elder millennials -- had gone from punk kids trying to make it to middle managers at marketing firms and editors at culture magazines. They went from counterculture to culture, and with the technological twist of social media thrown in the mix, creatives were able to disseminate their definition of cool across the entire internet.
Creatives self-identify as rebels and artists. They're uninterested in the big box store, chain restaurant, and American cultural mainstream of capitalism's postwar golden age unless it is filtered through ironic detachment or pre-9/11 nostalgia. Instead, we're driven by a search for authenticity. We do not want the burger from Fuddruckers. We want the burger from the heavy metal-themed "burger joint" run by a weed-smoking chef with sleeve tattoos. We don't want to drink at some chintzy downtown club for "bros." We want a bar that speaks to our tortured artist souls, where we can sit side by side with boozers and poets and drink away our woes with our comrades-in-alternativeness.
Creatives like dive bars because dive bars are authentic, and therefore "cool." Because the creative class' role is to manage culture on behalf of capitalism. It means that everyone else gets to be told dive bars are cool. When everyone else gets told to go to a dive bar by "cool people" -- people who work for Nike or Instagram, or write for TV shows, or have successful podcasts -- some percentage of those people will want to go to a dive bar.
But… dive bars often have gross food and toxic bathrooms. Dive bars have cheap beer, which is cool and all, but what if that dive bar also had a good craft pilsner on tap? What if you could get a gigantic plate of nachos with homemade queso and guac for, say, $9? What if the bartender was a cute 24-year-old with hand tattoos instead of a boulder-sized Polish septuagenarian? What if you replaced the dad-rock bar band with a DJ who spins Italo House?
When you slot the tasteful cultural preferences of the creative class into the body of the dive bar, you get yourself the post-dive bar. What's more, you don't even need a Sandy Hut to buy and patch up to create a post-dive. You can build one in a place that looks the part.
New bar, same old history
On the corner of Metropolitan and Havemeyer, in the heart of Williamsburg, Brooklyn, you'll find a building so innocuous you'd be forgiven if you thought it was empty. You'll enter a dark bar that smells faintly of cigarette smoke and mildew from a nearly invisible door under a faded awning. With wood-paneled walls decorated with nautical kitsch, red vinyl booths, ancient arcade game cabinets, and teal paper menus that instruct diners to order its sub-$10 cocktails from the bar, the first time I visited The Commodore, I thought that the place had been around for decades.
"Like all good dive bars, the Commodore keeps it simple," wrote Oliver Strand for the New York Times when The Commodore originally opened. "It feels like the bar next to the bus station, only without the daytime drinkers and sticky floor."
That feeling was no accident. The Commodore opened to rave reviews in 2010. New York Magazine has it on its lists for "The Absolute Best Southern Restaurant in New York" and "The Absolute Best Bar in Williamsburg." Bon Appetit gushed about "the best f*#%ing fried chicken sandwich in Brooklyn, or New York City, or probably the world." Visit after 6pm and you'll be lucky to push your way to the bar.
The Commodore is a sui generis post-dive bar, one fashioned out of whole cloth by its owners, Chris Young and Taylor Dow. It was designed by interior designer Joseph Foglia, whose projects include the Michelin-recognized Egg -- a Williamsburg-based southern brunch spot with a minimalist interior and an outpost in Tokyo -- and Oslo Coffee Company, a third-wave coffee bar with decor as Scandi-modern as its name.
Though The Commodore is a baby in dive bar years, it is rooted in the history of its neighborhood. In the 1960s, the bar was the Hi-Way Lounge, a hangout owned by Genovese family capo James Napoli, who ran a $35 million-a-year gambling ring out of it. Over the following decades, the Hi-Way Lounge would become a Dominican restaurant, a music venue called Black Betty, and, in 2010, The Commodore. Foglia grew up in Williamsburg and used the history of the building to design the bar.
"We wanted to make a place that showed the layers of history, but not make it look like a time capsule, not make it blatant" says Foglia. "We didn't want to create a fake dive bar that looked like we pulled up a magazine and did all those cliche things you do when you do that. There are plenty of dive bars that throw peanuts on the floor just to make it look like a dive bar.
"The authenticity is only going to really come from the history," continues Foglia. "Otherwise, we're just paying homage. When you think about the dive bar, you think about the old guy, who's a dinosaur. The reason he's there is because he sort of beat the odds. They didn't condo him out. He didn't die of alcoholism. For me, the dive bar, the element is history. As long as it has that, it's a dive bar. That's what happened with Commodore. We were lucky to have history to work with."
The Commodore has history, but it is not its own. It is a history shared between businesses that have occupied the same spot from the time when Williamsburg was run by mobsters, through the deindustrialization of the '80s and '90s, through the transformation of the neighborhood into shorthand for millennial hipness. The building's evolution could serve as a metaphor for the evolution of Williamsburg itself, from blue-collar immigrant enclave to a heavily gentrified paragon of millennial New York cool. Yet The Commodore is among the purest articulations of the post-dive bar: The only thing real about it is its address. It is a completely new place that exists in the cultural space for very old places.
But this does not make The Commodore fake. It doesn't make the Sandy Hut fake, or the Voodoo Lounge in New Orleans fake, or the CC Club in Minneapolis fake, or any other dive bar that now serves young people and has changed with the times fake. It makes them something else entirely. They're now.
Now that's what I call a dive bar!
In their 2018 essay "Welcome to the Big Flat Now," authors Thom Bettridge, Joerg Koch, and Lucas Mascatello argue that global culture has been completely restructured by technology to the extent that we exist in a new kind of perpetual present.
Enabled by the network of high-speed internet and technological platforms like Facebook Messenger and Instagram, the authors argue that all cultural referents now exist in a kind of omnipresence. Anyone with a smartphone is able to access Instagram, search a hashtag, and immediately have access to up to billions of data points on whatever topic they wish, with those data points linking to billions of other data points. This information can be historical, speculative or contemporary, but it all exists in the same technological place at once.
The post-dive bar is the dive bar of the Big Flat Now. Calling places like Sandy Hut and The Commodore post-dive bars may sound like a generous alternative to calling them fake dive bars, or perhaps dive bar-themed bars, but that doesn't capture the cultural context in which they exist. Our understanding of what a dive bar is now what you find under #divebar. The Commodore and Sandy Hut may physically be in Brooklyn and Portland, but they are of the internet. The people who frequent them live in Brooklyn and Portland, but their lives are on the internet.
"The sheer volume of information available puts a lot of pressure on the speed of communication," write Bettridge, Koch and Mascatello. "Creative content must be understood instantly, otherwise there is no traction. The paradox of this output is that it must be familiar and uncomplicated, but also astonishing and new. To do this, creatives often combine well-known, but apparently unrelated, design categories. The more obscure the connection and the more familiar the archetypes, the more surprising the result."
By disrupting our understanding of the dive bar with craft beer, cocktails, and food prepared to modern tastes, the post dive attracts attention and becomes part of the cultural conversation. These bars are authentic in the same sense that meme culture, emo rap, and Supreme shirts depicting celebrities wearing Supreme shirts are authentic: Their value comes from the creative labor of combining their component parts into something novel. This just isn't your mom and dad's authenticity.
As such, a common language is building among the post-dive bar. As the concept proliferates out of Instagram and into the world at large, you're going to see some new things at your neighborhood watering hole. These are five signs that your dive bar has become a post-dive.
The alcoholic slushie: There is no better metaphor for millennial degradation and no better sign that you are in a post-dive than the presence of a booze slushie on the menu. Invoking the Icee machines of '90s youth, these neon slurries of cheap alcohol and sugar strike the perfect balance between condescending infantilization, misplaced nostalgia, and pointless novelty that saturates our culture.
A "Best Burger/nachos/bar pizza/bar" award from an alternative weekly newspaper: Alternative journalists make very little money, and therefore love establishments that serve inexpensive alcohol and quality junk food because they are the only places where we can afford to eat and drink. If your local alt-weekly has heaped praise on a dive for their reasonably priced, cheese-topped monstrosities, you are almost certainly in a post-dive bar.
Irony and nostalgia: The post-dive uses vintage beer memorabilia to invoke a sense of working-class authenticity to its customers, many of which have been systematically excluded from performing meaningful labor. It decorates its alcoholic slushies with toothpick umbrellas, invoking tropical vacations we can't afford. It tops its $1 jello shots with whipped cream and Pop Rocks to make them "fancy."
Alternative youths: Whether you call them hipsters, alts, indie or art kids, the presence of young, tattooed, well-dressed people in or behind the bar is a signifier that you are in a post-dive.
DJ nights: Any bar can host a rock or folk group, but alternative youths love live dance music. If DJ Kyle is spinning instrumental hip-hop on a Friday evening, you're in a post-dive.
We kids simply like our poverty a little flashier... garnished with a dollop of boozy slushie.
Everything stays the same... eventually
Places like Williamsburg and Sandy Boulevard are not the same places that they were in the '80s. These neighborhoods have been irrevocably transformed by the forces of gentrification, as have neighborhoods in metropolises across the country. In Portland, the homelessness crisis that has long existed in the city has changed as the once-abandoned buildings in the city center have been bought and redeveloped. The cheap motels and squats are almost gone, so people just sleep on the streets and in parks outside of high-end dispensaries now.
Things aren't better now than they were 30 years ago. They're just as bad, in our new kind of perpetual internet-hell present. The dive bar has evolved as such. The post-dive isn't a pastiche of the dive bar. It's the dive bar for a new generation of poor people. We kids simply like our poverty a little flashier, augmented by financial support from parents and the revenue from working three part-time jobs and garnished with a dollop of boozy slushie.
This isn't to say that the urban dive bar is going away. From coast to coast, there are still gloriously decrepit dens of sin that seem dislodged from time, space, and sobriety -- places where you're as likely to emerge with a new best friend as you are a flesh wound. There are places in downtown Portland, in Williamsburg, in present and future iterations of your neighborhood that have not and will not change. There are places that have been owned by the same guy for decades, and that guy will own the building until he dies. They are places that are free from the omnipresence of Instagram, free from nowness.
The post-dive won't replace those bars. Not all of them, anyway. Some will make the leap. A new generation of owners might come in, clean the tap lines, and maybe bolt a door on the bathroom. Maybe they'll add a bottomless mimosa brunch and replace the outdated prophylactics in the busted old condom machine with something kitschy and ironic.
Whether this is good is a matter of opinion, and likely generational disposition. And, over time, the novelty of these newfangled post-dives will age away. Just as the counterculture became the culture, the decent kitchen, the slushie, and the craft pilsner will become as much a part of the fabric of the dive bar as the leering wino and cigarette machine. These innovations will become the baseline. The post-dive will become the dive.
Eventually, the cool kids will get sick of their slushie hangovers. Some guy will come in and line their favorite spot with a dozen televisions tuned to Sportscenter. They'll charge $14 for $9 nachos. These places will become the bar equivalents of malls that people do not shop in anymore, of empty office parks. Some will become joints you go when you do not care, alcohol dispensaries without past, present or future… until a new generation of drinkers with different tastes and empty wallets moves in to start the process all over again.
Sign up here for our daily Thrillist email, get Eatmail for more food coverage, and subscribe here for our YouTube channel to get your fix of the best in food/drink/fun.