There's only so much time people at a tailgate party can spend sitting around talking about sports. Just kidding, if the entire rest of the world became an uninhabitable post-apocalyptic wasteland tailgaters could sit in that same parking lot for the rest of their lives talking about sports. Still, tailgating games are super-fun good times, so we decided to rank them according to which ones are super-funnest in an environment where there are lots of cars around, and lots of people you want to keep happy/occupied/away from the damn grill so you can do some work on those brats.
1. Flip Cup
It only takes one table to involve a whole lot of people, and games end fast so new players can rotate in all the time. There's plenty of action, and things can get intense, especially if you're terrible and consistently tanking things for your team. On the other hand, very few people are that good at flip cup, and the ones who are that good usually get balanced out by their four to seven very average teammates. This helps keep your tailgate free of that "two dudes lording their awesomeness over everyone else" beer pong dynamic. Also, if you're bored with your own guests, you can challenge an entire other tailgate to a game. Or is it match? Session?
2. Corn Hole
You can't accommodate as many people at once, but games go fast, and gameplay couldn't be more low maintenance. There aren't a lot of rules. There's not much to remember at a time in the morning when trying to remember things might be more annoying than it's worth. You just loft that beanbag, with no embarrassing, bowling-like approach, all as smooth as the beverage you're holding (voluntarily) in your non-tossing hand. The laid-back flow of the game ensures that the winners will handle victories with easy grace instead of in-your-face d-baggery. The thud-swish of a bean bag sticking on the board is one of the most beautiful sounds in the world.
3. Beer Pong
Only four people can play at a time. Games can take forever if people suck -- not a good thing if you've only got a limited time before kickoff, first pitch, or the opening noodling guitar jam of the Phish concert. Teams that are too good tend to be insufferably cocky, especially when you consider that you might be about to see an infinitely more athletic man catch seven balls for 139 yards on a broken femur. On the other hand, it's beer pong, and beer pong is awesome.
4. Washers
Washers is the original corn hole, invented by people who, for no apparent reason, had sacks of washers in their front yard. Like most things that came before other things, it's more difficult, since the lower stickability of metal discs vs bags of grain demands superior tossing skills. It's still really fun and requires zero energy, but you might lose a couple of people just because it's a mildly more frustrating game.
5. KanJam
A hippie disc might sound like a lame thing to bring to a tailgate, but KanJam deserves respect because of its gritty-ish origins: it was invented in the bluest collared city in America (Buffalo) by two guys who originally called it Garbage Can Frisbee. Technically you're supposed to throw from 50ft out, but you'd end up hitting a lot of cars that way, especially if you're not a frisbee person, which so, so many people aren't. On the other hand, the game's still fun all the way down to 10ft or so, and anyway it's a frisbee, so who cares if you hit a car. Or the back of somebody's head. Not a lot of people can play at once, but then again it's a good way to keep the four people who actually are good at frisbee occupied when there's no more room at the flip cup table. And you can play on concrete, a tougher proposition with...
6. Stump
The Stump Company, which claims (almost definitely rightfully) to be the maker of the first portable Stump game, does a pretty damn good job of selling its product as tailgate-optimized. For starters, they point out that the game can accommodate up to 20 players, and is unaffected by wind. They also cite as additional benefits that Stump is more "refined" and "manly" than beer pong or flip cup, and "builds one's confidence in using hammers". Add in "doesn't talk much" and Stump is basically your dad.
7. Spikeball
It's like hacky sack, except you get to play with your hands, which makes it 100x better than hacky sack, and there's a trampoline, which makes it 1000x better than hacky sack. It's slightly less fun on a hard surface, though. Diving for the ball is a big part of the game, and you really don't want to hang out with someone who wants to win bad enough to crash head-first into pavement. Unless that person is Miami Dolphin great Zach Thomas.
8. Polish Horseshoes
It's super-fun, easy to set up, and places a premium on advanced beverage handling skills, something every tailgater should develop. The big drawback, again, is if you're tailgating on concrete: there are sets available that come with a base you don't need to jam into the ground, but the best part of this game is when someone dives to save a point, which means that, if you're playing on concrete, Zach Thomas is going to win every single time.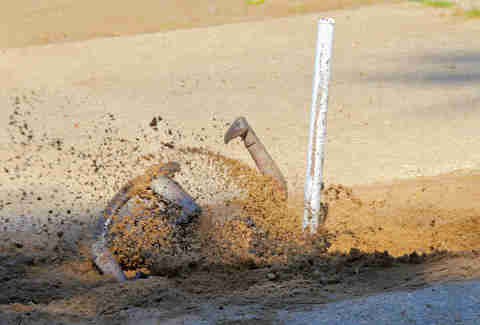 9. Horseshoes
Horseshoes makes you feel like an old person who has nothing better to do than stand around throwing horseshoes, which is really kind of nice, because you get a warm nostalgic feeling from channeling earlier generations of tailgaters, and just by virtue of your choice of activity you get to poop on frivolous youngsters playing their "Can Jammies".
10. Ladder Golf
One article about the rise of ladder golf at Ohio State tailgates cited "it's easier than corn toss" as a reason for its popularity, which tells you that Ohio State students might not be very good at corn hole and that they call corn hole "corn toss". The same story says that the game might have originated with old west cowboys throwing live snakes at barbed wire, which tells you that cowboys were out of their freaking minds and also not very good at corn hole.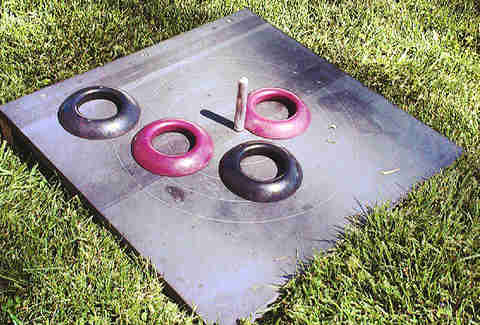 11. Quoits
Quoits seems to only exist so that people from Eastern Pennsylvania can explain that quoits is better than horseshoes, and that it's pronounced "quates". Apparently, the ring-tossing game used to be more popular than horseshoes, but because it's also more difficult -- a misjudged toss for the pole has no shot of sticking on the board, so you devote a lot of throws to defence -- it fell into obscurity until E. PA diehards revived it. If "harder than horseshoes" excites you, welcome to Excitement Land!
12. Jarts
Remember the good old days, when rock 'n' roll was young, the malt shop was the place to be, and everybody was crazy about hurling steel-tipped javelins across their front yards? Well, the steel tips were regulated out of existence, and now all you can get is Jarts: The Next Generation, an all-plastic version that doesn't stick in the ground like the jart above, much to the consternation of nostalgic Amazon commenters:
"Because our illustrious government has outlawed real lawn darts, these are what we are left with."
It's not a terrible game in that you still get to throw objects in a javelin-like fashion, but even enthusiasts relatively happy with the new product ("These New Jarts, Are the Best Ones That Have Come Out,Since they Banned the Real Ones With The Steel Tips.") are still frustrated by the way the bulbous plastic tips make the jart bounce out of the circle. From a tailgating perspective, you need a lot of space for any amount of fun -- 35ft -- and playing on concrete just doesn't work at all. If you're on grass and a purist, you can still find old-school jarts online, and they are definitely more fun, all the way up to the point where you have to go to jail.