After catching wind (popcorn and bacon wind, specifically) of the now-infamous Brewers-themed Bloody Mary that hit Reddit a few weeks ago, we felt morally obligated to hunt down the drink's creator and hug her. And then challenge her to make us an EVEN BETTER ONE, mainly by pointing and calling her names and saying that she'd never be able to make an even better one. Here's what she made, plus what we learned about Bloody Mary groupies, Wisconsin, and why this thing costs just $5.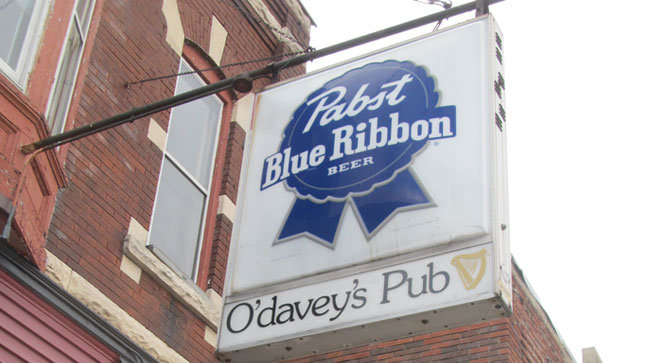 This is O'Davey's Pub in Fond du Lac, Wisconsin, the bar that bloody genius (which is now more than just a British saying!) Sarah Jayne Pickart stops into the first Sunday of every month. While there, she works up between 100 and 150 very insane Marys, each of which 1) gets loaded with more food than most people eat in a day, 2) follows a changing theme (next month's is "Props to the Pig"), and 3) COSTS FIVE FRIGGIN' DOLLARS. God bless you, Midwest. Regulars (including a cool guy named Mouse who declared, "Everyone likes Mouse!") confirmed that when Sarah's on the job, even though O'Davey's doesn't open until 11, all sorts of people show up at 8am to try and snag one. And it's easy to see why, even if just from an economical standpoint. It works out for O'Davey's, too -- despite giving away a shopping cart for $5, thanks to the crowds, they make more money on the days Sarah's making bloody magic than the days she's not.
Challenge to make the ultimate Thrillist bloody accepted, here's where Sarah started: ice, Ketel One, and a homemade tomato mix doctored with broths, brines, mustards, citruses, herbs, and even steak sauce (35 ingredients total, respect). In that she built a foundation of fresh and pickled vegetables, olives like whoa, and dill cheese curds, as our correspondents -- two Wisconsin natives gastronomically fit for the task -- sat tight while somehow resisting their genetic urges to just start tearing through those curds.
Next came heartier fare -- a venison stick, beer salami, corn on the cob, roasted asparagus, a BBQ rib, and a skewer loaded with prime rib, baby potatoes, and mushrooms. Oh, and more cheese, including pepperjack and cranberry cheddar. This is Wisconsin, after all. All the best stereotypes are based on reality.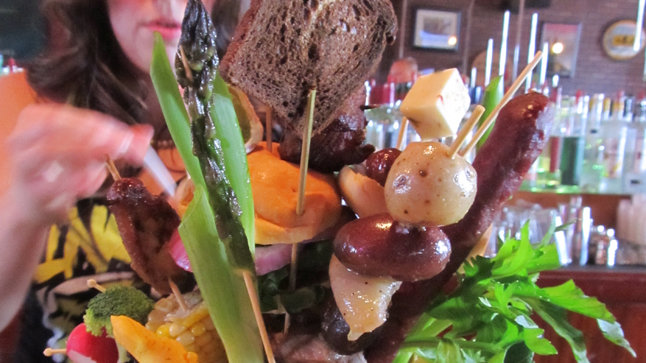 Both regular and lady-boners were had when Sarah added a triple-decker fish sandwich featuring walleye, perch, and bluegill (which she caught herself on Lake Winnebago, HOT). This was joined by a homemade bacon-wrapped jalapeno popper, a miniature brat with all the trimmings, a bison-and-bacon cheeseburger, a chicken wing, more bacon, and a slice of freshly buttered rye. Aspirin was popped in preparation for the impending heart attacks. Aspirin was run out of.
Finally, the woman of everyone's dreams added tiny cups of coleslaw and potato salad, a ham roll-up, and yet more cheese, this time in whipped mozzarella form, and it was done. The first (and last) Wisconsinite Delight -- the most epic Bloody Mary ever created.
Mouse predicted our correspondents would have serious difficulties and need to hit the bathroom halfway through. Well look at this and suck it, Mouse!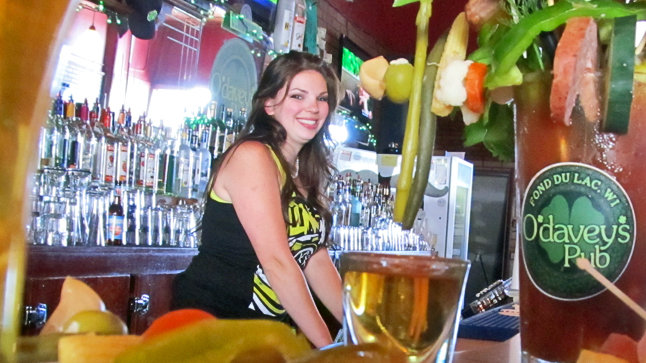 So to recap, our morning pick me up included: Ketel One, homemade tomato mix, a blue-cheese-stuffed olive, a garlic olive, a pimento-stuffed olive, string beans, sugar snap peas, broccoli, a stalk of celery, green onions, a green pepper, a cucumber slice, a radish, a sprig of dill, pickled baby corn, pickled green beans, pickled asparagus, a pickled Brussels sprout, a pickled carrot, a pickled mushroom, a pickled onion, pickled garlic, pickled cauliflower, a pickled pickle, dill cheese curds, a venison stick, beer salami, corn on the cob, roasted asparagus, a BBQ rib, a skewer loaded with prime rib, baby potatoes, and mushrooms, a triple-decker fish sandwich, a homemade bacon-wrapped jalapeno popper, a miniature brat with all the trimmings, a bison-and-bacon cheeseburger, a chicken wing, more bacon, a slice of freshly buttered rye, pepper jack, cranberry cheddar, mozzarella cheese whip, coleslaw, potato salad, a ham roll-up, and pepperoncini. We're not even sure where that pepperoncini came from, actually. Oh, also: Sarah is currently single. Photos and excessive digestion by Eric Miller