The psychology of the cocktail bar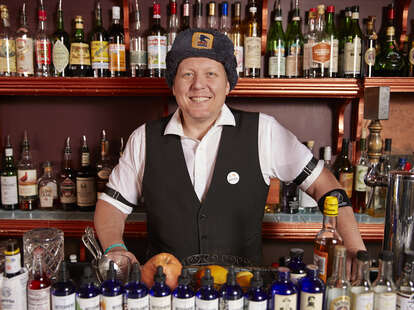 When you step into a cocktail bar, your first thought probably isn't "I bet there's a lot of subtle psychology at work here!" -- but there is, and it's all designed to give you the best experience possible. Here's a minute-by-minute breakdown of that interplay from the perspective of me, your faithful bartender.

Immediately upon entry, you will be greeted. Be that a simple nod or a bellowed "Hi there!" this establishes that you're welcome as my guest, so you no longer feel as if you've just wandered off the street into a stranger's house.
Maybe you'll notice right away, or maybe you won't, but the lights will be at a level that's flattering to everyone in the room, and the music volume and tempo will be commensurate with the number of people at the bar. Relatively empty means a slower beat and lower volume to facilitate conversation. If it's packed, louder, faster music makes the place lively but not frenetic.

fre·net·ic
frəˈnetik/
adjective
1. fast and energetic in a rather wild and uncontrolled way.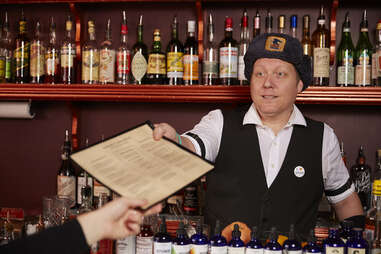 Within 10 seconds I'll personally put a menu in your hands. My bar is very specific in its offerings. I need you to have a notion of this as quickly as possible -- otherwise you're left hanging in an unfamiliar environment, and you're mentally already ordering a drink that I likely don't offer. I've cut the menu down to about half its former size, reducing the amount of time that you agonize over a list of alien ingredients and getting a drink into your hands faster.
Additionally, this small gesture is my chance to "give" you something. Psychologically, you now feel that you are indebted to me. Your mind now wants to give me something back. But, in this instance, it's not your soul, it's just doing me the courtesy of reading my now shorter menu.
I've outfitted the space with plenty of things to engage and entertain. The bar itself is topped with penny tiles -- it's very tactile and it's an amazing backdrop for cocktail Instagrams. I also use beautiful Japanese mixing glasses and gold barware to catch your eye while I'm making drinks. And I've made sure to put at least one universally recognizable bottle in the center of the top shelf -- at least you know one brand, whether you're a fan of it or not.
I've also laid out some items for you to physically engage with, including several bottles of bitters I encourage patrons to pick up and admire. I'll give you a quick tutorial on how to taste them and let you have fun tasting as many as you like. It helps to break the fourth wall and makes you more comfortable with something that you may have been curious about.
Then there are a few "fascinators" (not the funny hats, funny hats we'll get to in a minute). My dear friend Ari Form took baseball cards featuring doppelgangers of our staff and replaced their names with ours -- they're laid out without explanation on a shelf full of bitters, and are always good for sparking conversation.
One and a half to two minutes later, I'll bring you another "gift" (water), and I'm back to talk to you, about yourself first, and then the menu. "Is this your first time here?" Your answer offers me a lot of information. If "no", we can move seamlessly into the conversation about getting you a drink. If "yes", it offers me the chance you give you a thumbnail sketch of what we offer and why. Either way, I make you feel attended to and we have a better understanding of one another. If you say it's your first visit, I'll also always ask, "How'd you hear about us?" Your answer tells me volumes about your expectations. "Just walking by" means I have a lot of explaining to do; "read about you in a magazine" means we already get each other; "Yelp" -- God help me...
Three to five minutes into your visit, I'm talking to you about a drink selection. My job here is to make you feel at ease ordering something you've never heard of and, at the same time, never make you feel inferior for not recognizing the ingredients. It's my job to be the expert, yours is just to enjoy.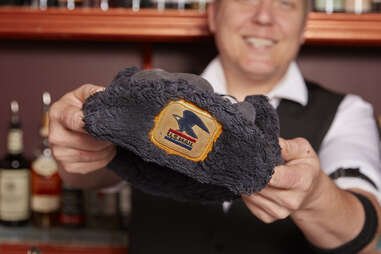 By this point, you'll probably have noticed that I'm wearing a silly hat (which is 22 years old and has a backstory involving Secret Santas and the U.S. Postal Service, but that's a tale for another day). One of the tools that I employ here is to disarm you by poking a little fun at myself. Though my staff and I are always dressed professionally, I'll often wear that hat throughout service to make me more approachable. I don't want to appear snobbish or overly costumed. I want you to feel like I know what I'm doing but I'm still just a regular guy.
Verbal horseplay and shtick come into play as well. For example, I have a cocktail named "Diamonds & Guns", and when a lady orders it I'll often say "ladies always order this drink, I think it's because girls love guns!", and inevitably someone will reply "or diamonds", at which point I cheekily say "oh, right, it's diamonds that are a girls best friend." Now I've really broken the ice with you (one giant cube in this case).
By now you'll also have noticed that the music is relevant enough that you're familiar, but not so poppy that you feel compelled to sing along (though there are exceptions).
Often, at this time, you'll want to give me a method of payment. That's the conditioning you've gained from other bars. I'll say "we don't hold cards, pay at the end -- I want you to enjoy your drinks first." This lets you know that I trust you. I recognize that you're an adult and this is an establishment for adults.

Upon delivery of your cocktail (wherever you are in my bar, I'll come out and deliver, it instills more trust), I'll describe what you're having both through ingredients and flavor notes. This ensures that you're aware of what you've ordered as well as prepared for the taste. The power of suggestion is at play. If I deliver this information right, it can drive you to really enjoy your selection. If I deliver it wrong... have you ever grabbed a glass of what you thought was iced tea but was Coke instead? I don't want that type of palate shock.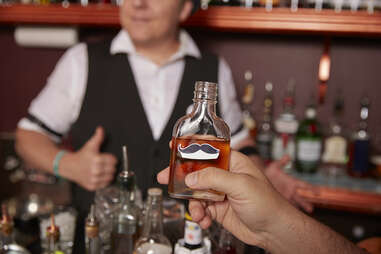 There's always the element of surprise as well -- something to delight you and keep you in a constant state of wonder. Just when you think you've got the place all figured out, I'll show up with your "Sharpie Mustache". I don't mention on the menu that it'll be arriving in a mustachioed glass flask.
Within the first few tastes, I'll be back to ask you how you're enjoying your choice. I'd never ask a group "how is everything?" as it's nonspecific enough that no one will speak up. Rather, I ask something along the lines of "how are you enjoying the 'Chimney Sweep'?", giving you or anyone in your group the opportunity to speak up, be it positive or negative. If the drink isn't to your liking, I simply remove it while talking to you about ways to remedy the issue. This demonstrates that your good time is more important to me than the product.

Throughout your visit, I'll be constantly refilling your water glass, removing empty glasses from the bar top, adjusting the lights and music, and maintaining casual -- but considerable -- control over the surroundings. After every drink is finished, I'll offer the menu again by subtly placing it on the bar in front of you. I'll be engaging and hospitable throughout, but I'll remain aware that you're not here to see me, but to enjoy your evening with friends. My level of engagement is entirely dependent on your level of interest in it.
After you've finished your last sips and I've cleared away everything but your water glass, I'll simply place the bill in front of you, face down. I'll never pressure you to pay; the message is clear, as we've built a relationship based on communication. When you place payment on the bar, I'll process the transaction within one and a half minutes. If you pay in cash, I'll never ask if you need change; I'll simply bring it neatly bank-faced (crisply laid out all in the same direction, sorted by denomination). This is the last impression you'll have of my bar and I want it to be as neat and clean as possible -- any small amount of work I can save you, it's my job to do.
As you leave, I'll look you in the eye and wish you a good evening while collecting the bill/paperwork. I will never count the gratuity before you're gone. Now we're compatriots, you have my trust.

Sother Teague is the Beverage Director at New York City's Amor y Amargo. Follow him here.