Here's a pumpkin mezcal cocktail you should make today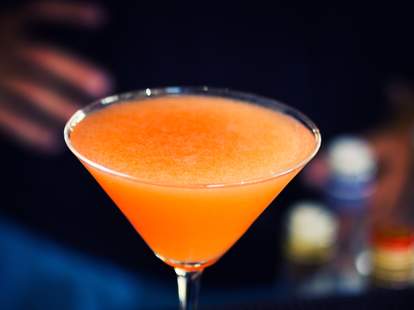 Now that we've reached the end of October, you've probably consumed enough pumpkin-flavored beverages to sink a pontoon boat. Except those were all coffee or beer. If you're serious about taking your pumpkin consumption up a notch, test out this pumpkin mezcal cocktail, courtesy of New York's Epazote, which is serving it all weekend for Dia de los Muertos.
To assemble this orange beauty, you'll need these supplies:
1 1/2oz mezcal
1 1/2oz pumpkin purée
3/4oz lemon juice
3/4oz agave nectar
1 dash Angostura bitters
Combine them all in a shaker and give that thing a good thrashing. Then serve it up in your fanciest monster glassware, garnishing with pumpkin seeds, nutmeg, and cinnamon. Pairs well with a mountain of Milky Ways, or that $3 "Boorito" you just danced for.
Epazote
Kristin Hunt is a Food/Drink staff writer for Thrillist, and wonders what they'll put pumpkin in next. Follow her at @kristin_hunt.