Get Ready for Pumpkin Spice Latte... Beer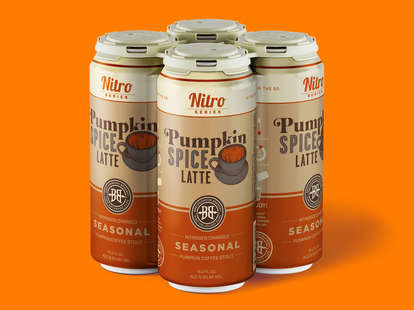 Courtesy of Breckenridge Brewery/Oren Aks/Thrillist
Courtesy of Breckenridge Brewery/Oren Aks/Thrillist
Because only a true nutcase would order a Pumpkin Spice Latte past 5pm, Colorado's venerable Breckenridge Brewery has a new beer to satisfy all your pumpkin spice cravings in the evenings: Nitro Pumpkin Spice Latte.
There are plenty of pumpkin beers on the market these days (here are 20 of the best), and while some of them taste like pumpkin pie or straight-up unadulterated pumpkin and booze, this is one of the few beers trying to match the coffeehouse favorite. The stout is made with coffee from a local roaster in Breckenridge, which is infused with nitrogen to achieve a smooth, creamy mouthfeel.
The four-pack of beer is now available nationwide, but only through October, at which point you'll just have to go back to dumping shots in your coffee like every other schlub in the Starbucks parking lot.
Sign up here for our daily Thrillist email, and get your fix of the best in food/drink/fun.