12 punny beers: brewse our hopped-up list of awesome wit-ticisms
Brewers have a lot in common with your Dad: they love beer as much as they love really corny jokes. Especially puns. Bad puns. Perusing the beer store can be like being at open-mic night at a bad comedy club, and we love it. So we rounded up 12 of our favorites.
Hoptimus Prime (9% ABV) - Ruckus Brewing (New York, NY)
This American double IPA transforms you into a less inhibited you.
Pumpkin Brewster (5.5% ABV) -Sixpoint Brewery (Brooklyn, NY)
This pumpkin (duh) ale is named after the character played by the lovely Soleil Moon Frye, but is somehow not called Sol-ale Moon Frye.
Tart of Darkness (5.6% ABV) - The Bruery (Placentia, CA)
Conrad would be proud of this American wild (savage?) ale, which... how did that book go again? OK, so I never got around to reading it. Sorry, Ms. Hadley.
Mash of the Titans (8.3% ABV) -Odell Brewing Company (Fort Collins, CO)
This one's a sweet stout with some seriously great production values and, fortunately, no super-annoying owl.
For Those About to Bock (6.1% ABV) - Hopworks Urban Brewery (Portland, OR)
We salute this bock (that's another word for a strong lager) that isn't exactly done dirt cheap, but will definitely leave you thunderstruck.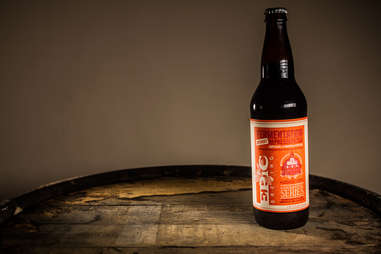 Fermentation without Representation (8% ABV) - Epic Brewing Company (Salt Lake City, UT)
Weirdly not made in DC, this ale from Utah-based Epic combines all of the American colonists' favorite things into one beer: chocolate, marshmallow, vanilla, pumpkin pie, coffee, squash, and drawn-out lists of things.
Pepperation H (7.2% ABV) - Against the Grain Brewery (Louisville, KY)
Please DO NOT apply this smoked amber ale down there.
Mama's Little Yella Pils (5.3% ABV) - Oskar Blues Brewery (Longmont, CO)
Mama can't help but love this Czech pilsner from Colorado brewery Oskar Blues, which has experimented in edgy-name territory before with such beers as "Old Chub" and "Whiskey Dick".
Java the Nut (5% ABV) - AleSmith Brewing Company (San Diego, CA)
You can definitely house quite a few bottles of this delicious brown ale down in the ol' Sarlacc pit.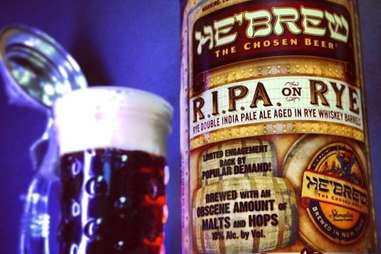 HE'BREW's Bittersweet Lenny's R.I.P.A. (10% ABV) - Shmaltz Brewing Company (San Francisco, CA/New York, NY)
In a fitting tribute to the late comedian Lenny Bruce, the effects of this rye-tinged American double IPA may get you tried for obscenity.
Me, My Spelt, and Rye (4.5% ABV) - Cambridge Brewing Company (Cambridge, MA)
This one's been imitated over and over, but nothing comes close to the original.
And, lastly, don't forget to...
Bay and Pepper your Bretts (6.8% ABV) - Against the Grain Brewery (Louisville, KY)
This message brought to you by Bob Barker.
Adam Lapetina is a staff writer for Thrillist and likes blondes with a little Hefe, if you know what I mead. Follow him to more mead puns at @adamlapetina.