Day drinking is not only the best possible way to spend your Saturday and Sunday, it's the reason we developed civilization in the first place -- it's not a stretch to say that humans spent millennia fighting for mastery over the earth mainly so that we could drink cold beverages in lawn chairs without worrying about getting eaten by prehistoric lizards or pre-P90x Chris Pratt. In honor of day drinkers everywhere, here are a few dozen reasons why day drinking is and will always be the greatest.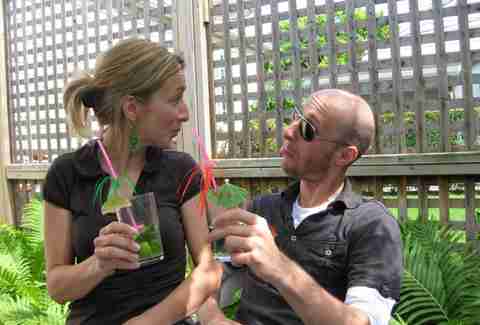 1. You can see who you're hitting on.
2. You can see who's hitting on you.
3. You can wear shorts.
4. You can wear flip flops.
5. You can not wear sleeves. Really the only serious dress code is a lime for your cocktail and a koozie for your beer.
6. You can drink by a lake without worrying that someone in a 1978 Cutlass Supreme will drive up and dump a body in the lake. It's a generally accepted fact that this happens every night at midnight at every lake in America.
7. Instead of dropping elaborate pickup lines, you can just talk about the weather:
"Sure is nice out today."
"I can't argue with that. We should probably start dating."
8. If you fall asleep in your chair during the day, you're "taking a nap." If you fall asleep in your chair at night, you're just asleep.
9. Your cocktails come with more antioxidants. Like grapefruit juice, and probably some other juices.
10. People really are getting better looking. Because they're getting tanner.
11. No doormen.
12. No velvet ropes.
13. No oontz oontz.
14. Jack Johnson actually sounds really good right now!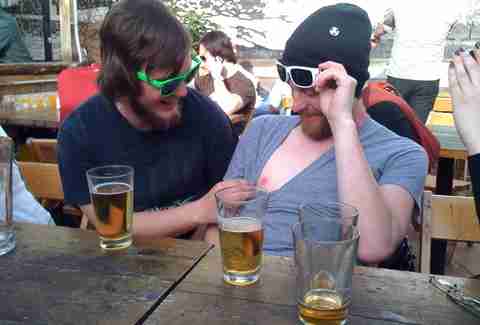 15. It's a meditative experience that can lead to deep philosophical ruminations on the meaning of life...
16. ...or lead to whatever these guys are doing. Which is fine! When you're day drinking, nobody judges you for being silly.
17. "I'm blowing off all my responsibilities to go day drinking with my friends!" is a far more liberating feeling than "I'm blowing off sitting alone in my apartment to go night drinking with my friends!"
Day drink this
If you're looking for an easy-going mid-afternoon vodka, you won't find one more perfectly suited than Deep Eddy Ruby Red. Coming to you from the Texas distillery inspired by the landmark swimming pool where Austin goes to cool off, it's made with juice from actual grapefruits, which is scientifically proven to be 100% better than juice created by scientists. Get recipes for the Ruby Paloma & more here.
And now, more reasons to day drink...
18. Dogs. In. Bars.
19. Slushy cocktails.
20. Biorhythms?
21. Natural light makes for way better Instagram posts. Or Mobli posts! Again, when you're day drinking there are no judgements.
22. That feeling of knowing that everyone who's not currently day drinking is totally jealous of you. Seriously, text anyone and tell them what you're up to and they'll say, "I'm so jealous!"
23. Corn Hole > Bartop Trivia.
24. Corn Hole > Trivia Night.
25. Corn Hole > Korn or Hole, two bands you have 0% chance of hearing while day drinking, but which some jerk with no sensitivity for his surroundings might put on the jukebox at night.
26. Day drinkers are a more welcoming crowd, which means a lot more intermingling of groups and fascinating new friends.
27. Spades. Hearts. Uno. ***hole. Whatever your game, cards just isn't the same under fluorescent lights.
28. You have a far more understandable excuse for being sweaty.
29. You get to end your drinking session with happy hour.
30. When you're done day drinking, you can eat "late night" wherever you want, because all the restaurants are still open, and everyone still delivers.
31. Also all of your booty text recipients will still be awake.
32. Coming home and binge-watching 5 hours of TV doesn't require staying up 'til 7am.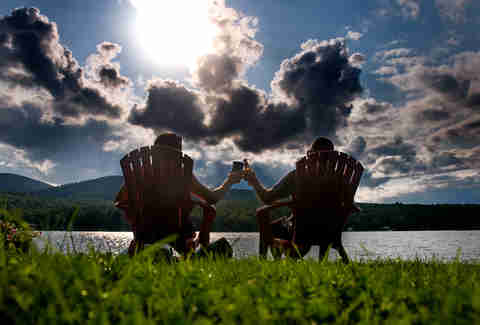 33. There is no last call, just... this.