18 Reasons You Should Never Go Home 'Til Closing Time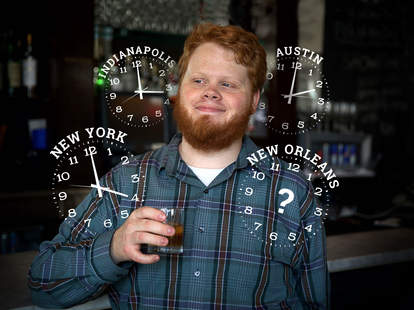 "Closing time" can vary a lot depending on where you're drinking -- some cities it's 1am, some it's 2am, some it's 4am, and in a few cities it's "never, except for the 20 minutes we need to mop up." One thing that's constant: no matter how late they can stay out, some people will choose to go home well before they have to, citing the rule that "Nothing good happens after midnight" (or 1am, 2am, etc, again depending on where you're at).
Anthony Humphreys
1. Because "very late" is the best time to meet your future spouse
If this beautiful stranger will stay out 'til 4am as a single person, you know he/she will stay out until at least midnight after you get married. But if they'll only stay out 'til midnight now, then by your first anniversary you guys will be eating delightful bean salads at 6pm and yawning by 8.
 
2. Because you need to outlast the person currently talking to your future spouse
Why is this person even trying? Haven't they heard of destiny? Or the movie Serendipity, starring John Cusack just as he was ceasing to be cool and Kate Beckinsale just before she started murdering werewolves?
Anthony Humphreys
3. Because there might be a secret after-party
Nobody's going to invite you to the secret after-party at 11pm. The Secret After-Party People don't even know where the secret after-party's going to be at 11pm.
 
4. Because saying "I want to get up early because I've lot of stuff I want to take care of tomorrow" could be hazardous to your health
You're only as young as you act. If you keep acting like "paying bills" is an activity that requires you to be at your 100% best, you're going to be 90 by August.
 
5. Because you're going to sleep late anyway
Leave at 1 or leave at 4, you're still not getting out of bed 'til at least 11.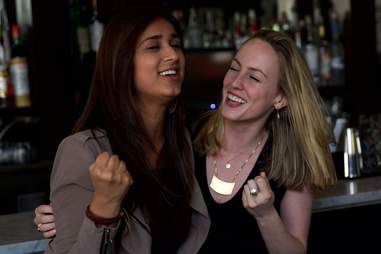 Anthony Humphreys
6. Because you'll miss the bar-wide singalong to "Don't Stop Believing"
You know when you're in a real Irish bar and everyone starts singing the same raucous, ancient folk song and you think, "I wish America had something like that?" We do. This is it.
 
7. Because you'll end up having to watch that episode of "Super Awesome HBO/AMC/FX Show" again tomorrow anyway
Also: you know when you get all excited because you left the bar early enough to watch a TiVo of your favorite show before you go to bed, only as soon as you hit the couch you're struggling to stay awake, and next thing you know you have no idea what happened the past 13 minutes? That's 13 minutes you could have been having fun instead of setting yourself up to repeat those exact same 13 minutes tomorrow.
Anthony Humphreys
8. Because late-night is the best time to take a shot with your bartender
It's a great bonding experience! And one that's less likely to happen when your bartender still has six hours of work staring them in the face. Buying a shot for everyone in the bar is also a good idea; see why right here.
 
9. Because Tom Waits' first album wasn't called "If I Leave at 12 I Can Be Asleep By One"
Guess what it was called? Yup, "Closing Time."
Anthony Humphreys
10. Because you get to eat late-night pizza
Pizza that you eat before closing time isn't late-night pizza, it's just dinner.
 
11. Because after closing time, there are open cabs galore
But if you leave an hour before last call all the cabs will be taken by people heading to one more bar or other people foolishly packing it in early. Why stand on the corner for an hour looking like the world's most sad and desperate human being when you could be back inside being awesome?
 
12. Because you still have songs coming up on the jukebox
Your Hoobastank jam is finally about to play and you're going to bolt now?
Anthony Humphreys
13. Because your friends aren't leaving
"Nothing good happens after midnight" can't possibly be true, because hanging out with your friends is inherently good. Honestly, you're lucky to have them. You should hug them all right now and not even explain why you're doing it.
 
14. Because "You don't have to go home but you can't stay here" is some of the most beautiful poetry ever written
Every time you hear those 11 magical words, it's an affirmation that you did not go gently into that lame night.
 
15. Because if everybody goes home before closing time they'll start making closing time earlier
And then we'll be no better than North Korea. Stay out late, for America.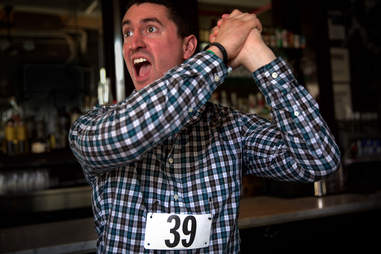 Anthony Humphreys
16. Because you need to keep challenging yourself
"I know I can make it 'til 4am" is a hell of a lot more fun than "I know I can make it 'til 26.2 miles."
 
17. Because very, very late is when bartenders from other bars start showing up
Nothing keeps your night going like a bunch of off-duty bartenders whose night is just starting.
 
18. Because "nothing good happens before noon" is the new "nothing good happens after midnight"
All the cool people are saying it. If you want to be part of the happening crowd, stay out, then sleep in.