How Low-Alcohol Beers Became Brewing's Next Big Thing
Jason Hoffman/Thrillist
Jason Hoffman/Thrillist
Everyone is on board with session IPAs. Craft lagers are finally getting their due. "Crushable" is now considered a positive description for craft beers, not a liability. In the craft beer world a decade ago, "imperial" literally ruled, as breweries churned out triple IPAs and 10% versions of every style under the sun. In 2018, that ABV arms race has largely mellowed. But despite American beer drinkers' collective embrace of those easy-drinking, sessionable options, once a beer's ABV dips below 4%, it's not such an easy sell.
"Wait, it's only 2.8%?" a friend scoffed, years ago, when I suggested he order Jester King's Le Petit Prince table beer. "And it still costs the same as these other beers?"
He argued that there's a point at which a beer -- no matter how delicious -- becomes too sessionable. (I was surprised a few weeks later to see that same friend crack open a 2.4% Stiegl radler. Then I watched him pour a shot of gin in it.) He's not alone in his thinking. Americans like beer to taste good, sure, but that glorious combination of malt and hops and yeast is made even better because it imparts a buzz, gets our awkward butts up on the dance floor, makes us just a smidge more willing to try karaoke.
While this may be the prevailing American attitude, some breweries are betting that it's not the only attitude. Perhaps they've seen the rise of mocktails and low-booze drinks in the fancy cocktail world, or noticed that light- and low-calorie beers do well for the big breweries. Whatever the reasons, brewers have quietly been introducing low-ABV and even non-alcoholic craft beers, testing how thirsty consumers are for barley-based beverages that aren't intended to get you goofy. Though the market is still quite small -- about $100 million annually -- they'd say that means there's nowhere to go but up.
"They've been treated like a penalty box beverage that no one would drink willingly."
Overseas, the low- and non-alcoholic beer market looks drastically different than it does in the States. Walk into an average American grocery store looking for non-alcoholic beer and you'll find the same dusty, mass-produced NA lager brands you would have found on that shelf 30 years ago. (I know this, sadly, from experience.)
Abroad though, the options are richer, and consumers actually buy them. Euromonitor International data shows that between 2011 and 2016, German consumption of non-alcoholic beer jumped 43%, even as overall beer drinking declined. And China is actually the country with the greatest momentum when it comes to NA beer innovation; there, nearly 30% of new beers launched in 2016 were non-alcoholic.
Jacob Gram Alsing, chief operations officer for Copenhagen, Denmark-based craft brewery Mikkeller, says Drink'in The Sun, a wheat ale that clocks in at just 0.3 percent ABV, was the brewery's highest-grossing beer last year. But you won't find it at Mikkeller's San Diego outpost, or anywhere in the U.S. -- for now.
"I think that our non-alcoholic beers would do great in the U.S.," Alsing says. "I know there is a big craving for NA beers in the U.S. because not many breweries do them well. Brewing ours is a technical type of brewing that we don't have the ability to do in San Diego right now, but we are looking at producing them in the U.S. at some point."
Alsing says America is ready for non-alcoholic beers, and data would, theoretically, back him up. Government statistics found 44% of U.S. adults report not drinking alcohol in the past month; put that together with all the people who do drink but are trying to drink less, and that's a decent-sized base of people who might consider very-low-ABV or non-alcoholic beers… if most of the prevailing options didn't suck. And if people's friends stopped giving them shit for drinking them.
Those are the two main stigmas non-alcoholic beer needs to overcome, says Bill Shufelt, founder of Stratford, Connecticut's Athletic Brewing Company, which makes exclusively non-alcoholic beer in styles like gose and IPA.
"Nothing has changed on that NA shelf in 30 years, so just getting people to walk back there is the goal," Shufelt says. "They've been treated like a penalty box beverage that no one would drink willingly, so it's just about getting people to try it. Once they try it, they get it. They're like 'Yeah, I'd drink that sometimes.'"
Sometimes.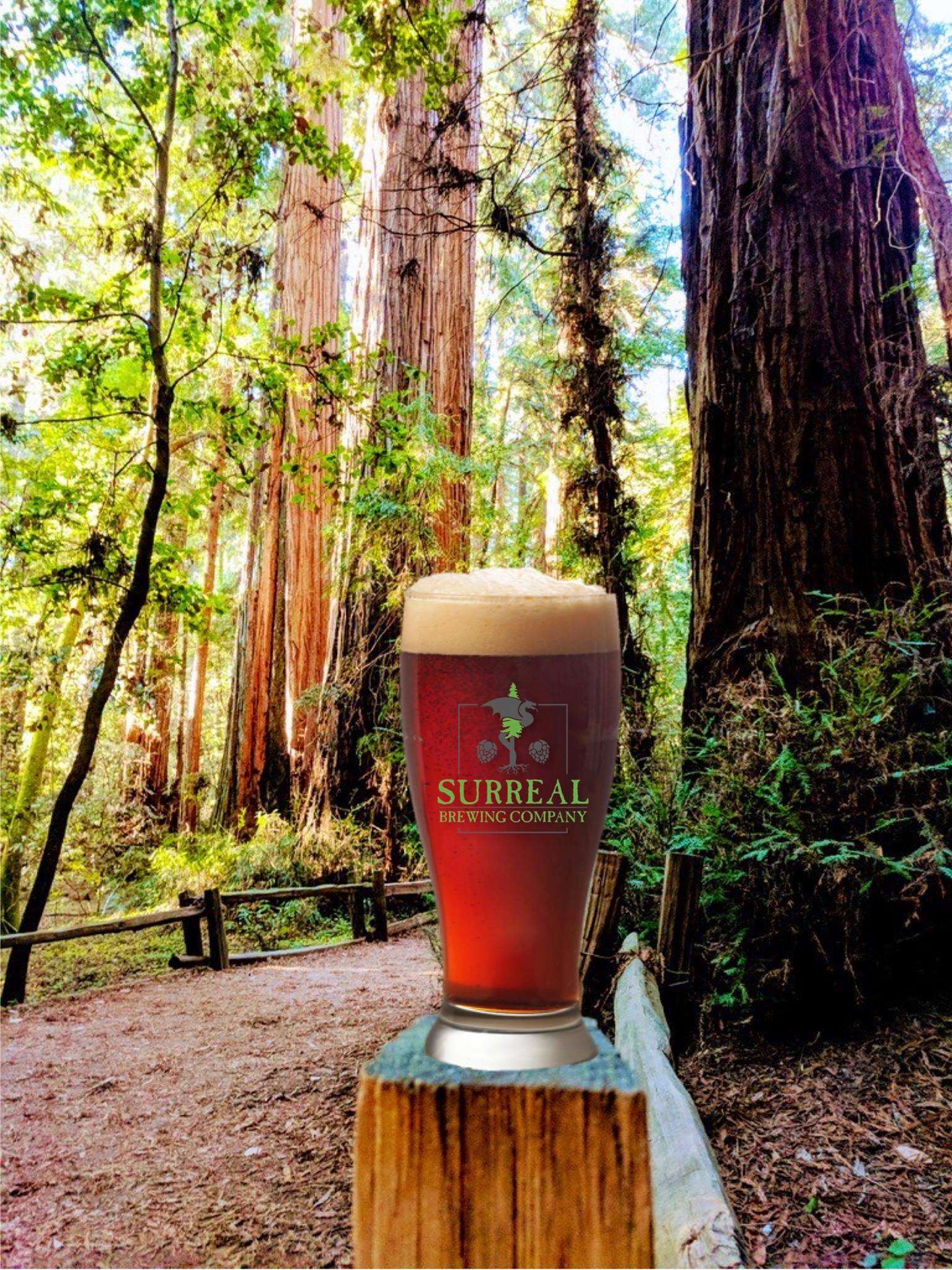 It might sound like a backhanded compliment to entrepreneurs starting their own breweries, but all of the non-alcoholic beer makers I spoke to take "sometimes" as high praise. To bastardize the Goose Island tagline, they don't need to be the only beer you drink, they just want to be a beer that you drink.
"The early wave of fans is those people who have chosen to be sober for whatever reason. But the second wave is people who still love craft beer but they can't have a double IPA that's going to knock them off their stool," says Tammer Zein-El-Abedein, who cofounded a non-alcoholic brewery with his wife, Donna Hockey, after she was diagnosed with cancer and stopped drinking alcohol. Campbell, California-based Surreal has been brewing beer since June.
"Our goal is to be a part of a larger movement where one day I can go to any local microbrewery or taproom just like now I can go to any coffee shop and say 'I want a decaf latte, because it's 6pm and I don't want to be up all night.' Non-alcoholic beer could be like decaf coffee; it fits that specific need I have and is just as good as the regular product."
Brewers repeated this message to me over and over again: It's not just non-drinkers who drink our beer. Beer drinkers drink our beer when they don't want to get drunk.
"What I hope to achieve -- and one of my greatest challenges -- is creating a non-alcoholic beer that truly appeals to a traditional beer drinker, someone like myself who likes good beer but has a whole bunch of shit to do," says John Walker, a brewer who left his traditional brewing gig at New Mexico's Second Street to brew at Athletic. "I have kids under the age of 7, so with this I can actually have a good beer and not be impaired. There are times where the buzz is nice but there are certainly times when I just want a good-tasting beer."
Clearly, low-ABV beers mean less impairment, and less chance for a wallop of a hangover. But there's even more reason to feel good about drinking them: Most also pack fewer calories. That's because a beer's alcohol content is usually correlated to its calories; less booze, fewer calories.
While the average craft beer drinker might not realize it, big breweries see huge potential for their low-calorie, "active lifestyle" beers. Michelob Ultra was the fastest-growing beer brand in the US when in March, it debuted new 7oz bottles proudly declaring their measly 55 calories and 1.5 carbs. (Compare that to a 9.5% DIPA, which depending on its residual sugars, probably packs close to 150 calories in that same 7oz pour.)
But smaller breweries want in on these fitness-minded beer-drinkers, too. In 2010, Caitlin Landesberg, founder of Sufferfest Beer Company (motto: "Will sweat for beer"), was working for fitness company Strava and was also training for long-distance trail races. She wanted to toast with friends after a 20-mile run, but still wanted to feel good lacing up her sneakers the next day.
"So many people came up and said 'I'm not allergic to beer or to gluten but I'm trying to reconcile my training with not wanting to settle for a subpar beer,'" she says. "There are a lot of people like me who want to work hard, and don't want to compromise on their beer."
Sufferfest beers vary in ABV, but the lightest, the kolsch, has just 3.5% ABV, 95 calories, and 5 carbs per 12oz can. (Oh, and it has bee pollen in it, so you can skip throwing that in your protein shake the next morning.)
The wellness trend has been a huge driver for low- and non-alcoholic beers; breweries are even boasting of beers' vitamins and nutrients and potential as a post-workout "recovery drink."
In this sense, kombucha may offer them a bit of a road map. Zein-El-Abedein was the first to mention this obvious parallel to me; he says he credits craft beer and kombucha with paving the way for low-alcohol or non-alcoholic beers to enter the market. Bars and breweries now often carry a kombucha or two on tap, where they're priced close to or the same as beer. It might not be the most popular tap handle, but customers like seeing a healthy, non-alcoholic option that they can swap for a beer -- even if it's only sometimes.
"It plays in the beer space... but it's really a thirst-quenching soda alternative."
This "like beer, but not beer" argument goes a long way to explaining the success of Stiegl radler, a 2.4% citrus juice-and-lager combo that first hit the city where I was living, Chicago, in 2012. I couldn't get my hands on it at my local grocery store, because as soon as the orange-and-white cans hit shelves, they were gone. This, despite its low ABV and imported-beer price point.
"It continues to do well despite the fact that it definitely plays at a high premium price for what you're getting, alcohol-wise," says Mike Doyle, general manager of Louis Glunz Beer, Inc., which imports Stiegl and distributes it in the Chicago area. "It plays in the beer space; it's sold in the beer space; but it's really a thirst-quenching soda alternative. It even straddles what we call flavored malt beverages [hard sodas, hard seltzers]."
But you don't have to be a triathlete or on the keto diet or switching up your Steigl radler game to choose a low- or non-alcoholic beer every now and then. It's not about drinking less, brewers say, but about being able to beer drink more. In situations where previously you would have had to call it a night, or order an iced tea with lunch, now you have options that taste like beer. Because they are beer.
"Petit Prince has really up until recently has always been a sluggish selling beer for us, but for some reason, it's kind of getting a boost recently," says Jester King cofounder Jeffrey Stuffings. "I've had a number of people who I can tell are super beer nerds who tell me 'Petit Prince is great. I'm driving, so thanks for having this beer on the menu' or 'It's my last beer of the night, thanks for having a sub-3% beer on the menu'."
I'll have to ask my friend whether he's ordered it recently... and if the side of gin was necessary.
Sign up here for our daily Thrillist email and subscribe here for our YouTube channel to get your fix of the best in food/drink/fun.
Kate Bernot is the associate editor at The Takeout and a certified beer judge. She loves German lagers and lives in Missoula, Montana. Follow her @kbernot.