For Father's Day: my dad reviews Rogue's Dad's Little Helper Black IPA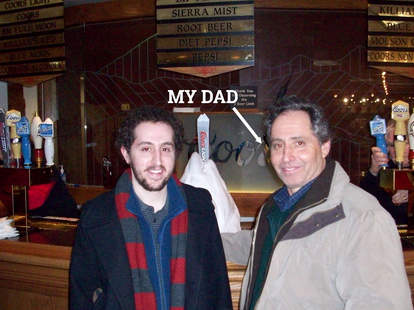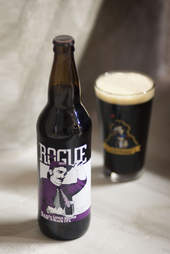 Rogue Ales
The name of the beer
"Black eye-pa?" I explained to him that it's pronounced I-P-A and that it stands for India Pale Ale. Sure, I can't understand Bernoulli's Equation like my dad can, but at least I can pronounce IPA. Who's the sucker for becoming a beer writer now, dad?!
I asked him what he thought of the name of the beer. "I like that it's an interesting name. I think they feel sorry for all the fathers in the world because they said, 'Hey, we created a special beer for you. Drink this beer, we're going to help you finish the day. We know how dads feel.'"


The label design
"I like the label. The picture appeals to a professional and a non-professional at the same time -- the guy has a tie, yet he's wearing a hat. He's dressed like a professional and a non-professional in the same picture."

"This is my bottle. This is my asset. Don't touch it."
Thoughts on bombers and sharing
Dad's Little Helper comes in bombers. My dad is not used to drinking bombers. His favorite beers are Heineken and Honey Brown Lager.
"I like to have my own bottle. I don't want to share a bottle with anyone else. This bottle is too big. I always kind of associate drinking beer with nursing the beer. You have a bond with the beer. And over here, the beer is not yours! You're part of the pie. I like to hold my beer close to me. I don't want it in the middle of the table. I like to own it. I don't need anyone to pour it for me. This is my bottle. This is my asset. Don't touch it."
He's a generous person. The man has never made a sandwich in his life without cutting off half of it to share with whoever happens to be in the kitchen at the time. Apparently his generosity is limited to sandwiches.


The pour
"Can I pour it in a coffee mug?" he asks.
"No," I reply. "Only a beer glass."
Rogue Ales
Tasting notes
So what notes did he pull from the beer? "Black pepper. Like the pepper you put on your eggs."
You should know that when I visit my parents, I will grind black pepper onto my eggs.
"I also get a bit of citrus, but it took me until the third sip to taste it. During the first sip, my taste buds weren't adjusted to anything. They just sat there. The second sip, they said, 'We know this taste.' The third one brought the citrus into the aftertaste."
For the record, commenters on Beer Advocate say there are notes of "coffee, chocolate, and grains", though after telling my dad this, he became suspicious of those reviews, and thought they might have "padded" them with unnecessary adjectives. My dad has discovered the secret behind all food criticism.
Food pairing possibilities
"Based on the picture, you're talking about a beer for your dad... I'd like to have it with a steak. The guy on the bottle, he could also have a construction hard hat. If you're an inspector on a construction site, they have a tie and a hard hat."
Five minutes later, he made a discovery.
"I just noticed two pictures: one of a bull and one of a pig, which makes me think that it's meant to be consumed with steak and pork. So I was right on the money. I didn't even see it before! I was right on the money, I didn't cheat. I honestly gave you my opinion."
His excitement was palpable. I think this was his favorite part of the entire taste-test experience.


Conclusion
Would he recommend the beer to others?
"I would. I think it's an interesting beer. I don't know if I'd go with a purple shirt [like the guy on the label]. I think they put a purple shirt on him because you have a hard time judging the character of the guy -- if he's wearing a flannel shirt, he's a hillbilly. A guy with a purple shirt is harder to judge."
To all the dads out there, we salute you.
Lee Breslouer writes about food and drink for Thrillist, and thinks everyone should force their dad to drink craft beer. Follow him at @LeeBreslouer, because you can't make up a name that good.