It's 2018 and we've left behind the never-ending rosé photo shoots of summers' past (for the most part). The dangerously drinkable love child of red and white is no longer just a trendy moment, but a regular summer staple. You're probably drinking this stuff by the bottle and don't know a Californian from a Provençe-made rosé. And that's OK!
Here to help is Victoria James, author of DRINK PINK, A Celebration of Rosé and the beverage director of COTE NYC, the recently opened upscale Korean steakhouse. With the dramatic spike in popularity of rosé in recent years, James like the rest of us has seen her share of "shitty rosé" as a result of mass producers dominating the business. But the silver -- ahem, rose gold -- lining is that as a sommelier she's also observed a newfound serious interest from her customers in learning more specifics about the rosé on their tables.
"In the '90s a woman would walk into a restaurant and say, 'I want a house red.' Now they walk in and say, 'I want a cabernet' or a pinot noir or a merlot. They know their different styles. That's what we'll see with rosé as well -- they're not going to just ask for a rosé they're going to ask for a Chinon rosé or a Sancerre rosé."
According to James, the simplest way to understand rosé types is by region. Like reds and whites, the taste and character of any rosé is determined by its place of origin.
You can find rosés from these regions readily available in the US at good wine shops, restaurants, and online.
Recommended Video
Thrillist's Best (and the Rest): What You Actually Need to Know About Natural Wine
Loire Valley (France)
The cool, crisp climate of France's Loire Valley churns out some remarkably refreshing rosé, marked by high acidity and low alcohol. Think dry and zippy.
Within the Loire Valley, one of France's most famed winemaking regions, are many subregions. And when it comes to rosé, two of the most notable are Chinon and Sancerre, although there are many options to choose from. Chinon cabernet franc is marked by notes of chervil, bell pepper, and black fruit, while Sancerre pinot noir has a racy acidity and tastes of lemon.
Best foods to pair it with?: Chinon has a spicy profile, which is well-balanced by something cool like a summer salad, James suggests. And because Sancerre is near Chavignol, a region famous for goat cheese, the two are a match made in rosé heaven. Elevate this duo beyond plain old wine and cheese via goat cheese salad on a fresh, chewy baguette.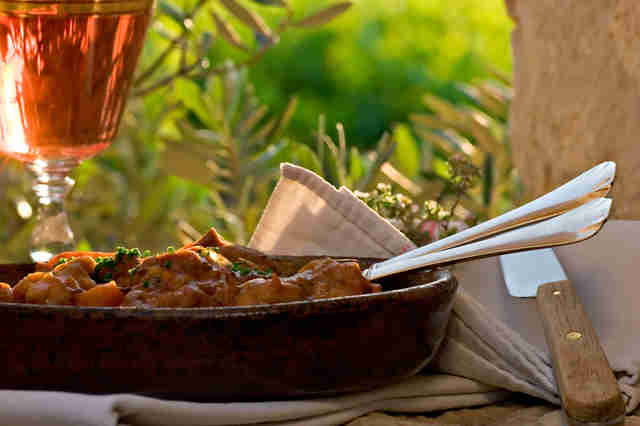 Provençe (France)
Provençe is the birthplace of rosé, and with that claim to history comes an inevitable superabundance of options -- both good and bad. To this day, rosé makes up more than half of the region's wine production. But all is not lost if you select your rosé with a critical eye.
"Unfortunately most of the rosé being made there now is just based on the Provençe name, so it's not actually high quality," James says. "But there are still some really great regions in Provençe to look out for."
One of them is Bandol, a small mediterranean fishing village with a reputation for high quality rosé. There, rosé is made with the Morvèdre grape, which DRINK PINK describes as "full of black fruit, purple flowers, garigue, and an overwhelming wild note usually described as earth, cured meats, and leather."
Best foods to pair it with?: A classic pairing is the Provençeal dish bouillabaisse, a seafood stew made up of shellfish and served with saffron and aioli.
Corsica
The island nation between Italy and France and its rosés are fiercely independent and vibrant. "They're kind of in between Italy and France in style, but wholly unique in themselves," says James. Imagine them a little less fruit-driven and more savory in taste.
Best foods to pair it with?: Corsican rosés tend to have more power, making them a natural companion to charcuterie. Their higher levels of tannins and acidity cut through the fatty elements of cured meats, James says. Try figatellu, a Corsican sausage made of pork liver.
Basque Country (Northern Spain)
When it comes to Spanish rosé -- scratch that, rosado -- turn your attention north to Basque Country and the effervescent Txakoli (the spelling is wonky, but it's pronounced "chock-o-lee"). It's effervescent, dry, and peppy.
Best foods to pair it with?: The light and bubbly airiness of Txakoli is well-balanced by something earthy, such as pincho moruno (a Spanish shish kabob-esque situation) or another variation on grilled vegetables and meats.
"The best way to think about it is just like red and white wine, so many of these wines and the food have evolved together over time," James says. "As a result, the pairings are harmonious."
Abruzzo (Italy)
Cerasuolo d'Abruzzo is a standout choice from this southeastern region of Italy. As you might guess by the sound of its name, it's known for the signature cherry red color that results from contact with grape skin during production. "The Cerasuolo will have a little more warmth to it -- it'll be fuller in body," James describes. It's considered highly versatile for rosé because of its uncommonly good alcohol and acidity levels, according to James.
Best foods to pair it with?: Because Cerasuolo packs more of an oomph than your standard light and dainty rosé, it holds its own with richer fare. "They have a little more structure to them, so as a result go well with risottos, heavy pastas, and hearty grains," James says.
Santa Barbara, California
While rosé is European in origin, its influence has spread west into the tastes of American winemakers and beyond. Some of the best rosés in California are coming from Santa Barbara, in James's opinion. The cool climate there creates refreshing, mineral-driven rosés, she says. It is the only region on this list in the New World rosé category, which can be more aromatic.
Best foods to pair it with?: As with the other regional pairings James recommended, she's a proponent of pairing California on California. "Alice Waters food," she suggests. "Grilled vegetables -- something you would find in the garden."
Casual warning: After taking time to sample these different rosé varieties, you just may end up craving it not just all day but for varied occasions all year long. The ways to think and drink pink are endless, from enjoying a frosé treat (popular doesn't always mean bad!) to savoring a glass on its own by the pool to sharing more than a couple bottles with friends at a special dinner.
Sign up here for our daily Thrillist email and subscribe here for our YouTube channel to get your fix of the best in food/drink/fun.