15 Rules for Bringing Wine to a Party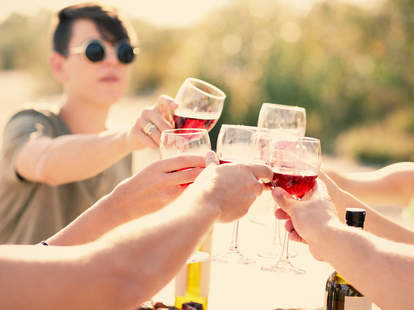 Africa Studio/Shutterstock
Yes, bringing a bottle of wine to a party is a no-brainer if you want to make a good impression (or, as grandma would say, if you want to avoid being a rude, empty-handed jerk). But after you deliver the wine to its intended recipient, you've set it out into the world. To make sure your wine is enjoyed and enjoyed properly (because you can't pair a Cab Sav with just anything), we've listed all the things to remember when bringing wine to a party.
Anthony Humphreys/Thrillist
1. Have a couple of wine cocktail recipes up your sleeve
It's a nice way to help out the host who will definitely be dealing with an abundance of wine. Here are a few cocktail recipes to get you started.
 
2. Don't let your bottle collect dust at the end of the table
The host has other things on the brain; he or she will probably place your thoughtfully gifted bottle in the corner with all the others, even though you might have other plans for it. If you care strongly enough about sharing it with other guests right then and there, place that sucker front and center.
 
3. Don't just ask the host if they need white or red, get specific
"Chardonnay? Catherine loved Chardonnay. She was the worst. I miss her so much."
 
4. Know who's going to be at the party
Of course you know what kind of party you're going to, but knowing what the invite list looks like is just as important (and not just for preserving your social status by never hanging out with Frank). Don't empty your wallet on a great bottle that just won't get appreciated by the company you're keeping.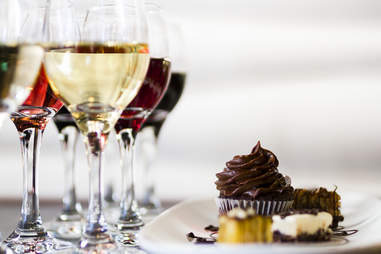 Arina P Habich/Shutterstock
5. You can most certainly bring a dessert wine
Don't let anyone tell you otherwise. Sweet or fortified wines get a bad rep but you don't even have to leave these guys until dessert. Many pair well with fruits like raspberries and apricots, a rich pâté, and hard cheddar or bleu cheese.
 
6. If you've got a story to tell, tell it
When you sit there sulkily brooding over why nobody asked about this delicious bottle you've brought, there's only yourself to blame. If you've brought something special for the occasion or just special to you, let the people know. They maybe won't even roll their eyes too hard.
 
7. For brownie points, bring two bottles
For some reason nobody brings more than one bottle to a bash. Like bringing one six-pack, it's doing the bare minimum. Go that extra mile and slap down a little extra cash (or more smartly, split the cost of one expensive bottle across two cheaper varieties) and stand out in a crowd of one-bottle-bozos.
Advertisement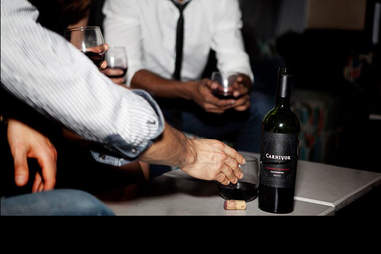 Bring in the game-changer
Not sure what kind of wine to bring to the party? Carnivor's bold yet smooth Cabernet Sauvignon is not only a go-to crowd pleaser, but pairs with well with superfoods* like CHOCOLATE and BACON.
*They're totally superfoods.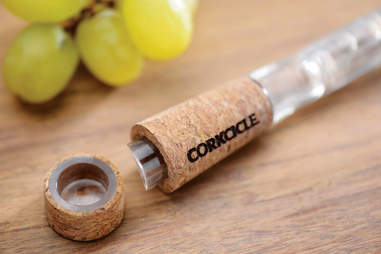 Courtesy of Corkcicle
8. Wine swag is real. Invest in it.
In the spirit of bringing more than the bottle, a corkcicle is simple enough just to throw in your pocket. These doohickeys keep wine chilled and make you look even cooler. Check out the entire list of gadgets and up your wine game.
 
9. Presentation is key
Walking into the party holding a bottle of wine and getting your buttery fingerprints all over it (dude, how are your hands so greasy) is a rookie movie. So's the liquor store black bag (meaning you just bought the stuff). Come correct with a tote that shows you maybe pulled this bottle from a personal stash... or at least stopped at a nice tote bag store on your way from the liquor store.
 
10. You don't have to share if you don't want to
If it's a BYOB affair, that B is all Y... if you make that clear to everybody. Just don't expect anybody willing to let you get in on what anyone else brought.
<a href="https://www.flickr.com/photos/nathaninsandiego/19617470679/" rel="nofollow" target="_blank">Nathan Rupert/Flickr</a>
11. Assume enough confidence to uncork the bottle without any prompt from the host
It's called "getting the party started" and nobody will be mad at you for this.
 
12. Don't let the weird guy who wandered in from down the hall monopolize the wine you brought for everyone
This can be achieved by taking control of the pouring process yourself to make sure everyone gets to try it. There are only so many glasses in a bottle, and even if it's a medium-sized party, that can go fast. Control the open, control the pour, and you guarantee who gets what, when (and that you get plenty of your own).
Steve Cukrov/Shutterstock
13. Show up with not only a bottle, but an expert's recommendation
Know any sommeliers? Have a wine expert pick out the bottle you'll bring to the party and be sure to talk it up. Their explanations for what makes a particular wine worthy are usually science-y and intricate and will make you sound way smarter than you are.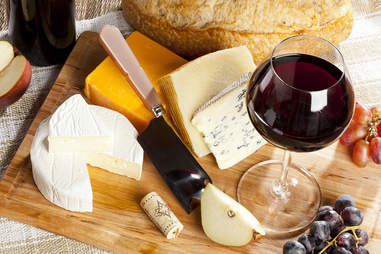 Brent Hofacker/Shutterstock
14. Tell the host ahead of time what food might pair best with the wine you bring/bring the food yourself
Cabernet Sauvignon is to steak as Sauvignon Blanc is to seafood.  Delicious, together.
 
15. Don't get into a battle with other guests for wine-dominance
The more merlot the merrier. Plus, it gives everyone a chance to try wines they would have otherwise never sipped in their whole lives. Try 'em all!