What are you doing this Fourth of July? Toasting your independence the way the Founding Fathers intended, naturally. And to make that pursuit of happiness as easy as possible, we've taken the work out of figuring out what exactly you should toast with.
We took classic colonial cocktail recipes and, this being the 21st Century, updated them with some BACARDÍ® twists to make things easier, tastier, and all the better to get the party galloping faster than Paul Revere's midnight ride.
Columbia Libre
Mix rum with lime juice and that staple of American summertime: a glass of cola. Now you hold a Cuba Libre, so add a piece of bacon to truly make it a Yank cocktail: the perfect summer drink for a cool party in the hot sun...with snack included.  
Ingredients:
1 1/2 parts BACARDÍ Superior
5 parts cola soda
1/2 part lime juice
Slice of bacon for garnish
Slice of lime for garnish
Directions:
Combine rum, juice, and cola over ice.
Stir.
Garnish with a lime and bacon.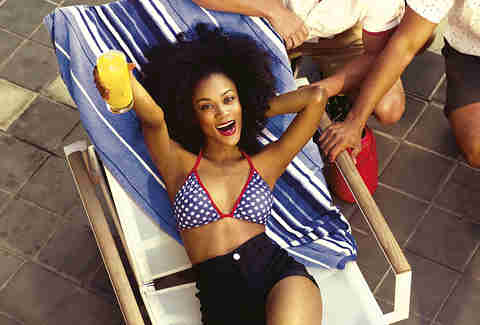 Selfie Punch
Pour this one with BACARDÍ Grapefruit and BACARDÍ Orange. Add them to BACARDÍ Black, which will stand up well to the deep tang of the blackstrap molasses.
Sugar the rim to impress the sexy ladies of summer. Bonus Patriot Points for dyeing the sugar red, white, and blue. Post a photo of yourself holding it (perhaps with the aforementioned ladies?) because this is the most picturesque pitcher you'll pour all weekend.
Ingredients:
3/4 part BACARDÍ Grapefruit
3/4 part BACARDÍ Orange
1 1/2 parts BACARDÍ Black
1 1/2 parts water
1 teaspoon molasses per part
1/4 teaspoon grenadine per part
Molasses
Brown sugar
Cinnamon
Directions:
Rim the glass with molasses, then a mixture of brown sugar and cinnamon.
In a shaker, combine molasses, rum, grenadine. Stir vigorously.
Pour over ice into sugared glass.
Bae Bomb Drinks
Proof through the night that the party's still there! If your celebration is in the high gear the holiday deserves, these bomb drinks will be an explosive hit. The only thing the party will love more than you is these easy mixers they'll drink before anyone else.
Ingredients:
2 parts BACARDÍ Superior
12 parts hard cider
Directions:
Pour rum into cider.
Stir.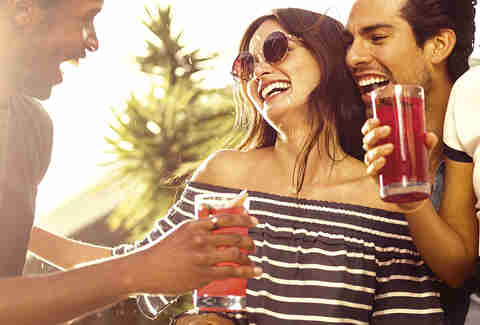 Stamp Act Shandy
Throw out your tea! You'll drink these beer cocktails from now on. Use BACARDÍ Gold here; though normally not a mixing rum, it has tasting notes of vanilla, caramel, almond, and banana, all of which go perfectly with a porter.
Ingredients:
1 1/2 parts BACARDÍ Gold
1 1/2 parts brandy
1 1/2 parts lime juice
1/4 teaspoon brown sugar per part or 1/2 teaspoon brown sugar simple syrup per part
12 parts dark beer
Directions:
Mix all liquid ingredients in a pint glass except beer.
Add brown sugar. Stir for ten seconds.
Add beer and stir again.
Two if by Swag
Spruce up your party! Compounding citrus notes of BACARDÍ Grapefruit and BACARDÍ Limón with the mint and lime of BACARDÍ Classic Cocktails Mojito gives this one a mock evergreen taste. This one is tricked out with everything except the kitchen sink, but you can mix it over one if you want to claim ultra-swag. Why wouldn't you? Variety is the basis of America. Well...that and having a lot of stuff. This is both!
Ingredients:
Mint leaf for garnish
2 parts BACARDÍ Classic Cocktails Mojito
1 parts BACARDÍ Limón
1 parts BACARDÍ Grapefruit
6 parts pale beer
1 1/2 parts ginger ale
1 1/2 parts root beer
Directions:
Slap a mint leaf in your palm to release the oils.
Rub the mint around the rim of a pint glass.
Drop the leaf in the glass. If you like your "spruce" extra minty, muddle it now.
Add ice.
Pour liquid ingredients.
Stir gently to avoid fizzing.
Red Rum Punch
Anyone can bleed American, but just how many dare to drink it? This punch is as red as the stripes on Old Glory. Sweet and simple, this cocktail can be made in under a minute, so you can get back to the barbecue to watch Uncle Sam (not the Uncle Sam, just Sam, your uncle) set off his patented fireworks display. The party never stops!
Ingredients:
3/4 part BACARDÍ Limon
3/4 part BACARDÍ Raspberry
3/4 part BACARDÍ Superior
½ part grenadine
2 parts sweet & sour mix
1 part cranberry juice
Lemon slice for garnish
Mint for garnish
Directions:
Stir in liquid ingredients over ice in a collins glass.
Garnish with lemon and mint.
Bright & Sunny Punch
America is the land of optimism and opportunity. Greet the bright and sunny Fourth of July with a bright and sunny punch to really get your celebration going. Just be careful nobody mistakes your unflinching smile for a sparkler and waves you around. Although that could ramp up the party if done right.
Ingredients:
1 part BACARDÍ Coconut
1 part BACARDÍ Pineapple
½ part sweet & sour mix
½ part orange juice
2 parts ginger beer
Orange wedge and lemon wedge for garnish
Directions:
Fill serving glass full of ice. Pour in all ingredients.
Gently stir with a bar spoon to mix together.
Garnish with an orange and lemon wedge.