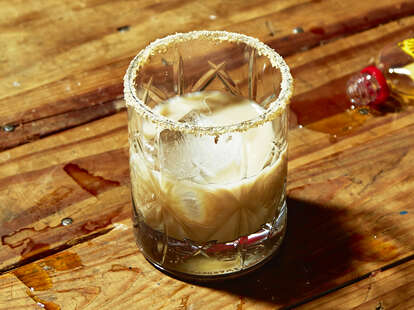 Photo by Matthew Kelly for Thrillist
Photo by Matthew Kelly for Thrillist
Fireball is one of the most misunderstood bottles behind the bar. Self proclaimed "grown-ups" can't seem to understand that the heavenly and hellish cinnamon whisky is good for more than shots at a bachelorette party (though it is a perfectly acceptable choice of shot at such an occasion). But this Fireball-based lowball will educate those naysayers quick. Lifeguards, submarine captains and extraterrestrial aliens may not be able to see why kids love Cinnamon Toast Crunch, but after one sip of an adult drink that tastes just like the cinnamon-swirl cereal, you'll be able to see why you should reconsider Fireball as a cocktail ingredient.
Mixing Fireball, Rumchata and Kahlúa—all ingredients that have been maligned by fans of simple and dry (read: boring) cocktails—creates a drink that tastes shockingly like liquid Cinnamon Toast Crunch, except subtly boozy. The drink is even made of equal proportions, so it's just as easy to prepare as a bowl of cereal as you rush to catch your favorite Saturday morning cartoon.
Because the drink is all about indulging nostalgia and a wickedly sweet cravings, we decided to take it a step further and rim the cocktail with the actual cereal. Crush up a small bowl of Cinnamon Toast Crunch (or just dig out the crushed stuff from the bottom of the box), then rim the glass using cinnamon simple syrup as a spicy-sweet adhesive to apply the crushed cereal bits. It's your new favorite drink for brunch, dessert, and every time in between. Of course, no matter what time of day you drink, you should pair this cocktail with a bowl of Cinnamon Toast Crunch and some throwback '90s entertainment.
Cinnamon Toast Crunch
INGREDIENTS
1 oz

Fireball

1 oz

Rumchata

1 oz

kahlua

Cinnamon Toast Crunch, for rim

Cinnamon Syrup,
INSTRUCTIONS
Step one
Roll the top of an Old-Fashioned glass in cinnamon syrup.
Step two
Rim the glass with crushed Cinnamon Toast Crunch.
Step three
Pour in equal parts of Fireball, Rumchata, and Kahlua.
Step four
Add ice and stir.