How Sabel Scities Embraces Island Life
This funny, flirty queen talks Hawaiian gay bars and shares a Mai Tai recipe.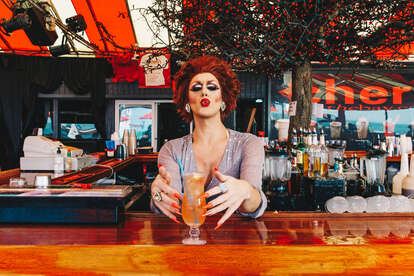 Drag queen Sabel Scities got her start in the Portland scene, but has since made a name for herself everywhere from Hawaii to Fire Island. This multifaceted queen chatted about crafting a drag persona, her favorite spirits, and why even a gay bar needs a gay night.

John deBary: Which came first: drag or bartending?
Sabel Scities: Drag came first for me. I was a bit of a goody-two-shoes kid, so I didn't drink a whole bunch until I was 21, but I started doing drag at an all ages gay night club in Portland. I had just come out and my parents made me move there…and it was a whole thing. So I went down to the clubs all the time and eventually ran into my drag family there. I started performing as a boy and then as a gag I would do drag, but eventually my drag family said "This is it. You're never performing as a boy ever again."
I had no idea what was in store and within a year I was working three nights a week and co-hosting shows. Five years in, I moved to New York City. Right before that, my friend taught me how to bartend so I could make a little extra money. I started bartending out in Fire Island and then moved to Austin, and then moved to Hawaii and am bartending three or four times per week. So that's my journey.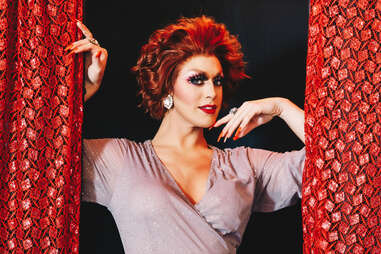 JdB: How did you develop your act?
SS: Portland has a very old-school style of drag, so I learned a lot about the history of drag from the '50s, '60s, '70s and '80s. I got the mentality that it's more of cabaret, a shock value kind of thing—you're really good with hamming it up with your audience and having conversations, so I've always enjoyed the personal side of drag and getting to know people. The fact that we can put all kinds of music into one show and we can connect with different people has always been my draw to doing drag. And they put me behind the bar and I had no idea I had that personality, too, and I ended up making a good amount of money. New York is the boot camp for bartenders—if you can't do it there you can't do it anywhere else, so I'm really lucky for that kind of training and putting those worlds together.
JdB: Amazing. What was the bar personality that you discovered?
SS: Just a shameless flirt. I really love connecting with people through our experiences and finding common ground and I think this is my strongest trait behind the bar. You can change someone's entire day just by figuring them out a little bit.
JdB: That's the part I love about it too—it's happening right in front of you.
SS: Oh, yeah. There are definitely days where I'm like, "Please don't fucking talk to me today" and there are days where I really enjoy that part and I wasn't them to stay at the bar all afternoon.
JdB: Tell me about the place where you bartended in Hawaii.
SS: It's called My Bar. Originally the owner and I were together at Hamburger Mary's in Portland. We magically ran into each other at Honolulu Pride three or four years ago and he said, "Hey I bought a bar" and he told me all about it. So I invited a friend and we just took over the bar for my birthday and I got hooked to being in Hawaii, the atmosphere. We started a bingo. I do brunch every first Friday of the month. We started a new gay night where we have really gay music because there aren't—
JdB: Wait you have a gay night at a gay bar?
SS: Yeah…kinda. We needed to kick it up a notch because people get too comfortable.
JdB: Do you ever bartend in drag?
SS: Yeah? It's not the most comfortable thing in the world [laughs]. I get to do a Christmas party, which is really fun because people like to have a drag queen bartend on Christmas. And it's fun because I get to use every joke I have in my rolodex on people who haven't heard it before and, all of the sudden, I'm hilarious. I'm the life of the party.
JdB: So, who is Sabel Scities?
SS: She's a little bit of a sponge, she's a little bit of everyone I've ever met. When I meet comedians, I feed off them. When I meet glamorous goddesses, I study them. I love studying people. You could drop me into a brunch, you could drop me into story time with children, you could drop me into a bar at 1 am and I could survive any environment. She's very gregarious.
She enjoys the interactions with people and being there when they're celebrating something and when a drag queen shows up and it's the best day of their life. Or people who are having the worst day and all of the sudden they're having the best. Or they came in crying and walked out laughing. That's what I'm trying to bring to everything.
JdB: That's really sweet. Tell me about what kind of drinks you like.
SS: Well I really love vodka. Vodka is my personal vice. Summer time I switch it up to spiced rum because I like to be a drunken sailor on the beach. Maybe it's just me being a bit of a tourist but I drank a lot of Mai-Tais in Hawaii—a little spiced rum and dark rum, coconut, triple sec, pineapple and orange juice. That's what I was serving.
JdB: And now you're back at Cherry's in Fire Island, right? What's Fire Island like for those who've never been?
SS: It's kind of like never never land. It's a place unlike anywhere else. I like that it's such a separation from the outside world. You learn so much about yourself—your boundaries, your tolerance. You try things you've never done before (and should probably never do again). You find instant family. You put on amazing parties and then you want to come back and do it again.
Sabel Scities' Sailor Girl Mai Tai
Ingredients:
1 ounce Sailor Jerry

1 ounce white rum

1 ounce Malibu

1 ounce pineapple juice

1 ounce orange juice
Directions:
Combine all ingredients in a shaker. Add ice and shake vigorously for 15 seconds. Pour in your fanciest glass, with ice. Top with a half ounce of Cointreau and a half ounce of Kula dark rum. Garnish with pineapple, cherry, lemon, lime, orange slice, umbrella...feel free to get obnoxious with it.
John deBary is a cocktail and bar expert with over a decade of experience working in award-winning New York City bars and restaurants. He is also the co-founder and president of the Restaurant Workers' Community Foundation, which is dedicated to improving the lives of hospitality industry professionals through advocacy, grantmaking, and impact investing. John is also the creator of Proteau, a line of non-alcoholic drinks.