The heartwarming tale of how one hungry man convinced Sbarro to rename their breadsticks after him
Through one of our intrepid pizza sources, we recently learned that a man known only as TNaz -- a devoted and un-ironic lover of all things food court pizza -- had managed to woo Sbarro into changing the name of their breadsticks to honor him, their most ardent and vocal lover. What follows is an email from T_Naz to myself -- the story he told is far more poetic and compelling than anything I could paraphrase. Enjoy "Dear Ben,The day was June 9th, 2013. I don't know how (maybe it was divine intervention) but I came across a tweet from Sbarro that read, '@Sbarro: Do you save your breadsticks for the end of the meal or do you enjoy them throughout?' I was simply dumbfounded. I had no answer. I had to seek advice from one the most level headed people on Twitter: Amanda Bynes.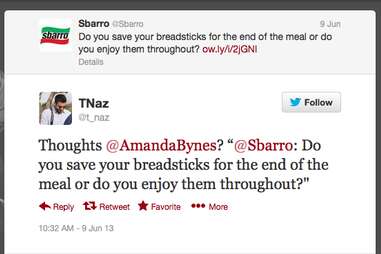 I tweeted at her asking for her thoughts, and I got an unexpected tweet from Sbarro asking me for MY thoughts. I responded the only way I could, '@Sbarro I'm naming my first born child Sbarro. That's what I think of your breadsticks.' From that moment on, a really weird relationship between a 25 year old man and a food court chain commenced.

Our next interaction included another food chain: Chipotle. I had brought up the idea that Sbarro and Chipotle do a one time partnership and have Sbarro Strombolis filled with Chipotle fix-ins to make Sbarritos (GENIUS I KNOW THANKS). Chipotle thought I was crazy while Sbarro kept falling in love with me more and more.

Here's a Fourth of July conversation I had with Sbarro regarding a new pizza idea/commercial (featuring deep friend pizza and 2pac).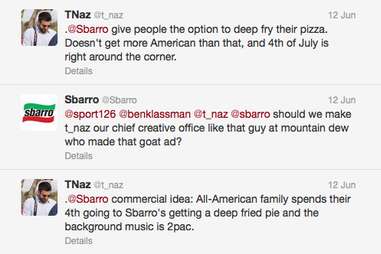 All this attention from this glorious pizzeria attracted the HATERS. @jhshifris11 was claiming that he was the number one Sbarro fan. Your boy was not going to let that happen. Not one bit. So here was that convo. For insight on my Twitter beef, look at my timeline around that date.
Then came a random shoutout from Sbarro. I felt pretty special that day, but I didn't know what was in store for me.

Ben, I'll never forget July 11th. That is the day Sbarro tweeted at me and notified me that they were naming their breadsticks after me. Here is the infamous tweet. (Also, I'm pretty sure that tweet got the most retweets and favorite on their account. That counts for something right? Just say yes).
My reaction was only one of jubilation: '@Sbarro FILLED WITH SO MUCH JOY THAT I AM CRYING TEARS OF MARINARA SAUCE'. I felt like my time on Earth was vindicated. When people are taking a break from their shitty jobs to go to the food court because they are too lazy to find another place to eat, they can find solace in a @t_naz breadstick from Sbarro.

The very next day, I saw those beautiful, garlic-seasoned, lightly fried pieces of bread under the scorching heat lamp. It was a surreal experience. Sbarro employees were clapping for me when I revealed my identity as their breadstick connoisseur.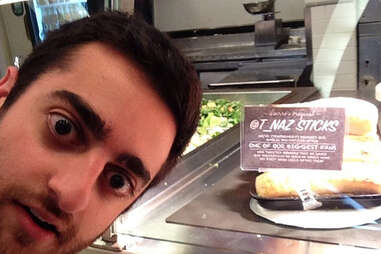 So that's the story. Next goal is to get Martin Scorsese to direct a documentary of me visiting the original Sbarro in New York. His people haven't gotten back to my people yet.

-TNaz"