The Seven Deadly Bar Sins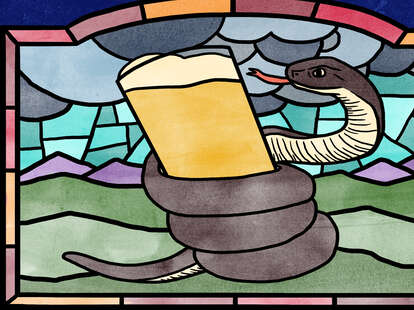 Nobody's asking you to be an angel at the bar, unless you're a woman with Corey Feldman, in which case you're contractually obligated. Still, there's a huge difference between some general barroom tomfoolery and straight-up being the worst. And some sins are simply unforgivable.
Commit any of the following deadly sins on a night out, and you just might find yourself sent straight to hell, which might look a lot like Corey Feldman's place, actually. At the very least, they'll get you kicked out and possibly banned.
Fighting
Visiting violence upon fellow patrons, bouncers, and bartenders – whether physical, verbal, or through the terrible, loud singing of psalms from the Book of Nickelback – is a sin punishable by permanent exile from this holy land. However, turn not thy other cheek when wronged or confronted with the violence of others: Simply follow the commandment "Thou Shall Take It Outside, Bruh."
Stiffing
Be you rich or poor, man or woman, do-gooder or dirtbag, you shall face eternal damnation ifst thou walk out on a tab without paying, leaving it to the business or the bartender to atone for your misdeeds. But paying the bill on its own shall not save you from an eternity of shame. Nay, leaving the tip line on the receipt blank too is a cardinal sin. Lest thine bartender sprayeth thee unprovoked with pepper spray or laceth conversation with racial slurs, a modest tip is not a recommendation. It is a commandment.
Creeping
Listeneth, dude. The light of thy cellphone shineth bright as you lustily take photos of unsuspecting people at the bar. The stench of thy breath on the back of their necks as you ask whether they come here often is vile. Your ability to slither snake-like into strangers' conversations is animalistic and predatory. For real. You creepeth us all out. Get thee to a Lyft.
Underestimating
And the Lord decreed, "Know thy limit, dumbass. If thou knoweth that drinking three beers transforms you from a pleasant fellow on the path of righteousness into a Nickelback-screeching devil, then sticketh to two. Ifst thou feel as though you might leak bodily fluids – or, nay, torrent them violently – onto a stool, the bar, or a person, goeth to the bathroom, then home. For virtuous is the man who knows when to call it a night. Villainous and sinful is he who keeps going, and he shall be doomed to wake up next to a skeevy stranger on skeevier sheets the next day."
Defiling
The bar is your temple, and you shall respect it. Carve not thy name in an unmarked table. Scrawl not thy number on a bathroom stall… it only worked once, in the stall in the Garden of Eden, and it ended poorly. Leave not soiled toilets or broken glassware in your wake. For if you respect the bar, you shall reap its rewards.
Stealing
Be it glassware, other patrons' property, or Settlers of Catan, theft in a bar betrays the sacred trust established between barkeep and customer. And if thy evil deeds include stealing tips off the bartop, rest assured there is eternal punishment awaiting your soul in a special circle of hell. It involveth listening to Nickelback with Hitler.
Coyote Uglying
Be not led astray by the false prophet Piper Perabo: At no time shall you stand on the bar, or a chair, the jukebox, somebody's shoulders, the toilet stall, a keg, a newsstand, or a stack of board games. For it is dangerous. It puts the bartender at ill ease, and in a situation where they might have to remove you from the premises. And nobody wants to see what's happening under that skirt, even if you are Piper Perabo.
Sign up here for our daily Thrillist email, and get your fix of the best in food/drink/fun.
Andy Kryza is a senior editor at Thrillist who spent this entire article trying not to spoil a 22-year-old film by making a joke about Gwyneth Paltrow's head being in a box. Oh. Crap. Sorry. Follow him to accidental spoilers to movies you've already seen @apkryza.