The disco ball is certainly having a moment. Whether it's the 1970s revival that has permeated bars and restaurants, Taylor Swift and Jack Antonoff co-writing "Mirrorball" in 2020, or The New York Times solidifying it as a trend this spring, we love to see it.
From illuminating dance floors or simply hung from a popcorn ceiling in a dive bar, these glittery orbs work wonders to elevate a mood. This is something that bartender Natasha David has known since 2014, when she co-opened the now-shuttered Lower East Side bar Nitecap alongside the Death & Co. team. One hung in the Rivington Street basement bar for six years.
"The whole idea behind the disco ball, they're these completely silly things, but when they are turned on, everyone feels unified," David says. "How could you not be delighted?"
In fact, inclusivity was the entire ethos behind Nitecap and a common theme that runs through David's book, Drink Lightly, which includes more than 100 recipes for low- and no-ABV cocktails. The vibrant guide shines a spotlight on aperitifs, liqueurs, and various lesser-octane spirits to show off their versatility.
"The low-ABV movement sort of exploded while I was editing the book, which was very unplanned and maybe the universe's way of helping me out a little," David laughs. "But this has always been the style of drinking I've enjoyed the most. I love a good martini, but I'll have one and be done for the night. The culture around low-ABV drinking allows you to hang for a while, make yourself a little more social, and enjoy the company of others."
David was born in Germany to musician parents and lived in Europe until coming to New York City for college when she was 18. She immediately noticed a cultural shift in drinking habits.
"I was a kid that sipped champagne at New Year's and that wasn't frowned upon," she says. "I was shocked when I started experiencing how people in America were drinking. Not to say there isn't binge drinking in Europe, but there's just a bit of a different attitude. You're introduced to alcohol because you're eating and with family, it's a celebratory thing to do."
That perspective stayed with her as she worked various bar jobs to support her education at NYU. Her first job was at an Irish pub and, by her senior year, she became bar manager at The Corner Shop Cafe in Noho. Her resume reads like the United Nations of the bar world, making Italian drinks at Maialino and Pulino's, Scandinavian ones at Vandaag, tequila cocktails at Mayahuel, and absinthe creations at Maison Premiere.
"A mistake a lot of young bartenders make is going straight into a cocktail bar, but I loved that my first job was at an Irish dive," she says. "I learned how to really interact with humans, not just have a relationship with a jigger. I did casual restaurants, fine dining—that's how you learn everything. You explore all points of the industry and find where you belong."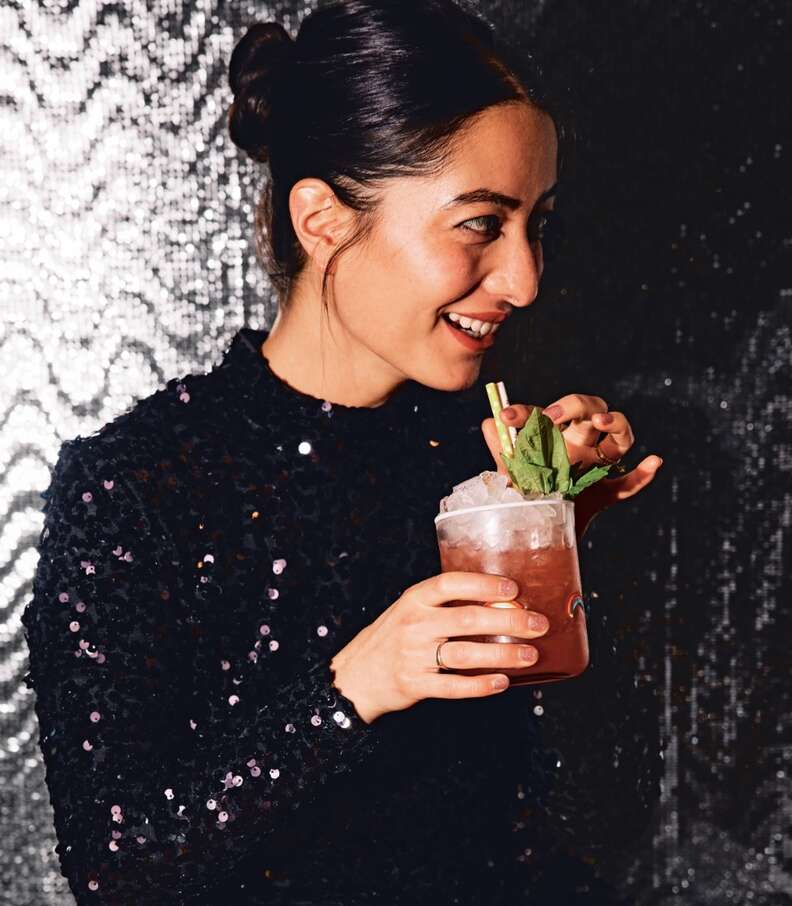 In David's case, she created that place of belonging. The vision for Nitecap came at a time when all the cocktail bars were very serious and male-dominated, aka "the heyday of the mustache, suspenders, and jazz music vibe," as she puts it. What her team envisioned was a much more accepting and open place, where not only anyone could work, but also a place where anyone could drink.
The menu felt more relaxed than its cocktail counterparts at the time, with lots of options for shot-and-beer pairings, concoctions in slushie machines, and a constant rotation of spritzes. The clientele was just as laid back, representing all walks of life and the bar shied away from any kind of snobbiness.
That same playful and welcoming sensibility is weaved throughout Drink Lightly, and epitomized in her recipe for a Bamboozicle—a sherry, vermouth, and fruit slushie topped with edible glitter that she lovingly refers to as "disco dust."
"We always had a classic Bamboo cocktail on tap, and putting it in the slushie machine was one of the most Nitecap things we could have done," she says. "This is how I think about cocktails, adding a fun and unexpected element that may seem silly, but tastes really good. I like drinks to have a sense of humor, and disco dust is the ultimate wink at the end."
The drink combines amontillado sherry, white and dry vermouth, orange juice, strawberry puree, banana rum, and simple syrup. For the home bartender, David provides a recipe that calls for a blender instead of a slushie machine. She also advises to use more simple syrup than you think you need, since ice ultimately mellows out flavors.
"You add more sugar than you normally would for a drink, since all of that ice blending things together muddles flavors and sweetness helps bring out flavors," David says. "Sugar makes things taste better. If you put sugar on strawberries and let them macerate, it accentuates that taste of the strawberry. Upping the sugar content in frozen drinks helps bring everything out."
No matter what cocktail you decide to make from Drink Lightly, David hopes it can open readers up to new ingredients and innovative ways to use things like sherry, vermouth, and aquavit.
"You might have to call five different liquor stores to find some of these ingredients, but then the more you buy it, the more places will stock it," she says. "The goal is to show that there's so much more to low-ABV drinking than just added soda water. The whole point is to make this world more inclusive and provide more people a seat at the table."
Bamboozicle Recipe
Yield: Serves 1
Ingredients:
• 1½ ounces amontillado sherry
• 1 ounce simple syrup (1:1 white sugar to filtered water)
• ¾ ounce white vermouth
• ¾ ounce dry vermouth
• ¾ ounce fresh orange juice
• ½ ounce strawberry puree
• ¼ ounce banana rum
Directions:
1. Combine the sherry, syrup, white vermouth, dry vermouth, orange juice, strawberry puree, and banana rum in a blender with ½ cup of crushed ice. Blend on high for 15-20 seconds and pour into a double rocks glass.
2. Garnish with paper parasol, edible flower, and disco dust (aka edible glitter). Serve with a straw, but make sure it's not metal to avoid a lip-stuck-to-straw disaster!
Note: If you can't find strawberry puree, use 2 whole strawberries, fresh or frozen, with an extra ¼ ounce simple syrup in its place.
Reprinted with permission from Drink Lightly. Copyright © 2022 by Natasha David. Photographs copyright © 2022 Kristin Teig. Illustrations copyright © Andrés Yeah. Published by Clarkson Potter/Publishers, an imprint of Penguin Random House.