The Shiba Sommelier and a Real Sommelier Review Wines
Shiba Sommelier / Adam Lapetina
Most dogs confine their palates to Milkbones, Kibble, and that shoe you foolishly left in the living room. Not Suki, known on the Internet as The Shiba Sommelier. Suki rose to online fame for her hilarious yet insightful reviews of wines from all over the world. But we wanted to know how she stacked up against an actual sommelier, so we called up Sam Lipp, managing partner at Union Square Cafe and former bar manager of Eleven Madison Park. Both Sam and Suki were given a few wines to review and, in keeping with the theme, we made them all dog-themed -- either in name (i.e. Dog Point Vineyard) or label art (i.e. pawprints, a sad dog in a cone). They each offered some great tasting notes, though only Suki's photos are liable to crash Imgur. Here's what our two pros had to say:
 
Adam Lapetina/Thrillist
Dog Point Vineyard Sauvignon Blanc
Sam: "This jumps right out of the glass. Gooseberry, lemon, lemongrass, tropical fruit on the nose, but still a suggestion of acid. Lots of cut grass and herbs -- the legal kind. It's savory and sage. Juicy, vibrant. This is the kind of wine that goes with everything or nothing. It's great, you could pop this open at 2pm on a Tuesday. It doesn't linger... it's the perfect house guest. It's all upfront and excited to meet you. This would be great with summer salads, but you could also eat this with raw fish. Especially if you have any peppers -- there's a bit of jalapeño coming through anyway."
Shiba Sommelier
Suki: "Discussing benchmark New Zealand Sauvignon Blanc with my trusty adviser, Squishable.com Shiba. Very herbaceous and fresh on the nose. Fresh grass, lemon, apple, green pepper. Such an elevated, lifted, and bright nose! VERY grassy on the palate with white pepper. Fresh lemon notes on the mid-palate toward the finish. 4/5 bones."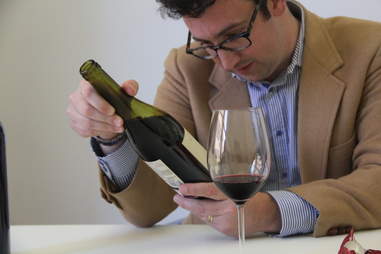 Adam Lapetina/Thrillist
Cuatro Pasos Bierzo
Sam: "Inky, dense, and youthful purple hue, with so much concentration to the color you could practically slice it with a butter knife. Aromatically, it's medium in intensity. Yeasty purple and black fruit dominate. There are violets, cassis, black cherries, and a hint of smoke... like hot asphalt fronts shortly after you haul ass in your muscle car. On the palate the wine shows off its modern, sleek curves and styles. More of the same fruit with chewy tannins, more smoke, and a bit of sage spice. Clearly poised to delight the modern, New World-style wine drinker, this Mencia delivers a profile like the love child of Pinot Noir, Syrah, and Petit Verdot. Yeah, it's that kind of party."
Shiba Sommelier
Suki: "Bierzo wines have been known to put a spring in my step. Peppery cherry, raspberry, eucalyptus, bay leaf, and mint on the nose. Red cherries dominant on the palate along with raspberries and a hint of strawberries. A bit thin on the finish, with the alcohol perhaps a bit out of balance. More interesting on the nose than on the palate. 3/5 bones."
Adam Lapetina/Thrillist
Red Heads Studio Yard Dog White
Sam: "I feel bad for this dog already! What's wrong with you, dog? You smell lots of pure fruit. Ripe and juicy. Really clean. Honeysuckle, peach, nectarine. There's a suggestion of spice to it, which makes me think maybe it's seeing just a little bit of oak. This wine, like a well-trained dog, cleans up after itself. It's interesting, it's very... it's well-crafted, but you can tell it's crafted, if that makes sense. If you're a fan of fruits, juicy, ripe but soft and approachable styles of wine, this is great. It's a patio wine or backyard pool wine. It's also good at the end of the night when you've maybe had one too many, but can't go to sleep. Because it doesn't hit you over the head. It's not too sweet. I can have one of these while I fall asleep with a glass in my hand."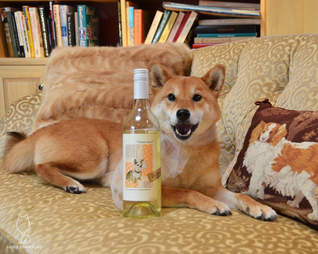 Shiba Sommelier
Suki: "Just sittin' pretty in my library! Very nice nose on this one -- lemon, lime peel, white stone, white florals, pear, hint of petrol, and a smidgen of tropical fruit. Waxy mouthfeel on the palate. Sweeter citrus and tropical fruit. Acidity from the Riesling keeps the wine in balance. Great mix of three interesting grapes! 5/5 bones."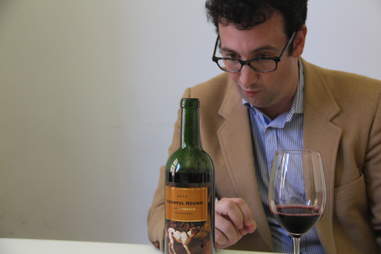 Adam Lapetina/Thrillist
Mulderbosch Faithful Hound
Sam: "You don't even have to taste it to make assumptions. It's really rich in color and dense, so I think it's going to be a powerful, full-bodied red wine. The nose is really pretty. By that I mean I'm sort of pleasantly surprised it's got a nice balance between fruit and earth. There's black cherry, black currant, plum -- all of those are really ripe and juicy. Also soft earth or wet forest floor. Tar, spice, and smoke as well. The palate definitely follows through. It's soft and the tannins are really silky. This is a medium-plus bodied wine that craves food, but since the tannins are so silky, the casual red-wine drinker would be happy having this on the couch with popcorn. It's a wine for drinking now: it doesn't need to age. You could open this now and be perfectly happy with it."
Shiba Sommelier
Suki: "I could certainly be a faithful hound to this wine! Cassis, graphite, blackberry, plum, black cherry, and a dose of smoky fruit along with Malbec notes on the nose. A touch of wet soil and ham for good measure. Chewy fruit -- cassis, red and black cherry, blackberry -- and a hint of smoke on the palate. Nice blend of Bordeaux with Malbec! I would pair this wine with little skewers of different meat off the grill to play with all the different flavors. Best red wine of the bunch! 4/5 bones."
To read more of Suki's reviews, head over to The Shiba Sommelier. And to experience Sam's expertise in action, you'll need to stop by Union Square Cafe.
Kristin Hunt is a Food/Drink staff writer for Thrillist, and hopes her future dog is also a wine pro. Follow her at @kristin_hunt.