Design by Maggie Rosseti for Thrillist
Design by Maggie Rosseti for Thrillist
This past fall, I was sitting at a marble bar in a New York City restaurant, reading a book and waiting on a burger. A server came up to the bartender to put in a ticket. "Is this right?" the bartender asked. "Yup, eight Shirley Temples."
I watched the server deliver the cherry-red drinks, in skinny pint glasses with striped straws sticking out, to a table of women well over 21 years old. Wow, I thought, people are still ordering these.
My Shirley Temples associations begin and end with childhood memories of ordering the drink at a steakhouse when my parents got cocktails. The snappy maraschino cherry, sizzling 7-Up, and silky grenadine syrup were all very distant memories. But as spirit-free cocktails have become commonplace on menus and zero-proof books and products line more shelves, I wondered if Shirley Temples were making a comeback—or if they ever really went away at all?
"The ingredients in a Shirley Temple are common ones found behind a bar and used in a lot of cocktails: lemon-lime soda or ginger ale and grenadine," says Derek Brown, who owns DC bars Columbia Room and Disco Mary and just released the book Mindful Mixology. "For a very long time, if you were ordering a non-alcoholic drink, there weren't many options besides that or a Roy Rogers. And any time something has been around for a long time, there's a reason."
The invention of the Shirley Temple dates back to, of course, the actress Shirley Temple. Hollywood lore has it that, in the 1930s, the child actress was dining at legendary restaurant Chasen's and wanted to have a cocktail she was allowed to drink.
"Not a lot of young stars were going to big, swanky restaurants like that," says Alison Martino, a LA historian and contributor to Los Angeles Magazine. "So it was probably a big deal for her to go in and they wanted to make her feel like she was an adult. When I went into Chasen's as a kid, our server would always ask, 'Would you like a Shirley Temple, like the actress?'"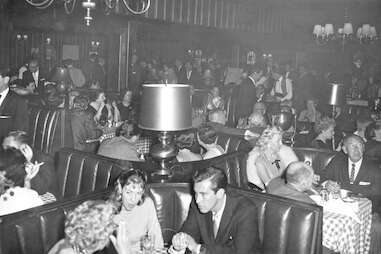 Chasen's was "Old Hollywood personified," Martino remembers, saying she saw Frank Sinatra there and her parents would see Elizabeth Taylor and Clint Eastwood. It was all windowless wood paneling and decadent red leather booths—some of which sold for a pretty penny at auction when the restaurant closed in 1995.
Besides its star-studded guest list (and famous chili that Taylor would have shipped to her all over the world), the lasting legacy of Chasen's is the Shirley Temple cocktail. Kids of all eras continue to order the drink to feel fancy. One such kid, Leo Kelly, aka the Shirley Temple King, started giving critiques of the drink on Instagram at age 6 and even launched his own line of the drink that includes cotton candy and ice cream as garnishes. Holy sugar rush.
But there are craftier and more sophisticated versions of Shirley Temples out there, both on cocktail menus and on shelves. Plus, companies like Jack Rudy and Liber & Co. are making grenadine with quality, natural ingredients that give that dusty bottle of Rose's in your grandparents' pantry a run for its money.
"Grenadine is really cool because it has this combination of exoticism and universal appeal," says Adam Higginbotham, the co-founder of Austin-based Liber & Co. "Everyone knows it as a sweet-tart fruit syrup that is this gorgeous red color. But it has a lot of complex floral and tannic elements to it, too."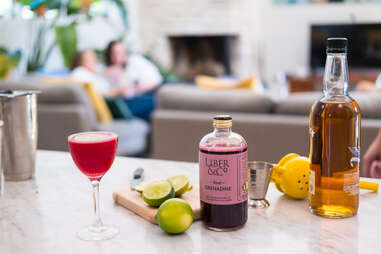 Perhaps the allure of the Shirley Temple is tied to grenadine itself. Most people assume, like I did for decades, that grenadine is just cherry simple syrup. And there's the commonly held belief that it's actually pomegranate juice (pomegranate in French is grenade, after all). Then, just last year, an essay came out from drink historian Darcy O'Neill positing that, depending on the era, grenadine has been made with all sorts of ingredients including clove oil, maraschino liqueur, and even raspberry essence.
No matter what it's made of (in Liber's case, it's California-sourced pomegranate, orange blossom water, and cane sugar), grenadine is a bar staple. You'll find it in everything from Trader Vic-style tiki drinks to Hurricanes on Bourbon Street. The syrup's ubiquity is another huge reason why Shirley Temples have stuck around. Any bar, anywhere, can make you one.
For Higginbotham, the drink brings him back to a road trip he took to a small town in Central Texas with his grandparents. They stopped into an old fashioned soda shop in a town square and that's where he sipped on his first one. "I associate it with that middle America, diner experience," he says. "My grandmother probably made it with Rose's and ginger ale and it made you feel way more grown up than just having an ice cream cone."
Judging that it's one of Liber's more popular of its 16 syrups, Higginbotham thinks people are making a rediscovery of grenadine and, by proxy, Shirley Temples. He says he likes hearing about more modern versions made with small-batch ginger beer or freshly squeezed lime juice.
Brown, who says he was more of a soda and Slurpee kind of kid, admits that fresh lime juice and housemade grenadine are surely improvements on the classic Shirley Temple. But he hopes that people realize the drink is merely the tip of the iceberg when it comes to non-alcoholic options these days.
"For some people, Dry January is just a month and for others, it's their whole life," Brown says. "This is about choices and there should be options that are low- and no-alcohol on every menu that, in all fairness, go well beyond the Shirley Temple."
But the fact remains that Shirley has staying power. This is a drink invented for a young Hollywood starlet almost a century ago that is still being ordered today—on viral Instagram accounts and in bars on the Upper East Side of Manhattan.
"I still order them about once a week, it's the truth," Martino says with a laugh. "Sometimes waiters think it's charming and some can't believe I'm serious. I don't know if it's a childhood thing of feeling safe or what. But when they're done right, they're just delicious."
Liber Shirley Temple Recipe
Ingredients:
• ½ ounces Fiery Ginger Syrup
• ½ ounces Real Grenadine
• ¾ ounces lime juice
• 2 dashes Peychaud's Bitters
• soda water
Directions:
Add syrups, lime juice and bitters to a highball glass filled with ice. Top with soda water and stir. Service in a highball glass garnished with a lime wheel and cherry.
Jess Mayhugh
is the editorial director of Food & Drink for Thrillist, who sipped her first Shirley Temple at a Steak and Ale. Follow her on
Twitter
and
Instagram
.