Have you ever found yourself holding 1-2 ounces of tequila in your hand and not having any idea whether you should tilt your head back and joyously propel the liquid into your mouth, or slowly sip it and appreciate its goodness? Sweet! You've come to the right place. Since both shooting and sipping have their time and place, we've put together some suggestions on when and why to do each.
Shoot because it's Friday
Raise a toast to the weekend. You've earned it. Or you're doing a great job of faking it.
 
Sip because that's how it's been done for 10,000 Fridays
In Mexico, they sip, and have been sipping for hundreds of years. Sometimes with a sangrita back, sometimes without, but the important thing is, they sip.
Shoot to celebrate owning six actual shot glasses
Today marks a special day, when you have enough shot glasses to go around, and none of your friends have to take their shots out of coffee mugs or measuring cups.
 
Sip because you can never own enough hyper-specific barware
Those tall, skinny glasses above are not shot glasses. They're "caballitos", Mexico's traditional sipping vessels. Your houseguests will be impressed, but only if you also have six of them.
Shoot to honor your parents
Well, maybe not your parents, but Californians from your parents' generation. In the early 1970s, these counterculture heroes became the first Americans to truly embrace tequila, and when they drank it, they shot it.
 
Sip because your tequila is better than your parents'
In the '70s, all the tequila widely available in America was mixtos, which you don't want swirling around in your mouth too long. The unbridled freedom associated with shooting tequila in 1971 SoCal is definitely worth recapturing, but you should also celebrate the fact that there's now tequila out there worth a slightly more prolonged experience.
Shoot because there's so much tequila!
In 1976, America imported 19 million liters of tequila, and that was considered an unprecedented boom. In 2011, we imported 125 million liters. Now that's a boom.
 
Sip because Mother Nature might change her mind about that
Because tequila is so specific in its origin, it's not like producers can just start using potatoes in the event of a blue agave shortage. We had one of those from 1998-2003, when a fusarium blight wreaked havoc on crops. The furious industry response pushed us back to the plenty we enjoy today, but nature's fickle. Sipping to appease her might not help, but it certainly can't hurt.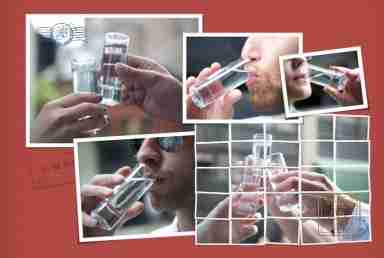 Shoot because America
More than any other country not named "Mexico", we've been responsible for tequila's growth, graciously accepting over 80% of all exports.
 
Sip because the rest of the world
They're onto the secret. China alone, which dropped its ban on tequila in 2013, is expected to jump from $5 million in imports to $100 million in 2018. Pause to savor tequila now, before we have to share it with everyone else.
Shoot because this gorgeous goddess you just met wants to do tequila shots
It's just like in the movies! Except the bar isn't on a beach, and you're not a spy.
 
Sip because this gorgeous goddess who's thousands of years old wants you to sip
According to Nahuatl legend, agave flowed from the bosom of the earth goddess Mayahuel. When a goddess gives you access to her bosom, etiquette suggests you don't just toss one back quickly, say "Thanks!", and order up a light beer.
Shoot because this moment won't last forever
The brevity of the shots ritual is a beautiful acknowledgment that the bonds that hold our friendships together could begin to fray at any time. Even as you read this, one of your buddies could be meeting the girl of his dreams at a Starbucks, or in a chat room.
 
Sip because agave takes forever
The plant takes 8-12 years to mature. The least we can do is to spend 8-12 minutes finishing our tequila.