Does Beer Work as Shampoo? I Tested It for a Week to Find Out.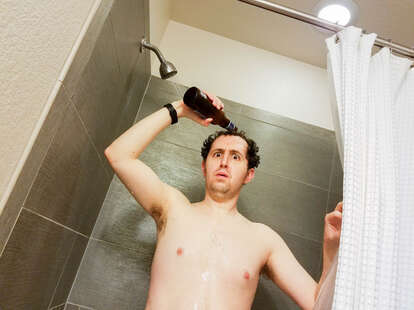 Gina Park/Thrillist
Gina Park/Thrillist
Bringing beer into the shower is not a new idea -- in fact, it has a long and storied history. But using it to wash your hair is something I wasn't aware some people do, and it's something the people who run Pantene don't want you to know about. Actually, they probably don't care. Because the idea kinda is a little strange, and it could be a waste of perfectly good beer! But it turns out that there's some actual backing to the idea that it's good for your hair.
Because I love drinking beer and taking showers, I tested beer as shampoo for five straight days on my extremely curly and unkempt hair, using brews of all different styles and prices. Here's what happened.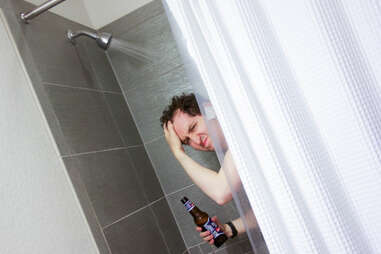 I live in Colorado, so I had to tap the Rockies and see if Coors would be a good VO5 substitute. To be frank: I thought this whole endeavor would be gross, and that my hair would smell like a bar. But it wasn't gross. At all.
The smell of cold Coors on my head strangely didn't feel out of place in the shower. It shouldn't have been that surprising -- even some fancy spas in Denver offer beer-infused treatments. Even stranger than the smell being pleasing was that it felt amazing rubbing it into my scalp, and I did it longer than expected. My hair felt better than when I put on my regular shampoo, which made no sense. It felt thicker.
What the hell is happening here? Am I going to be buying racks of Coors Light to wash my hair with? After I got out of the shower, I wondered if the more expensive these beers got, the better or worse they'd be for my hair. There was only one way to find out.
After day one, do I miss shampoo? No. No, I do not.
While this is also a lager, the difference between this and a Coors Light is the difference between the actual Megan Fox and a wax figure of Megan Fox. Sure, they might kind of look the same, but you'd only want to shower with one of them. Perhaps that's a confusing metaphor. Suffice it to say I don't want to shampoo with Boston Lager again. I thought for sure that I'd love it -- it's a solid craft beer that's been around forever, so I'd love rubbing it on my scalp! But there was something much less showery-feeling about Sam -- the smell wasn't particularly appetizing, and I didn't want to keep massaging it into my scalp, whereas with Coors Light, I could've gone all night. That should be its new slogan.
It's almost like Sam Adams wasn't made to be a shampoo! It didn't feel so good going on my scalp, but on the plus side, it tastes pretty good in the shower.
After day two, do I miss shampoo? A little bit. Do I have another Coors Light in my fridge?
Yes, another Colorado beer! Trying to keep my shampooing local, folks. Dumping the bottle onto my hair brought out those roasty notes right into my nostrils, and I loved it. I need to buy some sort of a coffee body wash, because this was absolutely intoxicating. I had enough to wash my hair with, and yet I dumped it on my head some more.
My hair didn't feel as full and Tarzan-y as it did when I used Coors, but I couldn't ignore the glorious scent from the beer, which seemed to be enhanced by the fact that I was pouring it all over myself. The one downside is that when you're pouring a dark beer all over you, a dark pool forms around your feet. That's... a little disturbing. Good thing a few sips of this stout make you forget about that, and everything's all OK again.
After day three, do I miss shampoo? Not quite! My hair feels in good shape, and this stout smells like heaven.
First off, this is one of the strangest, most satisfying IPAs I've ever had. It's a 9% DIPA with a hint of mocha, though it doesn't show up much in the aroma. It's called a Mocha IPA, but it's not like a mocha stout with off-the-chart mocha flavors. In the shower, however… off-the-charts cacao filled my nostrils. It smelled delicious. And everything was going great until I left the shower.
My scalp felt tingly. Is all my hair going to fall out from this experiment? If so, will Thrillist pay for hair-replacement surgery? So while the beer does smell fantastic and taste delicious, I'm not sure I'd take it into the shower again. Unless it were to drink. This could also be a result of me washing my hair with beer four days in a row. If I wake up tomorrow and all my hair is gone, I won't be surprised.
After day four, do I miss shampoo? Yes. I would pay $50 to stop this experiment today.
Old Chub is so rich it should be renamed Old Buffett. You know, like Warren, not like Old Country. And I like this beer; I like basically all of Oskar Blues' beers. But they're not meant for the shower, and I learned this when I poured the can over my head and a completely surprising and not particularly pleasant smell filled the shower. It felt fine on my scalp, but mostly I wished I had drank the entire damn thing instead of wasting it as shampoo.
After day five, do I miss shampoo? Does peanut butter miss jelly?
What I learned
The times in my life when I've gone a few days in between shampooing, my hair's gotten greasy and my scalp's become itchy. Like watching a competitive eater at a hot-wings contest, it's not a pretty sight. So the beer must have been doing its job as a shampoo, because I didn't feel that way at all. Alas, there were no big changes... but the fact that it worked -- and my hair didn't fall out, and I got to drink in the shower -- was refreshing.
My main takeaway is this: Coors Light is just as useful as a shampoo as it is a beer. Use it as shampoo from now until the end of your days, and you will never regret it. When it's on sale, it's probably cheaper than most shampoos, too.
Sign up here for our daily Thrillist email, and get your fix of the best in food/drink/fun.
Lee Breslouer is a senior writer for Thrillist, and enjoys drinking in the shower. Follow him to cold beers in hot showers: @LeeBreslouer.