The 9 best beers we drank at the biggest beer fest in the country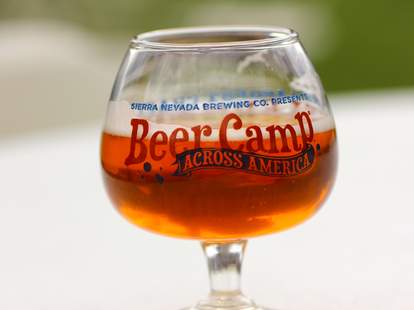 Going to camp as a kid isn't always a great time, especially if you suck at the normal camp activities like arts & crafts, canoeing, and Frenching Becky Cohen in the woods. (Sorry that was such a bad experience for you, Becky.) But camp as an adult is super fun, especially if it's beer camp: Sierra Nevada's brilliant idea to have a ton of regional craft brewers pour their brews in seven different cities.
It recently made a stop in Denver, so we rolled in to sip tasters until we could sip no more. Here are the tastiest brews we had at Sierra Nevada's Beer Camp Across America:
Lee Breslouer
The scene
Sure, there was a bit of rain in the Denver park where it was held, but that didn't stop the masses from filling up on beer tasters from 112 craft brewers located in CO, UT, WY, NE, KS, OK, ND, and SD (plus a few special breweries not from any of those states that you'll learn about in a bit).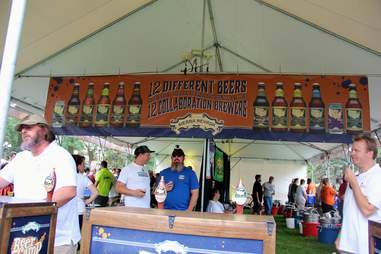 Lee Breslouer
The collaboration beers
In honor of Beer Camp, Sierra Nevada teamed up with a host of top-notch craft brewers across the country, and made a 12-pack of beer that's been selling out at liquor stores across America. We even ran into a couple from Florida who drove up to get one.
Luckily for Beer Camp attendees, they were pouring all the collab beers for everyone to try, including ones made with Russian River, Oskar Blues, Ninkasi, and more.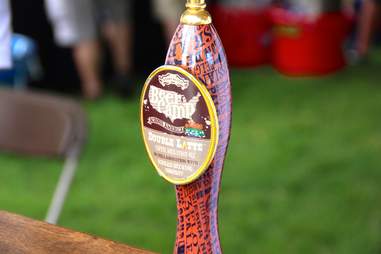 Lee Breslouer
Ninkasi Brewing's Double Latte Coffee Milk Stout
One of Oregon's favorite breweries put their heads together with Sierra Nevada and came out with a brew that uses cold-press Stumptown coffee and milk sugar. The beer features hella strong coffee and milk notes. Perfect for drinking with a cigarette after rolling out of bed. 
Lee Breslouer
Bell's Two Hearted Ale
The line to sample Bell's beer was no surprise, as you'd be hard-pressed to find the Michigan beer on sale in the Western half of the country, much less Colorado. Their Two Hearted is a non-IPA drinker's IPA, a well-balanced brew with no bitter aftertaste to speak of.
Lee Breslouer
Hogshead Brewery's Lake Lightning Ale
The cask ales produced here wouldn't be out of place in England, and their Denver taproom has been charming visitors for a little over two years now, like a boozy version of Hugh Grant's seductive charms in Notting Hill. With beers like this sessionable Summer ale, it's no wonder.
Lee Breslouer
Russian River's Supplication
No beer nerd needs to be told about Russian River. The line was mostly people waiting to sample Pliny (and rightfully so), but those who waited in line again or skipped Pliny grabbed a near-perfect sour with "cherries, Pinot Noir, and oak" notes.
Lee Breslouer
Bru's Belux
From a Boulder-based brewpub where the chef is also the brewmaster (and used to brew in his garage before demand outpaced supply), Belux is a perfectly Summery Belgian-style pale ale.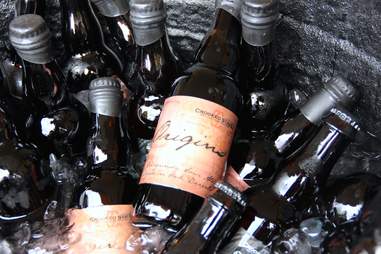 Lee Breslouer
Crooked Stave's Origins
If sour and bitter beers are your thing, there's no better place than Crooked Stave in Denver, as that's all they produce. Origins is perhaps their most approachable sour, a "Base Burgundy Sour aged in oak barrels".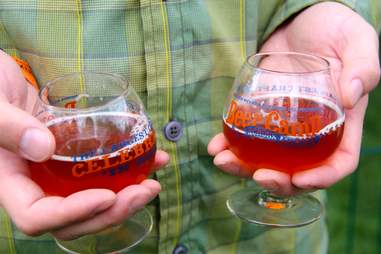 Lee Breslouer
Black Bottle Brewery's Ginger
Strangely not a ginger beer, this is either BBB's salute to redheads or the opposite of a salute, according to a brewery rep. No matter which one is true, this was an American Red we did not want to stop drinking. Though we probably should've slowed down, since it was 7.3%.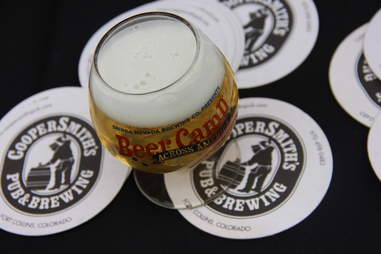 Lee Breslouer
CooperSmith's Pub & Brewing's What-A-Melon
Fort Collins, Colorado's brewpub runs through kegs of this brew faster than any offensive player runs through the Broncos defense, and it's likely because there's fresh watermelon juice added to this blonde ale, making it easily sippable on a hot Summer day.
Lee Bresouler
Crazy Mountain Brewing's Neomexicanus Native
Brewing at a high elevation about 15 minutes outside of Vail, Crazy Mountain harnesses the power of a rare hop you'll only find in the Southwest to make a beer unlike any we've tried in recent months. In a good way.
Lee Breslouer writes about food and drink for Thrillist, and would like to give a shout-out to his liver for helping with this article. Follow him at @LeeBreslouer, because you can't make up a name that good.