Grow a mustache, get discounted beer at this brewery
For the past week, men everywhere have been throwing out their razors in support of the world's only facial hair-themed charity, Movember. As their mustaches grow into all sorts of breathtaking shapes, a Vegas brewery is looking to reward their efforts with a beer discount... based on the size of their 'stache.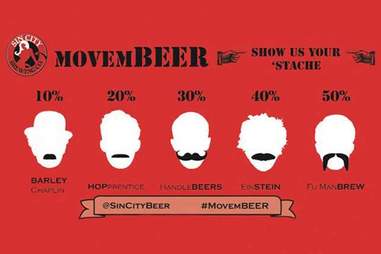 Sin City Brewing Co.
Sin City Brewing's "MovemBEER" promo is based on five tiers of facial hair. A Chaplin gets you 10% off, a basic 'stache earns you 20%, any handlebars score 30% off, Einsteins net 40%, and full-on Fu Manchus (rightfully) bag 50% off. The discounts apply all month long, and even ladies can get in on the deal. As long as they tweet a photo of their finest finger mustache to @SinCityBeer with #MovemBEER, they qualify for the 20% off "HOPprentice". But the person who stands to earn the cheapest pint is the mustache Messiah himself, Tom Selleck. Sin City Brewing is promising to give him free suds at any of their three locations, as his 'stache is "frankly unquantifiable" on their nuanced chart. Considering you might bump into Magnum, P.I., you should definitely drop by Sin City sometime this month. But even if Selleck doesn't show, you can still feel good about the fact that a portion of MovemBEER sales is going to the actual Movember Foundation.
Kristin Hunt is a Food/Drink staff writer for Thrillist, and really wants to be at Sin City Brewing when Selleck shows up. Follow her to Three Men and a Baby fan fiction at @kristin_hunt.