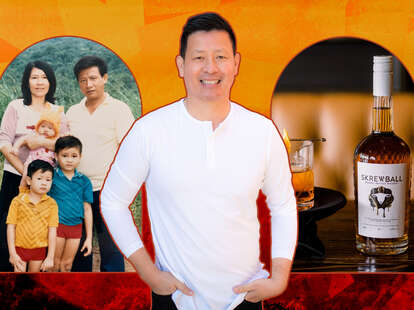 Founder of Skrewball Peanut Butter Whiskey, Steven Yeng

| Photo by Walking Eagle Photography, Design by Maitane Romagosa for Thrillist
Founder of Skrewball Peanut Butter Whiskey, Steven Yeng

| Photo by Walking Eagle Photography, Design by Maitane Romagosa for Thrillist
Successful founders and entrepreneurs are often asked what they wanted to be when they grew up. It's a fairly simple question that is met with answers that range from "astronaut" to "firefighter," but for most of Skrewball Peanut Butter Whiskey founder Steven Yeng's childhood, he was simply focused on surviving.
Born in Cambodia, Yeng became a victim of polio at the young age of one, leaving his left leg paralyzed. Without the ability to access quality healthcare in Cambodia, his parents made the tough decision to leave the country and move to Thailand, where they lived in a refugee camp for six years.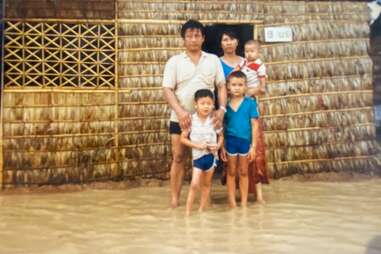 Yeng recalls eating practically nothing but bananas during this time—waiting in line in the sweltering tropical heat for water and food rations. But when Yeng was just seven years old, a rare miracle arrived in the form of sponsorship by a family in the United States, which brought Yeng and his family across the world to San Diego, California.
"The couple that sponsored us saw that we're all skin and bones, and would give us baskets of food all the time full of bread and peanut butter," Yeng remembers. "Why I fell in love with peanut butter, essentially, is because it was my taste of freedom. It still reminds me of that first taste of freedom every time I have it, and I eat it daily."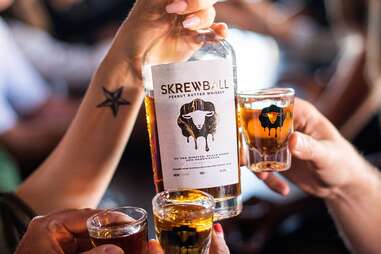 Skrewball's signature peanut butter-flavored whiskey was inspired by that feeling, and the brand's ethos represents Yeng's life in more ways than one. The name "Skrewball" was directly inspired by how he felt growing up as a self-described outsider, or black sheep, being a non-English speaking immigrant in America.
"I had about six surgeries, and my leg had pins the size of a pencil going through one to the other, because the left one was growing slower," he says. "So, imagine a kid that didn't speak a word of English, was in a wheelchair, and was extremely poor, and I would wear the same clothes a lot of the time. Fitting in was really tough."
Raised Buddhist, Yeng and his siblings were taught lessons about never resorting to violence or anger—instead choosing kindness. Reflecting on that time, Yeng says his family also felt the need to constantly fit the mold of the "model minority," not acting up or standing out.
Yeng says that growing up, he felt embarrassed of his Cambodian culture, refusing to watch movies or listen to songs from his home country—wanting so badly to fit in with the American culture he now saw around him at school.
Despite Yeng's difficulty fitting in as a child, it was actually during elementary school that he met his now-wife and business partner, Brittany. Yeng's parents owned a donut shop that Brittany's mother would bring her to, and the two of them quickly created a friendship that has evolved into a lifelong partnership. A lawyer and chemist, Brittany put her skills to the work helping Yeng bring his vision of a delicious-tasting peanut butter whiskey to life, and shrugged off rejections and naysayers along the way.
"No research and development team even got back to us," Yeng says. "But [Brittany] was able to use her background to create the brand, using the understanding of my heritage, my story, why peanut butter is so important to me and my family, and used her chemistry background to formulate the world's first peanut butter whiskey."
Since launching Skrewball in 2019, the couple has seen their efforts pay off big time. In just two years, the company has sold over one million cases of their peanut butter whiskey, and in 2021, it achieved a mind boggling consumer retail growth rate of nearly 2,000%. A shrewd marketing strategy has involved partnerships with social media influencers, local bartenders, and well-known distributors around the country.
Plus, the familiar flavor of peanut butter (in an ever-growing flavored whiskey category) pulls on some nostalgic heartstrings while also adding something new and exciting to popular cocktails like the Old Fashioned and Espresso Martini.
"When you tell your parents, 'Hey, I want to be in the alcohol industry,' they're like, 'Oh my god, we have a black sheep on our hands.'" Yeng says. "But I found a team of people who believe in this company, and now we work together as a family. We found our crew, and at the end of the day, we're just hoping that Skrewball brings more people together."
Through it all, Yeng has even learned to embrace his roots and reconcile with his difficult past. He and Brittany even took their young daughter to visit the Cambodian refugee camp that Yeng once called home.
"Now understanding the culture, understanding the songs and watching the movies with my parents, which I hated before, I've realized there are a lot of life lessons and struggles that reminds me of what they've gone through in their lives," he says. "Now it really brings me back to happy memories of my forgotten childhood."
The Skrewball Old Fashioned Recipe
Ingredients:
• 1½ ounces Skrewball Peanut Butter Whiskey
• ¾ ounces rye whiskey
• 4 dashes Angostura Bitters
Directions:
Stir all of your ingredients together in a mixing glass using a cocktail spoon, then pour into a rocks glass with one large ice cube. Garnish with a cherry and orange twist.
Austa Somvichian-Clausen is a freelance food and travel writer, who lives in Brooklyn with her girlfriend and two fur babies.