7 bars you will never get a seat at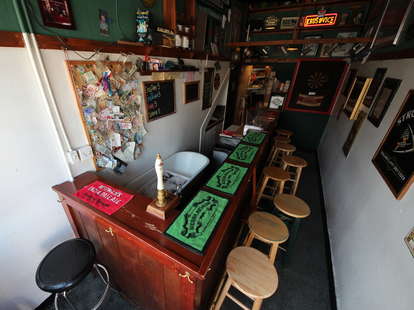 If, like Nicole KidmanKatie Holmes Olga Kurylenko, you prefer stuff super-small, then it's time you put your big-boy scrolling pants on and start checking out the below: the definitive, with-pretty-pictures-iest guide to the smallest bars in America. They're all 10 seats or less and have very little room for activities.
Smallest Bar (Key West, Florida)
Equivalent Size: Garage for your Pow-Pow-Power Wheels (now we're driving for real!!!)
The Skinny: This Key West, Miami "bar" is seven feet wide, has four stools, rum in pineapples, and a cooler full of beers.
Bar Ilegal (Austin, Texas)
Equivalent Size: Jodie Foster's actually pretty awesome panic room
The Skinny: This mezcal-only Austin tipplery (which serves straight 'zcal in jicama bowls) exists inside of a 1920s stone shack with barely enough room for five stools.
The Harbor Room (Playa del Rey, California)
Equivalent Size: Frodo Baggins's large dining room
The Skinny: THR is LA's smallest licensed drinking establishment. It's 10ft by 10ft and has room for as many bartenders as people who can claim they're Highlanders (there can be only one).
Scarlet Bar (Las Vegas, Nevada)
Equivalent Size: American Girl doll clubhouse
The Skinny: Hello, smallest bar in Vegas. Like, literally, this mini-bar inside the Palms is le small. We're talking six seats and that's it. There's barely enough room to take off your Members Only jacket in here.
Proletariat (New York, New York)
Equivalent Size: A shipping container the Greeks would leave dead Russian prostitutes in
The Skinny: This is the biggest spot in the entire roundup. TEN FREAKING SEATS, son.
Black Horse London Deli (San Francisco, California)
Equivalent Size: The cockpit in Flight of the Navigator
The Skinny: First -- it's not a deli, despite what the sign says out front. Second -- beer's only available in bottles and they're all kept in a small, antique bathtub full of ice behind the bar. It seats maybe eight people, and standing fits probably another minus-two. Pro tip: ask for "Big Dog".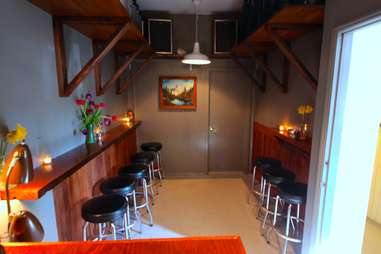 Standard Brewing Tap Room (Seattle, Washington)
Equivalent Size: The big closet in a three-bedroom apartment that all of your roommates hate you for having
The Skinny: There are eight stools in this Seattle brewery and tasting room, a Bob Ross-inspired landscape painted by the owner's grandmother, two 5L kegs underneath the cash register, and… that's pretty much it.