Portland, Denver, San Diego... blah blah blah. Whenever a discussion of America's best beer cities starts up, people simply trot out the same old cities over and over. And while it's hard to argue against their prowess, oftentimes smaller cities and towns get lost in their shadows.
These nine towns are all making huge steps in the world of brewing, and they're doing it despite fewer than 100,000 people calling them home. Some are relative metropolises in less-populated states. Others are tiny vacation towns most folks haven't even heard of. All are putting forth some serious beer game worthy of your attention... and a visit.
Recommended Video
Here's Our Travel Guide to This Nation of Over 7,000 Islands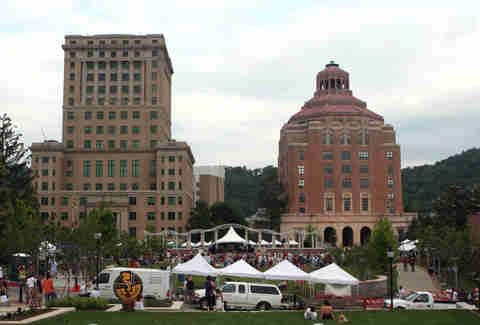 Asheville, NC
People in Asheville take their beer as seriously as they take their hula hooping and river lounging: which is to say, very seriously. And like a quietly building String Cheese solo, the town's beer scene has suddenly exploded, leading people to call it Beer City USA, and with damn good reason. Even the home brewers are killing it on the daily, while nearly 20 breweries shell out hundreds of varietals annually, served up at the city's myriad beer bars and, of course, swilled constantly amid the city's thriving music scene. From Asheville Brewing to Burial, Wedge, Wicked Weed, and Altamont, there's something for everyone, chased with a laid-back vibe and paired with a constant soundtrack of bluegrass and the giggles.
Essential beers: Wicked Weed's Freak of Nature Double IPA, Burial's Reaper Tripel, Highland's Asheville Pale Ale
Essential event: The Beer City Festival (May)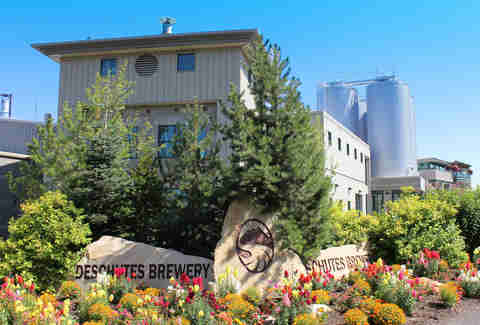 Bend, OR
Bend's a laid-back Central Oregon city that's long been a destination for outdoor sports, thanks to its ample rafting, skiing, climbing, mountain biking, and fishing locales... all activities that pair well with beer. Thankfully, Bend also has one of the most booming brewing scenes for a small city in the country, and we're not talking small-scale brewers either.
Big dogs like Deschutes, 10 Barrel, and Boneyard all call Bend home, bringing attention to the smaller operations that have turned the place into a beer destination. During the fall, joints like the Crux Fermentation Project brew up some of the best fresh-hop brews in the NW, while Bend Brewing just took a gold at GABF for its Salmonberry Sour. The tiny Rat Hole nanobrewery is constantly evolving its small batches, while some of the joints are changing perceptions of what a brewery can be: the Old St. Francis School brews in a converted Catholic schoolhouse. Finish your beer or a nun might come out of nowhere and whack you in the knuckles.
Essential beers: Deschutes' Black Butte Porter, Boneyard's Suge Knite imperial stout, Crux's Better Off Red
Essential event: The Little Woody Barrel Aged Beer and Whiskey Festival (August)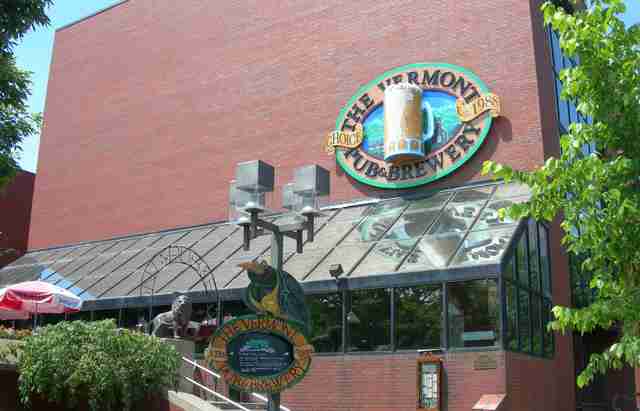 Burlington, VT
Vermont may be small, but they're blessed with some of the best breweries in the country (what up, Alchemist?). And in Burlington -- the state's biggest city, which says something considering it's only 42k-deep -- the historic, Rockwellian streets near Lake Champlain flow with beer.
There's roughly one brewery for every 3,800 people, making for a high concentration of great beer from the likes of Infinity, Vermont Pub & Brewery (the state's oldest craft brewer), Three Needs, Magic Hat, and Switchback. And if for some reason the breweries aren't offering up what you crave, hit up the myriad beer bars, including Das Bierhaus, which curates a tap selection of German pours and carefully selected local rarities, like Phish's "Spock's Brain," which hasn't been played since Camden in '03, man.
Essential beers: Vermont Pub's Burly Irish Ale, Switchback's Slow-Fermented Brown Ale, Zero Gravity's Weed Wacker cream ale
Essential event: The Vermont Brewers Fest (July)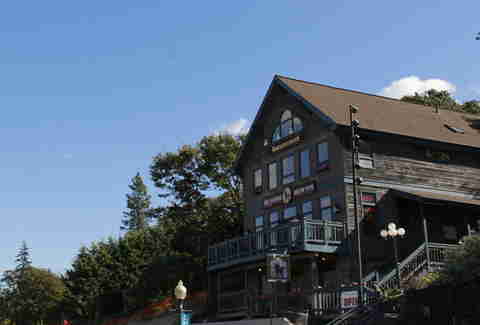 Hood River, OR
Located on the banks of the Mighty Columbia River -- where Lewis & Clark showed up, then got scared away by all the rain -- Hood River is a tiny town of about just over 7,000 at the base of Mt. Hood. But its tiny, idyllic vacation vibe belies a wealth of beers.
The town itself is home to four breweries: the gigantic Full Sail, the iconic Big Horse, and the hugely popular Double Mountain and Pfriem Family Brewers. Add trips to Brian's Pourhouse and the Volcanic Bottle Shoppe and you've got one of the best walking beer tours imaginable. Were that not enough, there are eight more breweries (including Walking Man and the Logsdon Farmhouse) within a 20-minute drive (pro tip: make somebody else drive), plus a wealth of cider-makers located along the area's "Fruit Loop," which is a series of orchards and not toucan bait. So, yeah, Lewis & Clark really pussed out by not staying.
Essential beers: Pfriem Family Brewers' Belgian Strong Dark, Double Mountain IRA, Full Sail Amber, Big Horse's Nightmare Oatmeal Stout
Essential event: The Hood River Hops Fest (Sept)
Longmont, CO
As its located in a state overflowing with top-notch beer, Longmont often gets lost in the mix -- especially since the other towns are major tourist destinations like Fort Collins (New Belgium), Boulder (Avery), Denver (Great Divide), and even Golden (Coors).
But Longmont has a scene of its own, including two gems that have risen to national prominence: Left Hand Brewing and Oskar Blues. Located about 45 minutes North of Denver, Oskar Blues also dominates the food scene in town, offering a burger joint (CHUBurger), a Mexican spot where you can get your bike tuned up while you drink at the bar (CyclHOPS Bike CAN-tina), and a pub (Oskar Blues Homemade Liquids and Solids), all of which offer food sourced from their own farm. To top things off, if you're buying Oskar Blues' tallboys and Left Hand's nitro stouts for home, Longmont hosts the ultimate place to pair those beers: a world-class cheese shop with 350+ types of dairy gold from all over the world, a place hilariously named Cheesed To Meet You. We wish. It's Cheese Importers.
Essential beers: Left Hand's Milk Stout, Oskar Blues' Ten FIDY, Pumphouse Brewery's Flashpoint IPA, 300 Suns Brewing's Rabbit Mountain Red Ale
Essential event: Oktoberfest (Sept)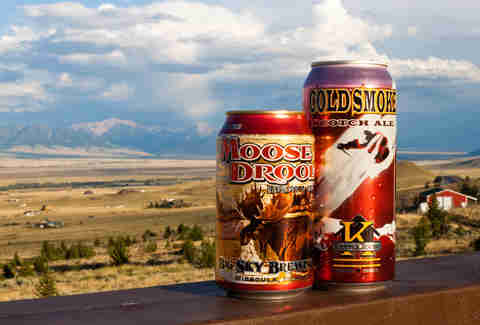 Missoula, MT
Often overlooked in the national discussion of beer destinations, Montana's climbed in recent years to 40+ breweries, ranking third in the country, per capita. Some of the best are brewed in Missoula, the state's second-biggest city, which, at about 70,000, is about the size of a New York City block. Housing the University of Montana, picturesque Missoula's Big Sky Brewing might be the state's nationwide ambassador for beer (Moose Drool is on taps everywhere), but smaller brewers like Bayern, Draught Works, Tamarack, and Kettle House are blazing new trails for Montana's pub cred. Since it's a college town, there are beer bars everywhere. Unlike most college towns, though, you're more likely to find an amber from one of the state's stellar breweries in a pint than something yellow-er.
Essential beers: Bayern's Dragon's Breath Dark Hef, Tamarack's Elk Snort Scotch Ale, Draught Works That's What She Said Cream Ale
Essential event: Winter BrewFest (Feb)
Portland, ME
Allagash. The presence of perhaps America's finest purveyor of Belgian-style beers is enough to put Portland, ME at the top tier of any city, even if only about 66,000 people dwell in the city limits. Portland, OR might get more attention (and have longer lines during brunch), but its East Coast namesake is quietly becoming one of the nation's best beer cities.
Along with Allagash, Maine Beer Company is popping out American-style perfection, while Rising Tide pours pales alongside experimental, seven-barrel "warehouse ales" that tweak the farmhouse tradition into something uniquely Maine. The Belgian tradition is also apparent in Foundation's offerings, while breweries like In'finiti Fermentation & Distillation mess with traditional brewing methods to create completely new flavors. Throw in classic American styles courtesy of Bunker, Bissell Brothers, D.L. Geary, and Sebago, and you've got a strong case for the OG Portland as a powerhouse.
Essential beers: Allagash Black Belgian stout, Rising Tide's Maine Island Trail Ale, MBC's Mean Old Tom American stout, In'finiti's Cash Money IPA
Essential event: The Maine Brewers Fest (Nov)
Santa Fe, NM
It might be the capital of New Mexico, but Santa Fe is often eclipsed by Albuquerque when it comes to beer and outdated Breaking Bad references. But with eight solid breweries -- plus a meadery -- the state's capital holds its own. And with temperatures jumping from sweltering to sub-zero, it's a good thing the city's brewers are equally savvy with sessions and winter warmers. The Turquoise Trail's Santa Fe Brewing and Duel pump out an impressive array of Euro-style beers, while joints like Second Street and Blue Corn supply drinkers with more American-style sipping beers. Hell, with Falcon pumping out mead, this is an impressively diverse, rounded-out drinking culture that takes its influences from the European tradition more than its Southwestern charm lets on.
Essential beers: Santa Fe's Black IPA, Second Street's Boneshaker Bitter, Duel's Fantin double pale
Essential event: The Outside Bike & Brew Fest (May)
Traverse City, MI
Kalamazoo and Grand Rapids get most of the attention on Michigan's brew scene (and rightfully so), but three hours North, in the vacation haven of Traverse City, there's damn near as much beer as there is water in the Grand Traverse Bay. Ok, maybe not that much. But still, a shi*t-ton of beer.
We're talking 13 breweries in the immediate area of a 15,000-person town also known for wine: Right Brain, Mackinaw Brewing Company, a hub of the award-winning Jolly Pumpkin, and the Filling Station, which pours its suds in a converted old train depot from the 1880s (luckily, the taps have since been cleaned). During tourist season, out-of-towners flock to the town, sipping beers overlooking the bay. Locals predictably post up all year long, and sip on a variety of winter warmers when Michigan goes sub-zero.
Essential beers: Brewery Ferment's 45th Parallale, Workshop's Uncapper, Right Brain's Smooth Operator cream ale
Essential event: The Traverse City Microbrew & Music Fest (August)
Sign up here for our daily Thrillist email, and get your fix of the best in food/drink/fun.
Andy Kryza is a senior editor on Thrillist's Food & Drink team. He grew up in a town known neither for beer nor scenic beauty. Follow him to weird tales of Flint River canoe voyages via @apkryza.