And now, a foolproof way to smuggle booze into concert venues, public parks, and more
Drinking outdoors is a rite of Summer, but, for some reason, many concert venues and public parks don't allow you to bring in booze, because apparently they hate freedom. Since we, on the other hand, love it, here're some potent cocktails whose colors basically look exactly like those of popular, unassuming sports drinks.Of course, we're not recommending you fill up empty, popular, unassuming sports drink bottles with these cocktails and drink them in public and have the time of your life, as we are upstanding citizens with no barely any felonies on our records. This is for entertainment purposes only. Also, other legal stuff. So yeah, enjoy.
A Blue Sports Drink: Blue Hawaiian Punch Recipe
Blue Curacao's orangey flavor mixed with coconut rum and pineapple juice will make your mouth think it's on a vacation in the Bahamas, even though physically you'll be creepily chugging a sports drink in a public park at 11a on a Wednesday. Check the full recipe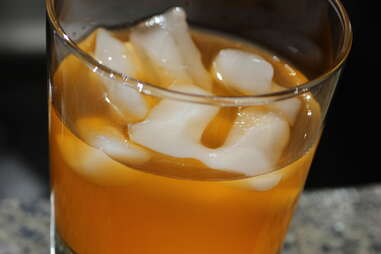 An Orange Sports Drink: The Fabiola
This is a take on a classic cocktail that's similar to a Cosmo, but isn't a Cosmo at all because it uses Grand Marnier and a "delicate sweet vermouth", which totally makes it classy. Even more classy? You'll be drinking it from a plastic bottle. Make it yourself
A Yellow Sports Drink: Yellow Parrot
Steal some apricot brandy from the nearest old folks' home to make this 'tail that has a name any fan of Jimmy Buffett or drinking outdoors surreptitiously would love. Here're the deets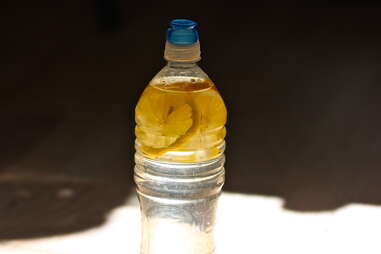 Water: "Lemonade"
Don't be that guy who fills up a water bottle with vodka. Instead, pour three shots of vodka into the bottle and fill the rest with water. Add lemon slices, and a tbsp of sugar. Boom: boozy lemonade. Who knows, maybe you can convince a security guard that bottled water comes with lemons inside it now!