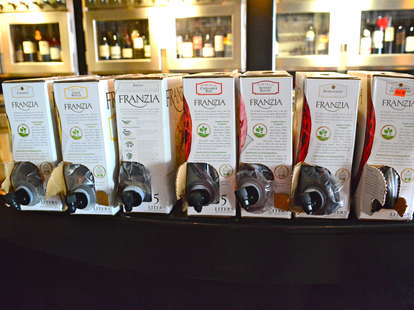 Laura Hayes/Thrillist
Laura Hayes/Thrillist
Ahhh, Franzia. Everyone recalls the intimate joy of ripping open that cardboard box and fumbling around for the plastic spout like some kind of strange foreplay, before pouring it into definitely-not-wine-glasses. But now that we're not broke college students, and maybe even have classy standards -- how does "The World's Most Popular Wine" stack up?
To find out, we called on two sommeliers, Jamie Smith of Veritas Wine Bar, and Cesar Varela of Tel'Veh Wine Bar, to see if this boxed-wine brand could produce anything worth sipping. They delivered tasting notes, the food to pair it with, and ranked seven varieties from 1 (let's do this) to 7 (let's definitely not do this). To wit:
7. Rhine
$18.99 5L
Talk about a rocky start -- we learned Franzia has "fresh by the last glass" expiration dates. This "California Rhine Wine," a geographic impossibility, expired September 2011. So maybe that's why its deep golden hue looks like... um, yeah. Anyway, to the tasting notes!
Jamie: My eyes are burning. It tastes like oxidized, awful dried raisins. Awful. (Rank 7)
Cesar: Tapped out. (Rank 7)
6. Sunset Blush
$14.99 5L
Jamie: On the nose are those awful love-heart candies, but the palate is nothing but Nesquik strawberry powder. This alcoholic Powerade is what gives box wine a bad name. Pair with BBQ chicken. (Rank 6)
Cesar: Nesquik is dead on, and some watermelon. It's nasty, but give grandmother another glass because it's only 9% alcohol. Don't ruin food by pairing it. (Rank 6)
5. Chablis
$17.99 5L
Jamie: Fruit-forward wine, hints of lemon, pear, and apple with a good mouthfeel and medium acidity. Pair with deviled eggs. (Rank 5)
Cesar: Creamy with notes of candied lemon, peach yogurt, Key lime, and artificial minerality. Pair with Stouffer's mac & cheese. (Rank 3)
4 (tie). Crisp White
$14.99 5L
Jamie: There's nothing crisp about it. It tastes like candied pineapple and mango. It's off-dry, without being stupidly sweet. Pair with fish tacos. (Rank 2)
Cesar: I could drink this outside. It's charming on the nose with tropical aromas, ripe banana, and yellow pears. Pair with Doritos Loaded or wings. (Rank 5)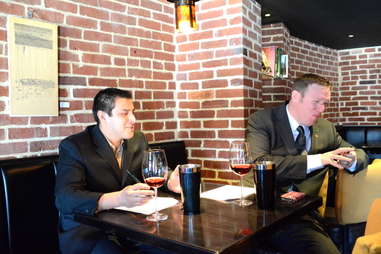 4 (tie). Chillable Red
$16.99 5L
Jamie: I quite like this. On the nose you get red currant, raspberry, and tobacco. It's jammy with some earthiness and reminds me of Jolly Ranchers. Pair with pork rinds. (Rank 3)
Cesar: This wine is trying to be Sonoma Coast Pinot Noir. Pair with calamari or chicken fingers. (Rank 4)
2. Cabernet Sauvignon
$18.99 5L
Jamie: It's rich and round, full of dark fruit, and has some grip on the back-end from tannins. It also has the spice box component. Pair with a lamb gyro. (Rank 4)
Cesar: On the nose it's reminiscent of Cabernet Sauvignon... it has notes of blackberry, cassis, tar, molasses, and a hint of cigar box. On the palate, the acidity is still artificial, but balanced. Pair with sliders. (Rank 1)
1. Burgundy
$17.99 5L
Jamie: It's got some complexity and a long finish. I'd cook with this AND have a glass. It's earth-driven with some spice, smoke, and cedar. Pair with potato skins with bacon and sour cream. (Rank 1)
Cesar: If you want to lie to your girlfriend and pretend you got a nice wine, this works. Just throw it in a decanter before she arrives and say French-sounding words. I get punched by acidity; you need food with this. Pair with roast beef. (Rank 2)
Laura Hayes is a contributing writer for Thrillist's National Food and Drink team and Thrillist DC. She relies on CrossFit and corgi walks to combat her quest for caloric masterpieces and actively pretends she's a dude. Follow her: @BTMenu.
This article was originally published on April 27, 2014.