14 Things You Learn From Spending 18 Straight Hours in a Starbucks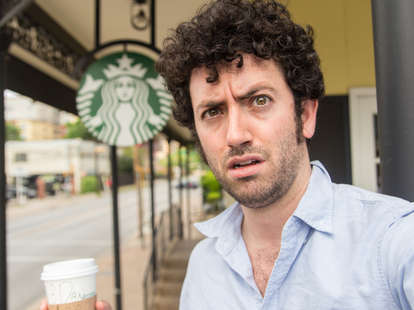 Dan Gentile/Thrillist
Dan Gentile/Thrillist
No matter how you feel about the Jolly Green Mermaid, you've followed the siren song to a Starbucks at one point or another. But most of us just go in and out. Or camp for a chunk of the work day. But what are you missing in those hours when you're not in Starbucks?
To see what I could learn about the country's most popular coffee shop, I turned a quick latte stop into a marathon by hanging out in a Starbucks from open (6am) to close (midnight). It was... a long, long day.
I followed a few basic rules: No leaving the premises, no visitors, no video streaming during normal working hours. Although I learned from a homeless man named Chuck that I didn't really need to buy anything (more about him later!), I paid rent on my seat at the 'Bucks by purchasing at least one item per hour.
Here is the inventory of my purchases: Tall Pikes Place roast, chocolate croissant, Ethos water, double-smoked bacon breakfast sandwich, caramel macchiato, blueberry muffin, short Veranda light roast, Greek yogurt with berries, turkey pesto panini, Evolution Cold-Press Sweet Green and Lemon juice, cheese danish, grande Fizzio ginger ale, zesty chicken black bean salad bowl, San Pellegrino, tall Americano, Seasonal Harvest fruit blend, $10 on Chuck's Starbucks Reward Card, spinach feta wrap, San Pellegrino, Flat White, San Pellegrino, San Pellegrino Aranciata Rossa, San Pellegrino, oatmeal raisin cookie, and a free chocolate chip cookie.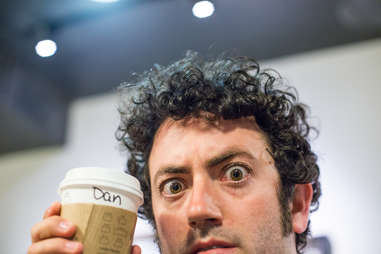 Spoiler alert: I'm still alive! I didn't have a manic episode from mainlining caffeine or bleed out of my ears from all the Ella Fitzgerald, and I only pulled out a few tufts of hair. Even if it slightly resembled the third layer of hell (gluttony!), this wasn't a coal mine, it was America's Living Room (tm!). My soft torture went unnoticed by the busy employees until around 9pm, at which point the Manager On Duty and I played a nice little chess match of how many San Pellegrinos I could order with a straight face (five!). But true to the company line of relentless friendliness, I was never confronted.
Even though I lived to tell the tale, I wouldn't wish this punishment on even my worse enemies. So instead of tiring you with a minute-by-minute account of my descent into 'Buck(s) wildness, I've summed up the experience in these simple 14 lessons, which I lovingly refer to as Pike's Proverbs.
There is no average Starbucks
Like caffeinated snowflakes, every Starbucks is different. My local shop with the longest hours happened to be next to the University of Texas, with a revolving door of sorority girls in yoga pants that reminded me that youth is not wasted on guys who are better at talking to women than me. If you're curious how these women age, I'd suggest checking the closest suburban location.

Everyone knows your name
The greatest trick Starbucks has up its sleeve is writing your name... on its sleeves. When I first stepped in the door and ordered a tall Pike's Place, I told the joy-filled baristas my real name, like an idiot. There was no way to hide: every hour I was forced to reintroduce myself. It personalized what would otherwise be the most generic purchase a middle-class human can possibly make and endears every store to you as if it were your regular neighborhood haunt.
Even though they'd written "Dan" more times in one day than I have since high school, regular shift changes and the relentless procession of coeds kept the baristas from paying attention to me until later in the evening, at which point the Manager On Duty did a very polite job of ignoring how bloodshot my eyes were.

There is no coffee like Starbucks coffee
For me, Starbucks has fueled many a road trip drive through barren espresso deserts, and its reserve roastery in Seattle blew my fragile mind-grapes. After drinking five coffee drinks in such close succession, I came to realize that the bold flavors in its always-dark roast are so carefully dialed in that its coffee is in a class of its own. You can taste thick, smoky strokes of chocolate and caramel in there, but the primary flavor note is simply Starbucks.
Everything is roasted dark, including the sandwiches
Around 2pm, a strange flavor synesthesia overtook me and I realized that everything was tasting the same. My panini wasn't that that different from a pumpkin spice latte. The mozz mimicked the milk's sweetness, the turkey played the savory role, and the pesto and sun-dried tomatoes served as the pumpkin spice. Even the bacon in the breakfast sandwich was double-smoked to match the darker roasts. Either that, or I was coming unglued.

The secret ingredient is indulgence
After watching hundreds of people queue up for various flavors of -uccinos, it became clear that their excitement was very different from my normal neighborhood shop. Coffee might be what's on the menu, but Starbucks is really selling warm, fuzzy feels.
That indulgence is unique among other food-/drink-based significations of status and wealth because it's so familiar and without any leanings of pretension or intimidation. It's impossible not to feel like you're giving yourself a present, and everyone with $3 is invited to treat themselves.

It brings families together
My sister and her toddler Josh unexpectedly called me via Facetime around noon, by which point I was a little loopy but still able to converse with other humans. She saw a Facebook post about my latest poor decision and figured I had plenty of time to talk.
We have a good relationship, but lead very different lifestyles (she's a mom of two and I'm an idiot who does things like this). We don't talk regularly, and a random Facetime call on a Monday was unprecedented. Something compelled her to call me out of the blue, and that something was Starbucks. I was in a place where she feels welcome to drop right in without knocking.
I don't think she would have called if I had been in cafe full of mismatched tables and tattooed graphic designers. The 'Buck is a club that most people want to join, even though it'll happily have them as a member regardless of whether their laptop is still running Windows 95.
There are glitches in the musical Matrix
Starbucks must have an infinite amount of velvety smooth jazz, interchangeable indie pop, and soul standards at its disposal, but if you're camping for 18 hours, expect to hear the Now That's What I Call Alt Country standard "Summer Noon" by Wilco at 6:15am and 5:31pm.

Coffee is a relative term
At 4pm, an attractive middle-aged woman in a shirt reading "Coffee, Straight Up" walked in with the authority of a Real Housewife. Her name was Notosha. There's no way the barista spelled that correctly. She did not in fact order coffee straight up, but rather a massive iced decaf latte with a dollop of whipped topping.

They're kind to the homeless
Just when I started to feel like unhinged (~3pm), a disheveled man entered the shop and put my plight into perspective. He was wearing torn jeans, maroon tie-dye, and a black "No War" sweatshirt that looked it'd been dragged through a trench. He ordered a coffee refill and a pastry. They asked his name, and he said Chuck, but quickly corrected himself. It's Charles, but he goes by Chuck. Despite his appearance, Chuck was a stickler for detail.
Four hours later he returned for a refill and sat outside with his dog, a camping backpack, a gallon of water, and an HP laptop. I asked him a few questions about his life and he told me that he has arthritis and can't do manual labor anymore, so he comes here to practice his computer skills on a donated laptop. The employees don't mind having him around as long as he doesn't bother any of the other customers.
You can game the Starbucks reward card system
I offered to buy Chuck his favorite drink (coffee with lots of sugar and milk!), but he said he was leaving and asked me to put money on his Starbucks card instead. It entitles him to free refills on the $2.17 cup of coffee that he buys first thing in the morning. He also tells me that he can't keep a job because of PTSD, among other sad reasons. I desperately changed the subject to his dog named Babygirl. She needs a bath, he knows. I added $10 to his gift card (4.6 days' worth of coffee) and wished him good luck.

Never curse in a Starbucks
The one time a barista quietly dropped an F bomb to one of their coworkers it reverberated through the shop like a gunshot.

There are security cameras everywhere
Hour eight is when the paranoia sets in.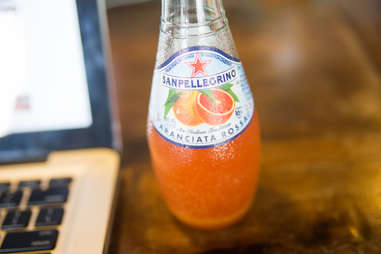 Even Starbucks will comp a regular
By the end of the night I felt completely destroyed. I'd reached the end of the Internet, my body was aching from sitting in one place for so long, and I'd exhausted most the menu. I was ordering sparkling water just as an excuse to talk to other humans.
Around 11:45, when I ordered my fifth bottle of San Pelly, the manager finally acknowledged my longevity. She said that I must be very thirsty, and meant that I must be very crazy.
Hell, I thought, let's go out with a bang. I want a cookie too. Whatever her favorite kind is. Chocolate chip? Count me in. Warmed up? She knows me so well.
Instead of placing my cookie on the counter, Manager On Duty hand-delivered it to my table along with a little surprise. She whispers that she brought me an oatmeal raisin cookie as well, just so I could taste it. It's the nicest thing anyone has ever done for me.

You're never the worst person in a Starbucks
At 11:54, my generous sugar momma called out a warning. "Attention lovely Starbucks customers, we'll be closing in six minutes. SIX MINUTES." I was nearly out of the jungle.
Then at one minute 'til midnight, a final customer walked in and stepped up to the counter. Manager On Duty asked him what she could get started for him, and just then his phone rang and he picked it up.
"Just one second," he says.
On my way out I almost thanked him for making me feel like I wasn't the biggest asshole in the room.
Sign up here for our daily Thrillist email, and get your fix of the best in food/drink/fun.
Dan Gentile is a staff writer at Thrillist. He enjoys tests of will, free cookies, and Evolution Cold-Press Sweet Green and Lemon juice. Follow him to Pike's Place flashbacks at @Dannosphere.