Sriracha vodka is here, and... you need it right now? Maybe?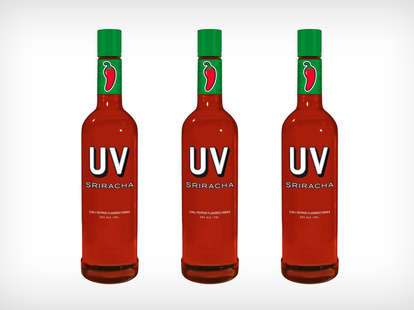 Phillips Distilling Company
Phillips Distilling Company
Screw a potential factory shutdown: the Phillips Distilling Company has thrown caution to the wind that's blowing directly into people's noses in SoCal, and created UV Sriracha Vodka.
The first vodka boasting the famed everything-enhancing flavor (there's a probably a reason for that) boasts a specific blend of peppers, garlic, and vinegar for an "authentic" taste. This begs the question: do you really want an authentic Sriracha flavor in your liquor? Doesn't matter. You're getting it. Hey, maybe you didn't want Cinnabon vodka, but you got that, too.
Complete with cocktail recommendations like the inoffensive Sriracha Bloody Mary and the very offensive Srirachaberry Margarita, it'll cost you a cool $12.99 a bottle.