We tried Starbucks' new holiday Chestnut Praline Latte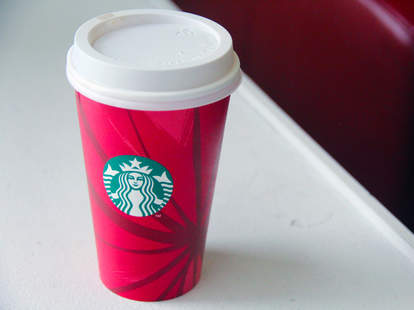 In the world of holiday-themed coffee beverages, bringing back Eggnog is not enough. Starbucks has unleashed another festive drink upon us: the Chestnut Praline Latte, which rounds out their Winter lineup that includes Eggnog, Caramel Brulée, and Peppermint Mocha. And you can get it starting today. But is it worth your stocking stuffer money? We found out.
Adam Lapetina
The ingredients
According to Starbucks' website, the latte contains "espresso, steamed milk, and flavors of caramelized chestnuts and spices". Probably best enjoyed next to an open fire, although preferably not roasting over one. The drink was hot, though.
 
The taste
Mel Tormé's favorite beverage has a lot going on, just like his songwriting career. Initially, the drink comes on strong with caramel flavors that quickly give way to a roasted nuttiness with a hint of cloves. It reminded me of the taste of roasted nuts you'd get from a street cart or at a baseball game.
While my first impression of the drink was of overwhelming sweetness, the spiced flavor soon gave way to slightly bitter notes, which, I guess, is understandable given what the drink is supposed to evoke.
Adam Lapetina
The verdict
The CPL is a pretty solid addition to Starbucks' roster of holiday drinks. It's got a very different flavor from their other offerings, and, for people looking for a slightly more complex tasting experience (nutty, roasty) that'll fill them with nostalgia for: a) winter, b) baseball games, or c) street carts, this is the drink for you.
Plus, if you buy five of Starbucks' holiday drinks through December 25th, you can receive a free grande espresso drink. So get festive.
Adam Lapetina is a Food/Drink staff writer and, after drinking this, is stuck in a velvet fog. Read his musings at @adamlapetina.