Inside Starbucks' new Willy Wonka-esque Reserve Roastery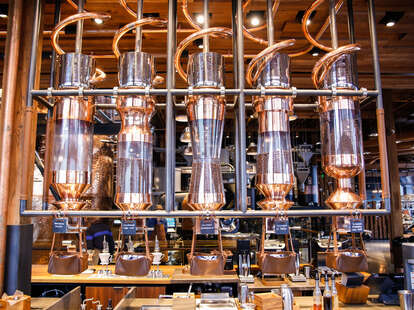 In many ways, Starbucks is like Willy Wonka's Great Glass Elevator: its expansion has known no ceilings. But despite the chain's ubiquity, it's never been easy to tour the Chocolate Factory. Until now.
Today marks the opening of their Reserve Roastery and Tasting Room, a 15,000sqft coffee fortress in an old renovated Packard auto showroom that's located a mile from the original Starbucks' Pike Place location in Seattle.
The space is designed to be both a playground for coffee nerds and an easy initiation for the average joe-drinker. You get an intimate view into both the brewing and roasting processes, but with the same comfort level that you'd experience in a normal Starbucks store... and none of the pretension often associated with coffee connoisseurship.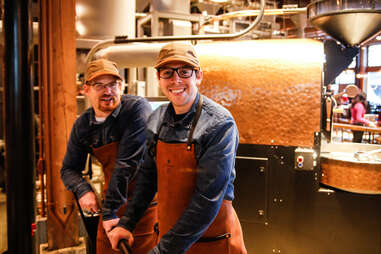 The roasting half of the operation feels like a museum exhibit, with a low glass barrier behind which the staff operates the heavy machinery and explains their methods to curious customers.
In addition to caffeinated drinks, the store will also sell wood-fired pizzas from Serious Pie (the best pizzeria in Washington!) and an array of alcoholic beverages to bring you back down to Earth after all that coffee.
The design of the store is brimming with subtle and not-so-subtle coffee signifiers. Actual live coffee plants line the exterior, slight curves and irregularities in the woodwork loosely symbolize carafes and the diverse strata of flavor profiles, and the frosted windows are actually giant planes of smart glass onto which they'll project a looping 4k resolution film detailing their coffee-sourcing methods in Costa Rica.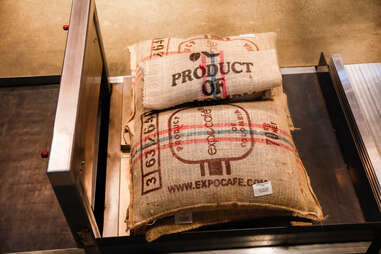 If you're in a hurry, you can still just grab and go, but what makes this store special is that customers are able to witness the entire progression from green bean to cup, starting with burlap bags fresh from the farmers.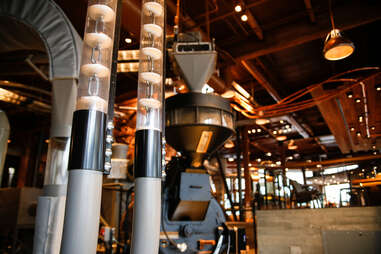 The burlap sacks are cut open, and the beans are sucked into tubes that send them flying across the ceiling into holding silos.
The heart of the room is a towering cask silo shell divoted with holes so that when light shines through them, they cast the shapes of South America and Africa on the ground.
A pair of small Probats do the roasting legwork in 25 or 50kg batches. The smaller one roasts all the beans for this store, and the larger one is responsible for the entire country's supply of Reserve. By comparison, the smallest roasters in the major Starbucks production plants process 500lbs at a time.
These roasters aren't that different from what you'd see in a small coffee roastery, but they're unique within the canon of Starbucks because they allow a higher level of flexibility. One of their master roasters equated the process to throwing darts. Even the pros miss a few times before they hit the bullseye.
Operating at such a large scale hasn't allowed Starbucks to experiment as much with smaller micro-lots, because it takes a few tries to correctly dial in the roast and there isn't room for error in massive production plants.
So, the smaller scale of this facility allows Starbucks to operate more like a boutique third-wave roaster, but with the purchasing power of a multinational corporation.
When the beans spill out of the roaster into the cooling tray pictured above, they're scalding hot... a Wonka-esque punishment for any kid that dare jump the glass barrier and stick their hands in there.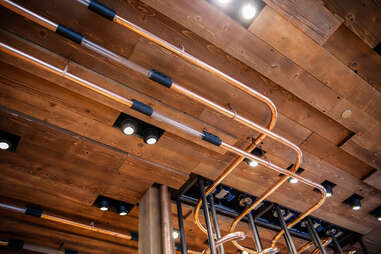 Once the beans are roasted and have sat long enough to de-gas (usually seven days), they're shot through tubes along the ceiling into hoppers at the barista station.
The counters are designed lower than a typical Starbucks to encourage more interaction with the baristas, who -- in addition to walking you through flavor profiles and prep styles -- promise not to spell your name wrong.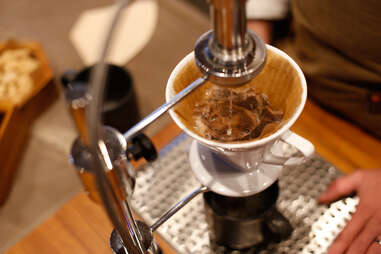 In addition to Starbucks' signature Clover brewing system, they're also rocking Chemex and stylish pour-overs that bring out more subtle fruit flavors, so your coffee might end up tasting like strawberries, but hopefully not snozzberries, because they're not exactly something you'd want to put in your mouth.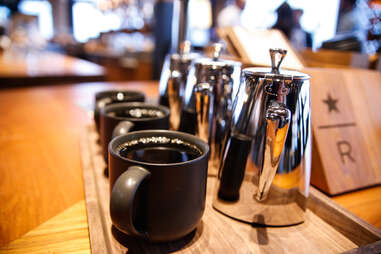 For those interested in training their palate, Starbucks is offering two types of flights. The first showcases three different single-origin beans and the second offers the same beans brewed by three methods, allowing customers to explore the nuance of the different preparations. The starting lineup of beans features a juicy Colombia Montebonito, a smoother, citrusy Nicaragua Cabo Azul, and the chocolatey Pantheon Blend that is exclusive to this store.
Beans are available for purchase the day they've been roasted, emphasizing freshness in a way that was previously unavailable with Starbucks products.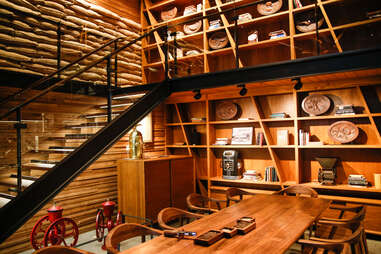 Once the caffeine kicks in, studious beanheads are encouraged to poke around the library room and peruse Starbucks' large collection of coffee literature.
The lower level of the space serves as an experimental tasting bar where, unlike at Wonka's factory, burping isn't encouraged.
There's always an array of espresso choices available, pulled from a Modbar system whose guts are hidden underneath the counter to further break down the barrier between barista and customer.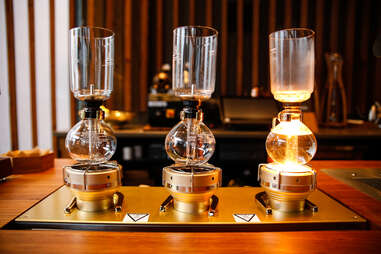 For the first time ever Starbucks will offer syphon coffees, a time-intensive brewing system that results in a silky smooth, tea-like cup, but is less efficient and harder to implement in third-wave shops.
Like the ability to roast meticulously sourced micro-lots, the syphon system is another example of how the Reserve Roastery is able to use the economic freedom given by Starbucks' size to offer the type of specialty product you usually would only get in small shops.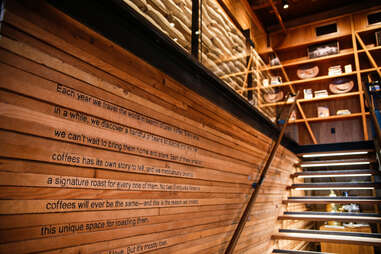 Overall, the new Reserve Roastery and Tasting Room is both a big step forward and a thoughtful look back for the brand. Although most coffee snobs might associate Starbucks with the power-mad side of Willy Wonka, the new Reserve Roastery is a solid reminder of the creative vision and dedication to elevating coffee culture that fueled the brand's popularity in the first place.
Dan Gentile is a staff writer on Thrillist's National Food and Drink team. He doesn't drink Starbucks often, but when he does it can tell you a lot about his personality (he has work to do and wants people to think he's a coffee expert!). Follow him to shots shots shots at @Dannosphere.