Starbucks has a new, secret Halloween drink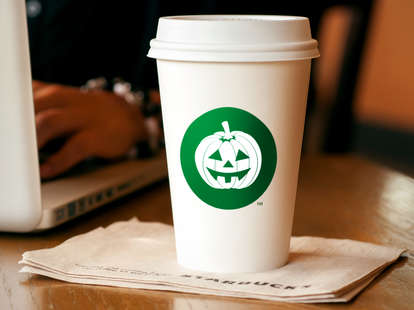 Shutterstock/Jennifer Bui
Starbucks is all about seasonality lately. It's literally impossible to ignore their Pumpkin Spice, and now they've even got Chestnut Praline Lattes for late fall and winter. But they're not telling you something -- there's a new Halloween-themed drink on their secret menu, it's delicious, and all you have to do is ask about it: the Franken Frappuccino.
Essentially, this monstrous beverage (which is totally not named after Al) is a Green Tea Frappuccino, except with added white mocha flavor, peppermint, and java chips. According to Starbucks employees, it tastes a lot like their minty Grasshopper Frappuccino, except there's no actual coffee in it, making it totally safe for British people.
They're even offering a promotional deal on 'em: grande-size Franken Frappuccinos will be $3 from October 29th-31st. Here's hoping they won't haunt their barista creators forever.
Adam Lapetina is a Food/Drink staff writer for Thrillist, and wonders what drink they'll introduce for Hanukkah. Read his musings at @adamlapetina.