We Tried Starbucks' New S'mores and Mocha Coconut Frappuccinos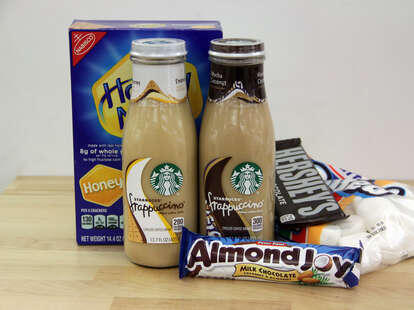 Kristin Hunt/Thrillist
Kristin Hunt/Thrillist
Though they're up to plenty of exciting stuff in their shops, Starbucks' big focus for the spring is their grocery line. You may have already seen their new Doubleshot Coffee & Protein cans -- which feature 20g of protein -- popping up in supermarkets and drugstores, but this month you're in for two brand-new bottled Frappuccino flavors. Arriving in supermarkets now are the S'mores and Mocha Coconut Frappuccinos. Each holds enormous promise, but is either good enough to earn a reverent rant from Hamilton Porter? We put on our best baseball caps to find out.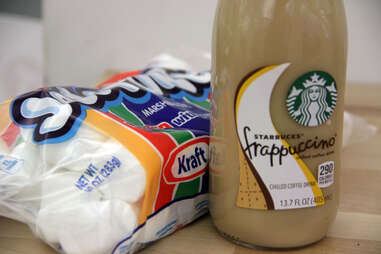 S'mores
You'll definitely taste marshmallow on the first sip. It's almost like they salvaged the gooey dregs of a campfire 'mallow and infused it with coffee -- though you can barely even taste the espresso at first. There isn't any chocolate kick present, and sorry to disappoint you, weird Sylvester Graham fanatics, but you won't really get any cracker notes, either. This is strictly a marshmallow coffee vessel. It's obviously on the sweeter side, though not quite as sugary as the tiramisu latte, so if you spent your formative years hoarding Marshmallow Fluff, this is the drink for you.
Mocha Coconut
Posing this bottle with the Almond Joy started out as a joke -- we didn't want the Mocha Coconut to feel lonely next to all that s'mores swag -- but it turned out to be a pretty spot-on comparison. (Well, minus the almond part. Our local drugstore didn't have Mounds. SORRY.) The drink has a fairly equal balance of chocolate and coconut flavors, with maybe a slight edge to the coconut, and the coffee is more apparent here than it was in the S'mores Frappuccino. All this gives the Mocha Coconut a more complex flavor profile. We just hope the next batch includes some caramel, so we can purchase bottled Samoa coffee.

The verdict
Both drinks are pretty much what they claim to be. S'mores literalists might be bummed at the lack of chocolate in that Frappuccino, but it certainly fits in with the Jet Puffed family. Meanwhile, the oft-silent Mounds fanbase will be mighty pleased with the Mocha Coconut. If you've already managed to snag one of these newbies off the shelf, let us know what you think in the comments.
Kristin Hunt is a Food/Drink staff writer for Thrillist, and thinks adult life needs more s'mores. Follow her at @kristin_hunt.