Starbucks' 10 Most Intriguing Secret Frappuccinos, Ranked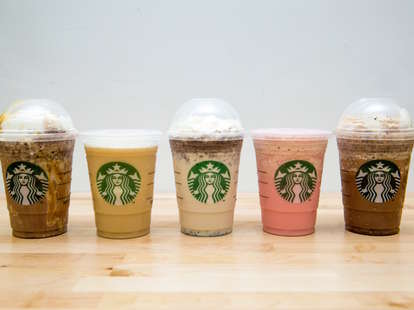 As any Starbucks insider will tell you, there's no actual secret menu. But baristas the world over have created interesting spins on their downtime, and you can find many of them on Starbucks Secret Menu. Eager to get in on the action (and just maybe ruin a few Sbux employees' days), I set out to try 10 of that site's most intriguing concoctions. I stuck to the Frappuccino section, since it was far more robust than the macchiato or tea offerings. I also made sure to show up during slow hours with instructions, which you should absolutely do if you attempt any of these orders. Here are the drinks I sampled, ranked from vilest to tastiest: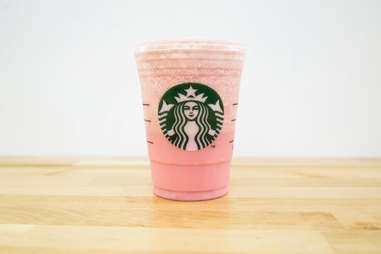 To be fair, this is probably what Skittles would taste like if you crushed them up and added a ton of cream. But that is not something that needs to exist.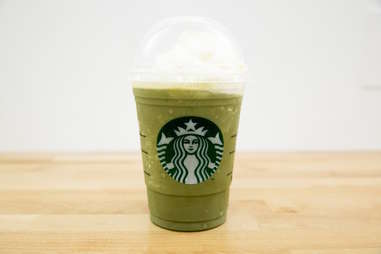 The Thin Mint has a lot of potential as a Frappuccino inspiration, but this take is too hung up on the color. Yes, the green tea Frappuccino lends a nice hue to the whole thing, but it also throws the entire flavor off. A Thin Mint Frappuccino should just taste like mint and chocolate, not mint, chocolate, and... huh, is that a green tea aftertaste? Besides, everyone knows Thin Mint cookies aren't even green.
I like Cadbury Eggs, but I still assumed this would be really gross. It wasn't -- instead, it was just kinda underwhelming. You mostly get chocolate and coffee. The half pump of caramel syrup hardly comes through, and you'll walk away thinking those Easter treats must have more java undertones than you remembered. (Spoiler alert: they don't.)
Snickers are one of the most highly sought-after Halloween candies in the game, and considering most of the flavors involved are already in the Starbucks repertoire (mocha, caramel, etc.), this seems like a slam dunk. It's certainly not bad, but it's not quite there. If I was ordering this again, I'd probably just ask them to caramel drizzle the inside of the cup, not the top too, because that was definitely the dominant flavor before I aggressively stirred this sucker. After that imbalance was corrected, though, I just found this one kinda forgettable. And there is no way I could've finished the whole thing.
This is a much more impressive Girl Scout Cookie copycat than the Thin Mint. Granted, it's got a sharper sweetness to it than the GCS original, owing to the caramel syrup, but it's fairly close. It's also perhaps the prettiest Frappuccino of the bunch.
I'm not quite sure why this needed the chai Frappuccino base and three pumps of chai syrup, because it pretty much cancels out the other flavors in the process. It's basically a chai Frappuccino with random vanilla notes (even though there's only one pump of that syrup, I still tasted it over the cinnamon dolce) once you get into it. That's not a bad thing, though! Chai is delicious, and after all the chocolate-caramel-java chip business, this was a welcome respite.
Initially, it takes some getting used to the cinnamon base. But with proper stirring and patience, you'll get something that kinda tastes like raw cookie dough. And anything that resembles cookie dough is a blessing indeed.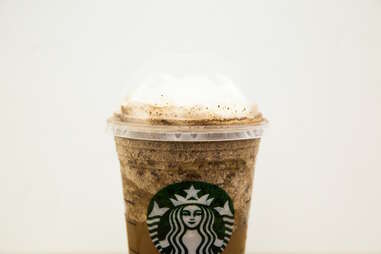 This is also called the "Oreo Frappuccino," and with good reason. It comes across as a thinner cookies 'n cream milkshake, or a liquified version of the Oreo cream with a crushed-up cookie dusting. It's still not quite in milkshake territory though, which is why it couldn't beat this next guy...
Oh man is this dead-on. It's a legit Nutella milkshake, and I want to marry it. I almost gave it the top spot, but if we're talking drinkability (and we must), this one would be tough to conquer in a workday afternoon -- one that implicitly allows for no cat naps.
I really didn't know what to expect from this famous, adored secret menu creation. I've still never tried Universal's version of butterbeer, so I my assumptions were based off half-remembered descriptions from Prisoner of Azkaban. The dominant flavor is definitely the toffee nut syrup -- it lends the whole thing a nice toasted quality and helps cut some of the caramel's sweetness. Even though this Frappuccino was basically just syrups and cream, it somehow went down the smoothest. I even kept drinking it after I'd taken my mandatory 5-10 sips! If this is what those young wizards were drinking in Hogsmeade, I think I finally understand why Harry risked everything to get to Three Broomsticks.
Sign up here for our daily Thrillist email, and get your fix of the best in food/drink/fun.
Kristin Hunt is a staff writer for Thrillist, and really needs someone to take her to the Wizarding World of Harry Potter. Follow her through the vanishing cabinet at @kristin_hunt.