Starbucks Delivery Will Launch in NYC and Seattle This Year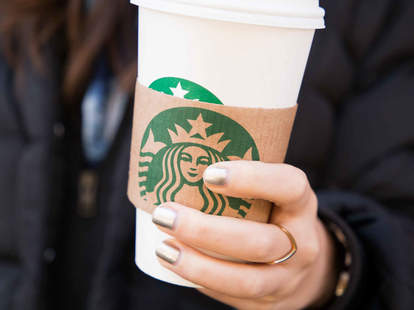 When Starbucks revealed its plan to add delivery service late last year, the details were vaguer than Robert Durst's alibis. But we're finally getting some information thanks to the company's annual shareholders meeting. At the meeting today (it's actually still running), chief digital officer Adam Brotman confirmed Starbucks' plans to bring delivery to Seattle and New York City through two programs.
The first venture is a partnership with Postmates, a platform which connects consumers with local couriers. While Postmates is currently available in 12 states and DC, their pilot delivery system with Starbucks will initially focus on Seattle. The service is set to launch in the Emerald City in the second half of 2015.
The second system is a Starbucks-run "Green Apron" program. Green Apron will task actual baristas with bringing your coffee to you, and it's targeting "dense, urban environments," according to Brotman. "This will be great especially for places like New York City," he said at the shareholders meeting. "That's where we plan on launching our Green Apron delivery project later this year, in the Empire State Building. We didn't pick just any building to start this in."
During his presentation, Brotman also demonstrated Sbux mobile ordering, which hit Portland last December and just expanded to Seattle yesterday. The app allows you to completely customize your order, before giving you pick-up options based on your current location. It's currently confined to 600 stores in the Pacific Northwest, but should go national sometime this year. (While they're still working on an Android version, that's on track for 2015 as well.) At this rate, you'll never have to wait in line with this guy ever again.
Kristin Hunt is a Food/Drink staff writer for Thrillist, and has no idea who actually keeps offices in the Empire State Building. Follow her at @kristin_hunt.