Is Starbucks' Toasted Graham Latte Better Than the Pumpkin Spice Latte?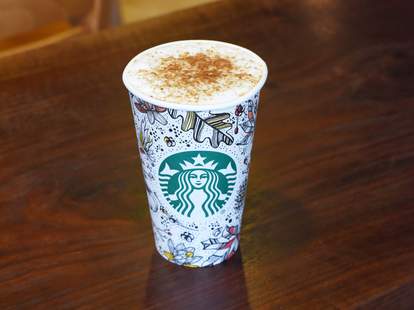 As any basic bitch/lifestyle site will tell you, the vaunted Pumpkin Spice Latte is Starbucks' chief Fall beverage, and has been since its introduction in 2003. Starting today, though, the green mermaid has introduced a brand-new drink into the mix (its first in four years): it's called the Toasted Graham Latte, and we were among the first to try it out.
Is there any room in America's hearts for a new seasonal drink? Can this new graham-infused drink ever hope to attain the level of rabid fandom and cultural appreciation that the PSL has?
No, probably not. But does it taste better? Well, we've got good news for you: unless you're a hardcore pumpkin fiend, this might just be your newest "basic" obsession.
Gianni Jaccoma/Thrillist
Consisting of toasted graham cracker syrup, espresso, steamed milk, and topped with sprinkled cinnamon graham crumbles, the TGL's flavor profile was developed by soaking graham crackers in warm milk -- the goal was to recreate that "milk left behind in the cereal bowl" taste, and the end result is full of nostalgic goodness.
Where the PSL is like taking a bite of pumpkin pie topped with whipped cream, the TGL more closely resembles a hot chocolate, with some added French vanilla and hazelnut notes added in. The graham cracker flavor gives it an almost s'more-ish taste, though that might just be me getting influenced by campfire memories.
Gianni Jaccoma/Thrillist
It's less cloyingly sweet than the PSL, too, which makes it way more drinkable, and you don't really miss the whipped cream topper either; I can't imagine downing more than a tall, though.
Actually, that's a lie: I can TOTALLY see myself double-fisting this stuff daily, because I'm a glutton who loves him some treats.
 
The Verdict
If you're looking for a drink that'll one-up the PSL on bombastic flavors, you're inevitably going to be disappointed. If, however, you're looking for a milder alternative to the basic favorite, you owe it to yourself to try the TGL; they're available in participating stores, while supplies last.
Consider it a celebration of the beginning of Fall 2015 -- Starbucks even designed new, seasonally inspired cups, so you don't have to feel quite so basic anymore.

Sign up here for our daily Thrillist email, and get your fix of the best in food/drink/fun.
Gianni Jaccoma is a staff writer for Thrillist, and he's a sucker for hot chocolate. Follow his mobile ordering habits on Twitter @gjaccoma, and send your news tips to news@thrillist.com