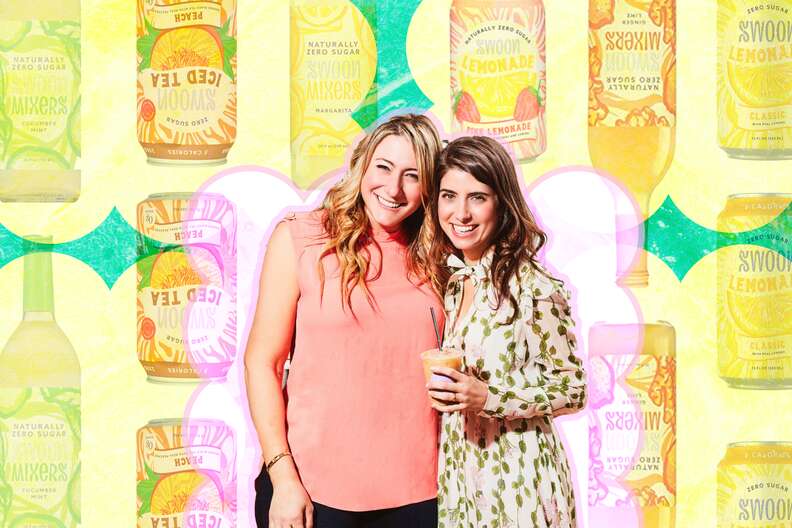 Photos by Heidi's Bridge and design by Chineme Elobuike for Thrillist
Photos by Heidi's Bridge and design by Chineme Elobuike for Thrillist
Not many great business plans start with a mojito. But such was the case for friends and business school classmates Cristina Ros Blankfein and Jennifer Ross. One evening, Ross was over helping Blankfein chop, prep, and set up for a dinner party.
"I'm Cuban, so my go-to is always making mojitos for parties," Blankfein says. "The base of the drink involves boiling down a cup of sugar and water to make simple syrup. I looked over at Jen, my diabetic friend saying there has to be a better option. And that stopped me in my tracks."
After exploring the beverage aisles of supermarkets and doing copious research, the duo decided to take matters into their own hands. Swoon is a line of cocktail mixers, lemonade, iced tea, and simple syrup that uses monk fruit as a natural sweetener that contains zero artificial or natural sugars, zero gluten, and zero carbs.
"This has truly been a personal need. Since I was diagnosed Type-1 diabetic, I've spent my entire life looking for sugar-free options that actually taste good," Ross says. "I remember in middle school sneaking the pink lemonade because it was the only option. But sugar isn't just bad for me, it's bad for everyone."
In fact, according to the CDC, approximately 88 million American adults—more than 1 in 3—are pre-diabetic and, of those, more than 84% don't know they are. Widely used ingredients like aspartame, which has its own adverse health effects, and agave, which still has a glycemic index, aren't the ideal solution.
That's why the Swoon founders landed on monk fruit, a melon native to Southeast Asia, that they source from hand-picked vines in Southern China. The fruit is rich in antioxidants, and simply crushed to release its juices and infused in hot water.
"We spent about two years R&Ding our simple syrup—we blind tested it with bartenders, baristas, chefs, friends, and even the test kitchen at Bon Appétit," Blankfein explains. "People realized that monk fruit can satisfy that craving, deliver that sort of bang, and contains a mouthfeel that all behaves like sugar."
The company first launched with its cocktail mixers—in flavors Ginger Lime, Margarita, and Cucumber Mint (ideal for a mojito). Then it was feedback from chefs and bartenders in New York City that made them launch the simple syrup in 2019 and, more recently, develop its ready-to-drink cans of lemonade and iced tea.
"Restaurants were starting to put it on tap and customers were realizing that great-tasting things don't need to have sugar," Ross says. "For so long, the focus has been on zero calories, not zero sugar. But the tides are starting to turn."
Currently, Swoon products are available online and in Whole Foods, Total Wine, Fresh Market, and Wegman's locations throughout the Northeast. But the company is acutely aware of how disproportionately available healthy drinks are in lower income areas of the country. The company donates its zero-sugar lemonade to the Madison Square Boys & Girls Club.
"A big issue is the access to better-for-you products and there's a huge barrier of entry for a lot of people," Blankfein says. "We realize we're a small part of a big, giant problem. But if we're able to take out a billion grams of sugar over the next few years, that's really important to us."
The two founders both channel their childhood memories into the current company. Blankfein is inspired by the determination of her grandparents and mother who came to the U.S. during the Cuban revolution. And Ross is hoping to give diabetic patients a more fulfilling experience.
"The best part is hearing from people who haven't had a margarita in years or now have something to buy their dad who is diabetic," Ross says. "That really is the joy."
Swoon Mojito
Yield: 1 drink
Ingredients:
5 mint leaves, more for garnish
2 ounces white rum
1 ounce fresh lime juice
½ ounce Swoon Simple Syrup
Ice
Club soda or sparkling water
Lime slices, for garnish
Directions:
1. Muddle mint in lime juice.
2. In a separate glass with ice, stir together simple syrup and rum.
3. Combine the mint and rum mixture.
4. Add ice and stir.
5. Garnish with mint leaves and lime slices.