Even the most hardcore NFL fans channel surf between ESPN and the Food Network these days, so it's not surprising a pack of Oscar Meyers and a sixer of Red Dog won't cut it in the parking lot pre-game. Today's tailgaters prep everything from seafood gumbo and oysters on the half shell to fish tacos and ricotta-stuffed peppers. But which city's fans rock the tastiest tailgate? These 10.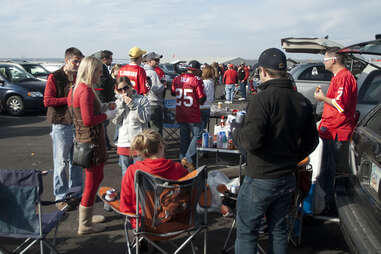 Arrowhead Stadium: Kansas City Chiefs -- Kansas City, MO
After annexing the parking lot of the adjoining Royals' stadium, Chiefs fans famous for their BBQ roll in massive smokers and souped-up professional Webers for an epic afternoon of KC-style ribs and burnt ends with homemade sauce, all washed down by moonshine shots and session beers. Can't find the stadium on the drive in? Look for the massive smoke ring.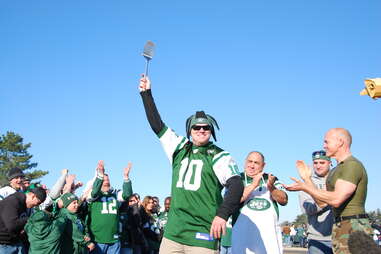 MetLife Stadium: New York Giants/ Jets -- East Rutherford, NJ
New York is obviously obsessed with the latest food trends, so it makes sense that Giants/ Jets games play host to marathon pre-game feasts, often prepped by professional chefs. Grilled seafood, sausage & peppers, and Italian classics are the staples here. Since most fans take the train to the Meadowlands (and PATH officials frown upon wheeling hot grills on board), keep your eyes peeled for "pay to eat and drink" tailgate signs -- just make sure you're not wearing your favorite DeSean Jackson Eagles' jersey.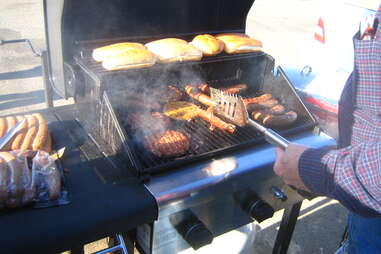 Candlestick Park: San Francisco 49ers -- San Francisco, CA
Quite possibly the league's classiest tailgaters, diehard Niner fans have been known to set up picnic tables outside Candlestick Park in order to properly partake of their California Pinot and Cowgirl Creamery cheese plates. Let's just say you wouldn't be out of place showing up for the game with a pre-made sushi platter.
Mercedes-Benz Superdome: New Orleans Saints -- New Orleans, LA
Fans in the Big Easy usually get the party started on Saturday with an LSU game, and keep it going straight into Saints Sunday. Expect a full lineup of NOLA classics, like bubbling pots of gumbo, red beans and rice, and char-grilled gulf oysters.
Gillette Stadium: New England Patriots -- Foxborough, MA
As New England is known for its fresh seafood, Pats fans at Gillette stave off the December chill with an assortment of pre-game fruits de mare, including scallops, clams, shrimp, and (of course) their famous chowdah. Bob Kraft-types even roll up with lobster rolls.
FirstEnergy Stadium: Cleveland Browns -- Cleveland, OH
With a team as perpetually bad as the Browns, it's no surprise diehard fans focus on their food instead, and boast a number of tailgate traditions -- like fried turkey, chili, and Bloody Marys -- that run deep. But no tradition is as synonymous with Cleveland as their beer-can chicken, which is pretty much what it sounds like: a whole bird with a can of suds stuffed up its cavity and grilled over indirect heat, so the skin crisps and the insides remain juicy. Much like the Browns' season, put a fork in it -- it's done.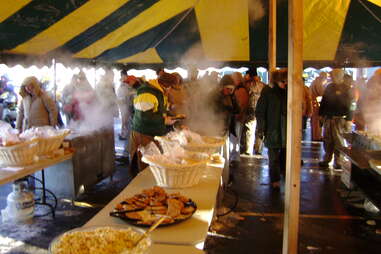 Lambeau Field: Green Bay Packers -- Green Bay, WI
The average wait for Packers' season tickets is 30 years; as such, fans aren't rushing their tailgate grub off the grill. Like a football version of Oktoberfest (but with jerseys, fake beards, and foam cheese heads in lieu of lederhosen), Lambeau lots (and the surrounding neighborhoods) are packed w/ beer brats, cheese curds, and German suds, not to mention an inordinate amount of Wisconsin-friendly Packers fans who are more than happy to let you hang out on their porches.
Ralph Wilson Stadium: Buffalo Bills -- Buffalo, NY
No tailgate in Buffalo is complete without the sad anticipation of another Bills loss the city's namesake chicken wing, smothered generously in Frank's RedHot. Or the Buffalo chicken wing dip for that matter: a killer concoction of blue cheese, chicken chucks, Frank's Red, and cheese, all cooked over an open flame. Expect hardcore tailgaters to arrive in mini buses tricked out with built-in ovens, wash down their ricotta-stuffed hot peppers with an eight-person beer funnel, and throw a mean game of KanJam.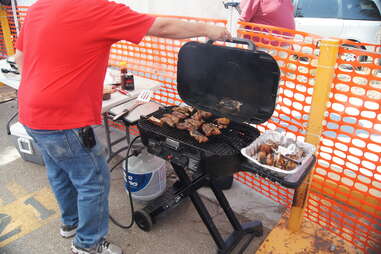 Qualcomm Stadium: San Diego Chargers -- San Diego, CA
Charger fans at Qualcomm Stadium scoff at BBQ and burgers, turning their tailgates South of the Border for grilled fish tacos, carne asada, and other delicioso Mexican vittles. The 20yr-old "San Diego Chargers Tailgating" group actually hires a bona fide taco cart master to drive up from Tijuana to prepare a feast, and pre-game eating contests are common.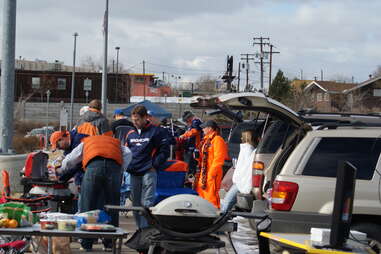 Sports Authority Field at Mile High: Denver Broncos -- Denver, CO
The laser focus of parking lot partiers at Mile High is centered on beer. After Portland, OR, Denver has more microbreweries than any other city in America, and -- while Coors may garner lots of Rocky Mountain sud attention, Bronco fans aren't apt to drink watery brew. If you have to choose one local favorite, Great Divide's Titan IPA is your move. But don't forget -- the higher altitude will quicken your buzz, so drink accordingly.