Is Target's New $5 Wine Line Better Than Two Buck Chuck?
We live in a glorious era for affordable wine. From boxed wine options that go beyond Franzia, to high-end canned wine, cheap vino is now much better in quality, and far easier to find. The infamous Trader Joe's line from Charles Shaw, better known as "Two Buck Chuck," has long ruled the discount wine scene (though it's technically more like Three Buck Chuck these days). But as of late, there is a new competitor on the market. This month, Target launched a full line of $5 wines that may just give that Chuck guy a run for his money.
So which affordable wine reigns supreme? Is spending a few dollars extra at Target really worth it? Or has Trader Joe's truly perfected the category? To find out, we put Nacho Monclus, sommelier at Brooklyn's Camperdown Elm, through a cheap-wine showdown where he drank his way through eight different bottles in a blind taste test. Read on to see which wines he liked best.
Chardonnay
Trader Joe's: "Hmm...it smells like wine," Monclus noted, swirling the Trader Joe's chardonnay in his cup. "So at least we can assume that much." He took a sip, swished the liquid around in his mouth, and spit it back out. "It's very light, very sweet -- notes of orange, white flower. If you served it cold -- so cold it's close to frozen -- with ice and a little club soda, it would be just fine."
Target: Monclus took his first sip -- and actually swallowed. He looked up, pleasantly surprised. "This, you could bring to a dinner party," he said. He took another sip. "It's fuller-bodied than the first chardonnay, with a very oaky finish. It's sweet but not quite sugary, definitely a balanced wine -- this one is really not bad."
Winner: Target
Cabernet sauvignon
Trader Joe's: "Where I grew up in Spain, we drank a lot of shitty red wine mixed with ice and Coca-Cola," Monclus explained as he sat down to try the two bottles of cabernet. "It makes it easy to forget how bad the wine really is." Monclus described the Trader Joe's version as "dirty" and explained that it was on the drier side for a red, had an overwhelming undertone of prunes, and had a hint of vinegar to it. "I'd drink it if it was the only alcohol available," he concluded. "Maybe if I was at a terrible family picnic and it was the only thing around." In short: Trader Joe's cabernet was drinkable, but far from ideal.
Target: After sipping this cabernet, Monclus shook his head and politely grimaced. "There's nothing that upsets me in this wine," he said, "but it isn't good either." He explained that the wine was a little oakier, and a little sweeter than the Trader Joe's version. The decision is difficult, he said, because, while they're both different, they're both also a little unpleasant. This one came down to price.
Winner: Trader Joe's
Pinot grigio
Target: Monclus mulled over the Target pinot grigio after taking his first sip. "This is like gummy bears that are coated in sugar," he said. "It's not like sweet grapes, but like grape-flavored candy maybe. Honestly, this just tastes like a hangover."
Trader Joe's: The Charles Shaw version of the wine was not Monclus' favorite, either. "This one is just a bit drier with some floral, grassy undertones. It's lightly carbonated, just the slightest bit more balanced -- but it still tastes like a hangover." While less gummy-bear-y than Target's, the Trader Joe's pinot grigio wasn't that much more palatable. "This one is definitely better, but I refuse to endorse either one," he said. A small victory for Mr. Charles Shaw.
Winner: Trader Joe's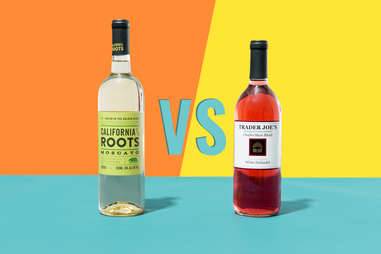 Sweet wine
Target: Trader Joe's offers a notoriously sweet white zinfandel, but the category equivalent at Target is a moscato. Immediately after taking his first sip of the moscato, he reached out and handed me an empty cup. "Moscato is a beautiful grape, it's like perfume," he explained. "This stuff has orange notes, sort of an earthy finish, but it's not the same delicate perfume taste at all." His conclusion was, yet again, that the wine would be better mixed with ice and a little seltzer, or for cooking, or in a low-end wine cocktail. Still, in the end, it was, in fact, drinkable.
Trader Joe's: With the white zinfandel, Monclus wasn't so forgiving: "This actually offends me," he said outright after one sip. "It's horrible. I legitimately find it insulting." The wine, which was about the closest alcohol should ever get in color to Pepto-Bismol pink, was so sweet, apparently, that he couldn't stomach it. "There isn't wine vocabulary for this," he said, shaking his head in obvious disgust. "I've had some really cheap wines -- even wine with my grandmother in Spain with mosquitos floating around inside. This wine is worse."
Winner: Target
So, which store does cheap wine better?
Monclus said that, while he wouldn't buy any of the bottles himself, he's not against cheap wine. "I am in full support of the market for cheap wine," he explained. "The ability to produce this much wine means the grapes are doing well, which is a good thing for all wines." But in a world where you can purchase a full bottle of wine for less than what most dive bars charge for a Bud Light, something has to be wrong.
In the end, Monclus decided that Target wines seemed to be, overall, marginally better -- but the increase in quality might not overcome the slight uptick in price. With wine, you get what you pay for, and whether you're spending two bucks or five, you're likely to buy your way directly into a devastating hangover.
Sign up here for our daily Thrillist email and subscribe here for our YouTube channel to get your fix of the best in food/drink/fun.