Guinness is pouring its first light lager in decades. We taste-tested it.
GUINNESS
GUINNESS
You may already know that Guinness -- a 255-year-old monolith of Irish pride & murky stouts -- is brewing a Blonde American Lager, but you may not know why it's a huge deal. I didn't either, so I selflessly ventured to a Guinness-hosted dinner to quench my thirst for knowledge about this brand-new brew. (And to quench my actual thirst by taste-testing Guinness Blonde vigorously, of course.)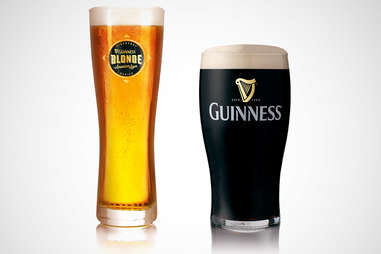 The big deal about Blonde
Forget everything you know about Guinness, because this newcomer is barely recognizable next to its heavyset heritage.
The color. Guinness doesn't often trifle with lighter-colored brews, but they have in the past. (Guinness Brite is the most well-known of St. James Gate's ill-fated amber offerings, but there have been others.) The fact that they're producing a lager that clocks in 80% lighter than the brand's iconic Draught is special.
The brewery. In a nod to the country that kicked off the craft craze (AMERICA!), Guinness Blonde is brewed at Pennsylvania's Latrobe Brewing Company by a second-generation master brewer.
The yeast. For Blonde American Lager, Guinness exported its 125-year-old yeast culture to the US -- the first time they've ever done so. After more than a century in Ireland, the bacteria didn't take well to the Northeastern climate at first, but they eventually sorted it out.
The "Discovery Series". This light lager marks the first edition in the brand's planned foray into experimentals. There's an "innovation team" of Dublin brewers that've been chomping at the bit to make something other than stout. Expect additional non-stouts in the future.
Enough with the facts, dammit! How's it taste?
The Blonde American Lager is nothing like the Guinness you know, but also strangely similar somehow.
Crisp. The Blonde American Lager is super refreshing in all the ways a stout can't be. For one thing, it actually feels cold -- something Draught barely ever does, to me -- and it bites with a little citrus on the way down.
"Fast". That's how master brewer Joe Gruss describes the Blonde's finish. He means the aftertaste vanishes almost immediately, leaving your palate clean for the next sip. After a bunch of "next sips", I humbly concur. The man's a wizard.
Guinness-ness. It's odd, but in each sip of Blonde, there did seem to be an echo of that wholesome taste Draught is known for. Gruss calls that "Guinness-ness". Blonde's finish, he says, is "biscuity". Unfortunately that doesn't mean you get a biscuit every time you finish one. Go ahead and grab another beer instead.
Guinness Blonde American Lager will hit the shelves across this great nation next month. Locate your nearest Irish pub and make ready your gullet.
Dave Infante is a senior writer for Thrillist food & drink. Full disclosure: he did not pay for this Guinness beer dinner. Guinness did. Or someone else did. Oh jeez, he hopes SOMEONE got the check. Follow him on Twitter: @dinfontay.